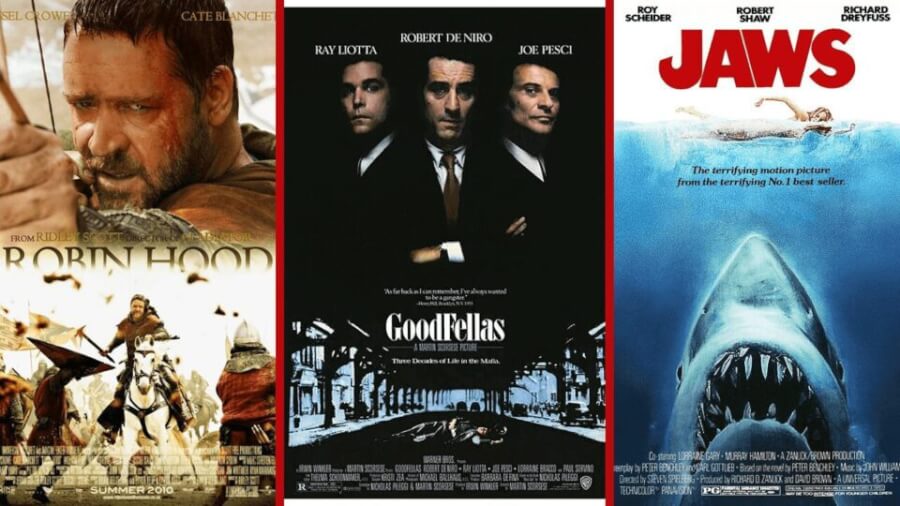 What a week for new releases to Netflix Australia. We are truly spoiled for choice on the movie front with more blockbusters than we can shake a stick at. We're talking Oscars and nominations galore. And a galaxy of supreme directors and stars: Martin Scorcese, Stephen Spielberg, Ridley Scott, Jennifer Anniston, Russel Crowe, Ray Liotta and Anthony Hopkins to name but a few. As usual, we are going to shake our stick at three that warrant special attention.
Robin Hood is one of two collaborations between Ridley Scott and Russell Crowe (Gladiator of course being the other). The story of Robin Hood has been thrashed over the years and you might be thinking "oh no, not another". Don't. This is a really nice take on the story. Robin Hood isn't actually Robin Hood until the very end of the movie. This is the story of how he got there. And it's a story that will have you hooked from the first scene. Unusually for a Ridley Scott movie, there's not a lot of background smoke. Perhaps he lost his matches. What there is, is a lot of excellent acting, great scenery, strong dialogue and plenty of action. We always knew that King John was a right royal sh1t and this is as good a way as any to learn why. It would be easy to write a long diatribe of comparisons between Robin Hood and Gladiator but we'll leave that to others. Suffice it to say that this is a must watch.
It is often argued that GoodFellas is the best Mafia movie ever made. It isn't. That accolade will always belong to the Godfather trilogy. What we have in Goodfellas is a gritty look at the dirty world of gangsterism in New York. These are not nice people. The movie is taken from the book written by Henry Hill, a Mafia man himself who turned states evidence, and purports to be a true story. The actual title of the book was Wise Guys but that was taken in 1986 by a comedy crime movie and was therefore sensibly avoided. The contrast between The Godfather and Goodfellas is that the first is the story of a humble man simply trying to do the best for his family against adversity. Goodfellas is the story of greedy, unpleasant people who take other peoples money because they can. There is no morality here. That Goodfellas is a fine movie is undisputed but don't watch it for heroes. There aren't any.
Jaws is over 40 years old. Would you believe it? The title, the music and many of the great lines are still as fresh as the day it was released. When Spielberg made the movie it was seminal in several ways. We don't actually see the shark until well in the movie; the special effects were ground breaking; the John Williams score was an integral part of the movie. Spielberg at the time had more sympathy with the shark and actually wanted it to win. The awkward thing about Jaws was the extraordinary backlash it caused again sharks (they belong to the superorder Selachimorpha in the subclass Elasmobranchii in the class Chondrichthyes as well well know). Peter Benchley, the author of the original book, became an ardent campaigner for the protection of sharks and marine conservation. Jaws is a timeless classic and we're delighted that it has been released for viewing in Australia.
Here's the full list of the 40 new releases this week. Let us know what you think.
27 New Movies Now Available
An American Girl: McKenna Shoots for the Stars (2012)
Batman and Harley Quinn (2017)
Chennai Express (2013)
Conjuring Spirit (2014)
Gladiator (2000)
GoodFellas (1990)
Gremlins (1984)
I Now Pronounce You Chuck and Larry (2007)
Immortals (2011)
Jaws (1975)
Justice, My Foot! (1992)
Kick-Ass (2010)
Naam Shabana (2017)
Nanny McPhee (2005)
Nanny McPhee and the Big Bang (2010)
Premature (2014)
Prince Charming (1984)
Qarib Qarib Singlle (2017)
Red Dragon (2002)
Robin Hood (2010)
Spyder (2017)
Step Up 2: The Streets (2008)
The 40-Year-Old Virgin (2005)
The After Party (2018) Netflix Original
The Break-Up (2006)
The Chronicles of Riddick (2004)
The Laws of Thermodynamics (2018) Netflix Original
8 New Series Now Available
Be-Be-Bears (Season 1)
Cathedral of the Sea (Season 1) Netflix Original
Ozark (Season 2) Netflix Original
Paradise PD (Season 1) Netflix Original
Ultimate Beastmaster (Season 3) Netflix Original
Ultimate Beastmaster Australia (Season 1) Netflix Original
Undercover Law (Season 1) Netflix Original
Yeh Meri Family (Season 1)
4 New Documentaries/Docuseries Now Available
A Leaf of Faith (2018)
Chicken Soup for the Soul's Being Dad (Season 1)
Inside the Criminal Mind (Season 1) Netflix Original
The Surrounding Game (2018)
1 New Standup Series
The Comedy Lineup (Part 2) Netflix Original