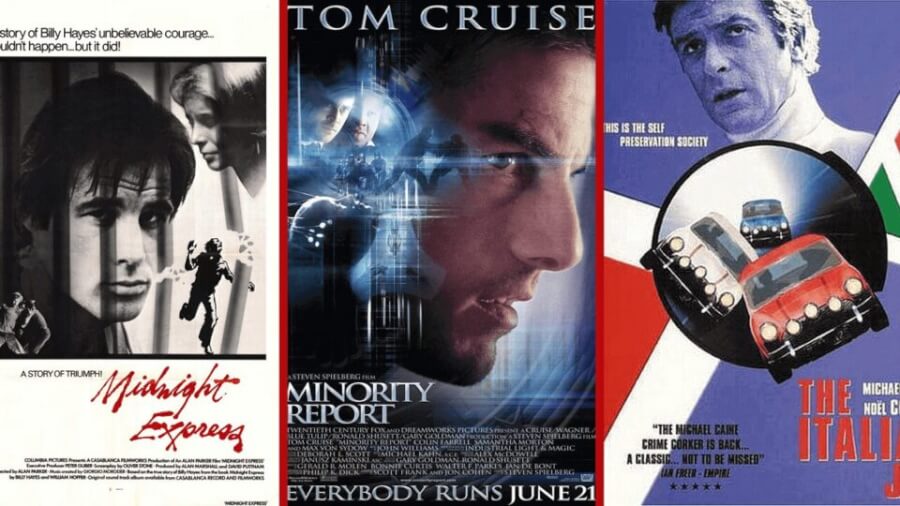 And so we start the month with a bang. A mere 117 new releases to wrap your head round. A veritable feast of Netflix series, movies, standups, and documentaries. As always, we'll look through the highlights then move onto the full list. Remember you can subscribe to this list at the bottom of the page so you get notified every week of the new additions. (BTW don't be fooled by Hero like we were. It's not the excellent Jet Li film of 2002).
Midnight Express directed by Alan Parker with a screenplay by Oliver Stone from the original autobiographical book (with us so far?) is the true story of Billy Hayes. Hayes was an American student caught trying to smuggle drugs. He was caught and thrown into a Turkish jail where, as you might imagine, they didn't faff about when it came to punishment. With the benefit of a lot of hindsight many questions have been asked about the accuracy of what happened or whether Stone simply "did a job" on Turkey which was ill able to defend itself on the world stage at the time. At the end of the day, it's a movie and a gritty and tense one at that. Now is your chance to deal with the "have you ever seen" questions.
We have two for the price of one in The Italian Job and The Italian Job. The first is the magnificent original starring Michael Caine and the second the probably didn't need to be made remake starring Mark Wahlberg. The point here is that you have a great opportunity to watch them back to back and mark the scorecards. The original was a fondly loved British classic and will always remain so. The immortal line "You were only supposed to blow the blood doors off" has become part of everyday language and that doesn't happen often. To be fair, the remake is not so much a remake and more an attempt to move the story on. This is good as you're not being asked to watch the same movie twice.
Philip K Dick was a prolific science fiction writer. Minority Report is just one of many of his stories that moved to the big screen. In the hands of Stephen Spielberg, the idea that the future is not just guesswork but fully predictable quickly becomes unquestionable. And preventing crime before it actually happens is a very attractive idea.  There is a wealth of largely indifferent sci-fi movies about and this is not one. It's way better. Is it as good as Ridley Scott's Blade Runner – another realisation of a Dick story? Probably not. But it's not far short.
Here is the full list of the weeks 117 releases on Netflix Australia.
95 New Movies
3 Ninjas: Kick Back (1994)
7 Koon Maaf (2011)
Assault on Wall Street (2013)
Beverly Hills Ninja (1997)
Black Country (2014)
Brij Mohan Amar Rahe (2018) Netflix Original
Casino Tycoon (Do sing dai hang san goh chuen kei) (1992)
Chillar Party (2011)
Chinese Odyssey (Part I), A (A Chinese Odyssey Part One: Pandora's Box) (1995)
Chinese Odyssey (Part II), A (A Chinese Odyssey Part Two: Cinderella) (1995)
Don't Hang Up (2016)
Doubles Cause Troubles (Shen yong shuang mei mai) (1989)
Eagle Eye (2008)
Edge of Fear (2018)
Election (2005)
Election 2 (2006)
Fashion (2008)
Fitoor (2016)
Fiza (2000)
Flying Guillotine 2 (Palace Carnage) (1978)
Guzaarish (2010)
Haider (2014)
Hero (1997)
Highway (2014)
History of Joy (2017)
Holy Man 2 (Luang phii theng 2) (2008)
Holy Man 3 (Luang phii theng III) (2010)
I Hate Luv Storys (2010)
Infernal Affairs (2004)
Infernal Affairs II (Mou gaan dou II) (2003)
Infernal Affairs III (Mou gaan dou III: Jung gik mougaan) (2003)
Initial D (2005)
Invisible (2017)
Joke (2012)
Just One of the Guys (1985)
Just Wright (2010)
Justice, My Foot! (1992)
Justin Bieber: Never Say Never (2011)
Kaaliyan (2017)
Kaattu (2017)
Khosla Ka Ghosla (2006)
Kuppivala (2017)
Lakeview Terrace (2008)
League of Gods (2016)
Lechmi (2017)
Legend of The Fist: The Return of Chen Zhen (2010)
Like Father (2018) Netflix Original
Little Dragon Maiden (Yang guo yu xiao long nu) (1983)
Love In A Puff (2010)
Love In The Buff (2012)
Mahabharat (2013)
Main aurr Mrs. Khanna (2009)
Mater (2017)
Melle (2017)
Midnight Express (1978)
Minnaminugu the FireFly (2017)
Minority Report (2002)
Mohenjo Daro (2016)
Mythily Veendum Varunnu (2017)
On the Wrong Track (1983)
Oru Vishsheshapetta Biryani Kissa (2017)
P Se PM Tak (2015)
PK (2014)
Raajneeti (2010)
Rang De Basanti (2006)
Rango (2011)
Rangreza (2017)
Rowdy Rathore (2012)
Star Trek Beyond (2016)
Sudani from Nigeria (2018)
Tamasha (2015)
Tees Maar Khan (2010)
Tere Naal Love Ho Gaya (2012)
Thank You (2011)
The 36th Chamber Of Shaolin (1978)
The Blue Umbrella (2005)
The Departed (2006)
The Dictator (2012)
The Five Venoms (1978)
The Flying Guillotine (1975)
The House Bunny (2008)
The Italian Job (1969)
The Italian Job (2003)
The Mansion (Le Manoir) (2017)
The Stepfather (2009)
The Stolen Years (2013)
The Thirteenth Floor (1999)
The Unborn Child (2011)
Tikli and Laxmi Bomb (2017)
Touch of Evil (1958)
Transformers (2007)
Transformers: Age of Extinction (2014)
Transformers: Dark of the Moon (2011)
Transformers: Revenge of the Fallen (2009)
Unstoppable (2010)
16 New TV Series
A Very Secret Service (Season 2) Netflix Original
Age of Rebellion (Season 1)
Aldnoah.Zero (Seasons 1 to 2)
Cocaine Coast (Season 1) Netflix Original
Dinotrux Supercharged (Season 3) Netflix Original
Discovery of Love (Season 1)
El Chapo (Season 3) Netflix Original
Fate/stay night: Unlimited Blade Works (2 Seasons)
Happy Valley (Season 2)
Reality of Dream (Season 1)
Regal Academy (Season 1)
Switched (Season 1) Netflix Original
SWORDGAI The Animation (Season 2) Netflix Original
Terrace House: Opening New Doors (Season 3) Netflix Original
The Could've-Gone-All-the-Way Committee (Season 1)
Trot Lovers (Season 1)
5 New Documentaries/Docuseries
Becoming Champions (Season 1)
Being Napoleon (2018)
Forever Chape (2018)
Marching Orders (Season 1) Netflix Original
QB1: Beyond the Lights (Season 1)
1 New Standup Special
Lavell Crawford: Can a Brother Get Some Love? (2011)