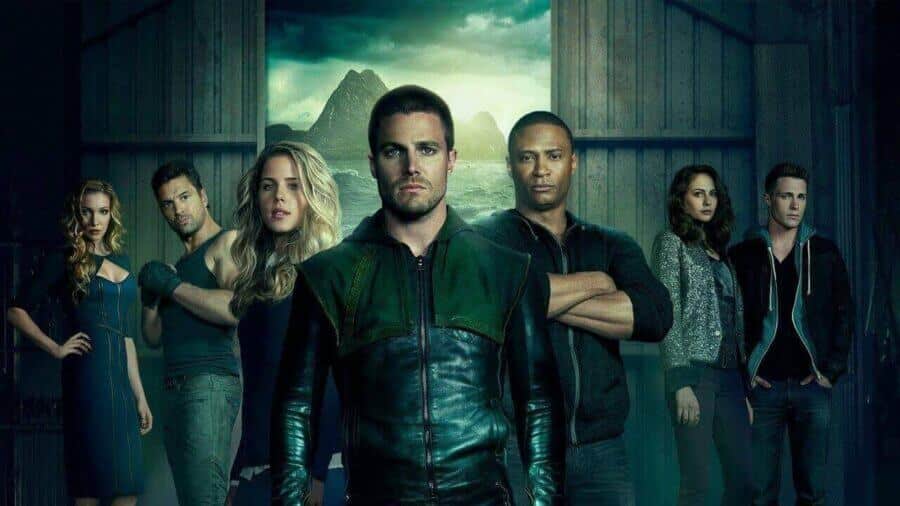 To all of our friends in Australia and New Zealand, Netflix has bought you some fantastic goodies this week with over 50 brand new movies, TV series, documentaries and standups. Here's a look at what's new on Netflix Australia this week with highlights and the full list. 
If you love DC shows then two treats were dropped this week. For starters, Arrow got season 6 added this week which sees the arrow-slinging playboy back for another season. Don't watch too quick though, as it'll be a while until the next season shows up. From this week onwards, new episodes of Black Lightning season 2 will be dropping. Although Dynasty isn't a DC show, it is a CW show and like Black Lightning, new episodes will be releasing weekly from this week forth.
The Netflix Original library for kids grew this week with both a new movie and a new series. Gnome Alone is Netflix's latest animated adventure for kids while Larva Island brings the popular YouTube show exclusively to Netflix.
Article Continues Below...
For documentary fans, the long-awaited second part to the story of Steven Avery arrived this week with part 2 of Making a Murderer.
Here are the full releases on Netflix Australia for the week of October 13th to October 19th:
19 New Movies Now Available
10 (1979)
Accepted (2006)
American Gangster (2007)
American Pie Presents: The Naked Mile (2006)

Netflix Original

Club de Cuervos Presents: I, Potro (2018)

Netflix Original

Couples Retreat (2009)
February (2015)
Gnome Alone (2018)

Netflix Original

Illang: The Wolf Brigade (Inrang) (2018)

Netflix Original

Meghnadbodh Rohoshyo (2017)
Mr. Chandramouli (2018)
Naa Bangaaru Talli (2013)
Oddbods: Party Monsters (2018)
Pan (2015)
S Storm (S Fung Bou) (2016)
Sanju (2018)
Snow White and the Huntsman (2012)
The Night Comes for Us (2018)
The Trust (2015)
32 New TV Series Now Available
49 Days (Season 1)
Accidentally in Love (Season 1)

Netflix Original

Arrow (Season 6)
Beautiful Gong Shim (Season 1)
Best.Worst.Weekend.Ever. (Limited Series)

Netflix Original

Black Lightning (Season 2) New Episodes Weekly
Derren Brown: Sacrifice (2018)

Netflix Original

Devlok with Devdutt Pattanaik (Season 1)
Distorted (Falsify) (Season 1)
Doctors (Season 1)
Don't Dare to Dream (Jealousy Incarnate) (Season 1)
Dr. Romantic (Season 1)
Dynasty (Season 2) New Episodes Weekly
Haunted (Season 1)

Netflix Original

Larva Island (Season 1) 

Netflix Original

Lie to Me (Season 1)
Marvel's Daredevil (Season 3)

Netflix Original

My Babysitter's a Vampire (Season 1)
My Girlfriend Is a Gumiho (Season 1)
Power Rangers Ninja Steel (Season 2)
Project S The Series (4 Seasons)
Remember (Remember: War of the Son) (Season 1)
Rooftop Prince (Season 1)
Secret Garden (Season 1)
Siffredi Late Night – Hard Academy (Season 1)
Suspicious Partner (Season 1)
The Girl Who Sees Scents (Naemsaereul Boneun Sonyeo) (Season 1)
The Royal Gambler (Jackpot) (Season 1)
The Seven Deadly Sins (Season 3)

Netflix Original

Wanderlust (Season 1)

Netflix Original

Yong Pal (Season 1)
You Are Beautiful (Season 1)
4 New Documentaries/Docuseries
Hip-Hop Evolution (Seaosn 2)

Netflix Original

Making a Murderer (Part 2)

Netflix Original

Miss Representation (2011)
Stunt Science (Season 1)
1 New Standup Special
Ron White: If You Quit Listening, I'll Shut Up (2018)

Netflix Original