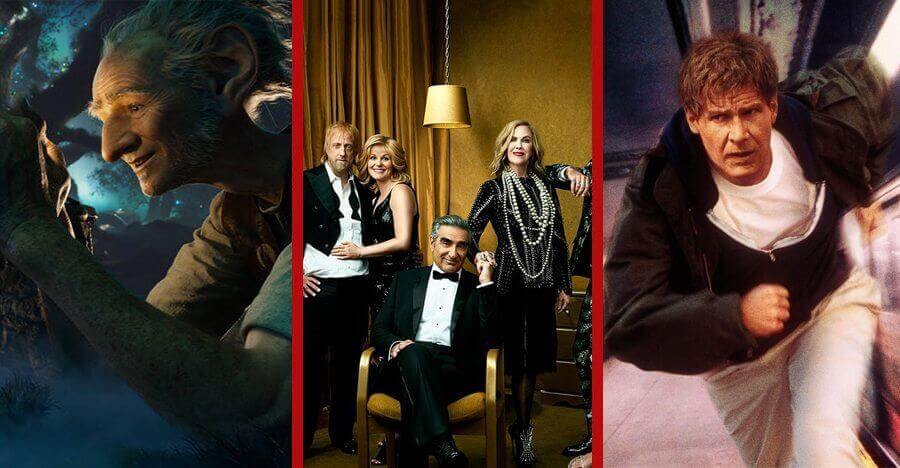 As the second week of May begins, Australian Netflix welcomes plenty of great new films and TV shows for you to enjoy. In total 29 titles have been introduced this week, including 18 Movies, 6 Documentaries, and an additional 5 TV series. This is not particularly that many titles compared with some other weeks, but we believe in quality over quantity. As usual, we have decided to pick three from this list to highlight.
Our first choice for this week is the 2016 Disney remake of the classic Roald Dahl book 'The BFG'. The story follows a small orphan girl living in London, who discovers and befriends a huge giant who takes her a very long way to 'Giant Land', a hidden and mystical island somewhere off the coast of England. This Giant is very different to the others though, he is polite, caring and… well friendly. The other Giants are brutish and have a taste for humans, so the BFG must protect the little girl, or is it the other way around? This is a great family film that is a deserving reboot for the classic Roald Dahl tale.
Next, we have chosen the 1993 Action, Drama, 'The Fugitive' starring Harrison Ford and Tommy Lee Jones in what is regarded as one of the best action films of that decade. Dr. Richard Kimble is a respected Chicago cop who is faulsly accused of brutally murdering his wife and is sentenced to death. On his way to demise the prison bus carrying Kimble crashes off a road and is struck by a train, but somehow the Dr. manages to escape relatively unharmed and is now a fugitive on the run from Samuel Gerard (Tommy Lee Jones) and his team. Kimble must find out who really killed his wife to clear his name in this 90's action thriller.
Article Continues Below...
Lastly, we have picked out the quite popular TV series 'Schitt's Creek' about a very wealthy family of four who suddenly find themselves completely broke after a financial disaster and only left with one asset. Unfortunately, that asset is a town named 'Schitt Creek' that was bought as a joke a number of years ago. Now the family must go from having everything they could ever want, to living in a rural, bog standard Motel. For a comedy TV series, the show actually has quite good reviews, and if you are a fan you will be pleased to hear that Season 4 is not available to stream on Netflix.
Read on for the full list of all 29 new releases:
18 New Movies Streaming to Netflix Australia
The Similars (2015)
Maria Bamford: Old Baby (2017)
Lego Scooby-Doo: Haunted Hollywood (2016)
Sunrise (2014)
The Land Before Time II: The Great Valley Adventure (1994)
The Good Witch's Wonder (2014)
The Good Witch's Gift (2010)
The Good Witch's Family (2011)
The Good Witch's Destiny (2013)
The Good Witch's Charm (2012)
Manu NNa Speciale (2017)
Into the Wild (2007)
Handsome: A Netflix Mystery Movie (2017)
The Fugitive (1993)
The BFG (2016)
Stake Land II: The Stakelander (2016)
Hunter Gatherer (2016)
Norm Macdonald: Hitler's Dog, Gossip & Trickery (2017)
6 New Documentaries Streaming to Netflix Australia
Daughter of the Lake (2015)
Bodyguards: Secret Lives from the Watchtower (2016)
The Mars Generation (2017)
When the Bough Breaks (2017)
LoveTrue (2016)
National Bird (2016)
5 New TV Series Streaming to Netflix Australia
Servant of the People – Season 1 (2015)
Schitt's Creek – Season 3 (2015)
What Happens to My Family – Season 1 (2016)
Spirit Riding Free – Season 1 (2017)
Canimals – Season 2 (2011)