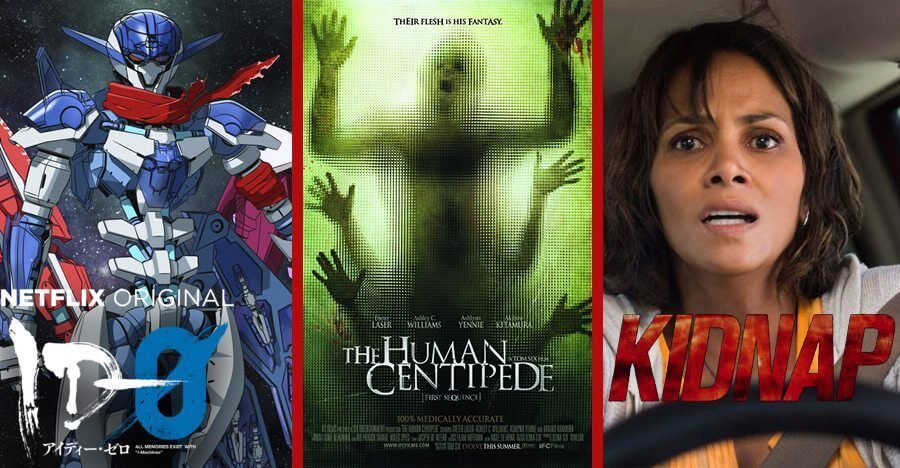 This last week has welcomed a total of 25 new titles – this may not seem too many compared with last week's 100+ but we believe quality comes above quantity. 10 Movies have been added, along with 3 Documentaries, and 12 new TV Series to keep you occupied with. As usual, we have picked out three of our favourite titles that have stood out to us. Feel free to take a gander at the list at your will, and make sure to let us know if you spot anything you think we should have mentioned in the comments below.
Seeing as Halloween is looming we thought we would mention that all three of 'The Human Centipede' films are available to stream on Netflix. The series is known for its disturbing plot lines surrounding a mad scientist who mutilates people by stitching their mouths to each others' backsides. Pretty messed up stuff, perfect to cringe over on Halloween.
Our next highlight is a brand-new Netflix Original 'Kidnap' starring Halle Berry as a dedicated mother who would do anything for her child. So when she witnesses her child being kidnapped she will not leave her son's fate in someone else's hands and precedes to relentlessly chase down the criminal, stopping at nothing until she recovers her boy. The thriller has had mixed criticism since it's release but is still worth a chance.
Article Continues Below...
'ID-0' is a Japanese anime TV show taken on by Netflix. The series is set in the distant future, outside our known solar system. In order to venture further, the human race needs the rare mineral Orichalt, that can only be found in extream environments. To survive in these environments, pilots must transfer their consciousness into a robot called an 'I-Machine', in essence making it human. During a training exercise, something goes terribly wrong for student Maya Mikuri. ID-0 is another great Original anime title ready to stream.
This week's Honourable Mentions include: New Netflix Original 'Suburra: Blood on Rome', season 2 of the popular kids' show 'Skylanders Academy', and the classic 1962 novel adaptation 'To Kill a Mockingbird'.
Read on for the full list of all 25 new releases.
10 New Movies Streaming to Netflix Australia
Two By Two (2015)
To Kill a Mockingbird (1962)
The Human Centipede: First Sequence (2009)
The Human Centipede 2: Full Sequence (2011)
The Human Centipede 3: The Final Sequence (2015)
Middle Men (2009)
Alvin and the Chipmunks Meet Frankenstein (1999)
Kidnap (2017)

Netflix Original

Body of Lies (2008)
Christina P: Mother Inferior (2017) Netflix Original
3 New Documentary Streaming to Netflix Australia
It Was Fifty Years Ago Today! The Beatles: Sgt Pepper And Beyond (2017)
The Death and Life of Marsha P. Johnson (2017)

Netflix Original

Chris Brown: Welcome to My Life (2017)
12 New TV Series Streaming to Netflix Australia
The Story of Diana – Season 1 (2017)
Precious Youth – Season 1 (2016)
Word Party – Season 3 (2016)

Netflix Original

The Investigator: A British Crime Story – Season 1 (2016)
Suburra: Blood on Rome – Season 1 (2017)

Netflix Original

Skylanders Academy – Season 2 (2016)

Netflix Original

Kibaoh Klashers – Season 2 (2017)
ID-0 – Season 1 (2017)

Netflix Original

Bonus Family – Season 1 (2017)
Auntie Duohe – Season 1 (2012)
Arrow – Season 5 (2013)
Secret Healer – Season 1 (2016)