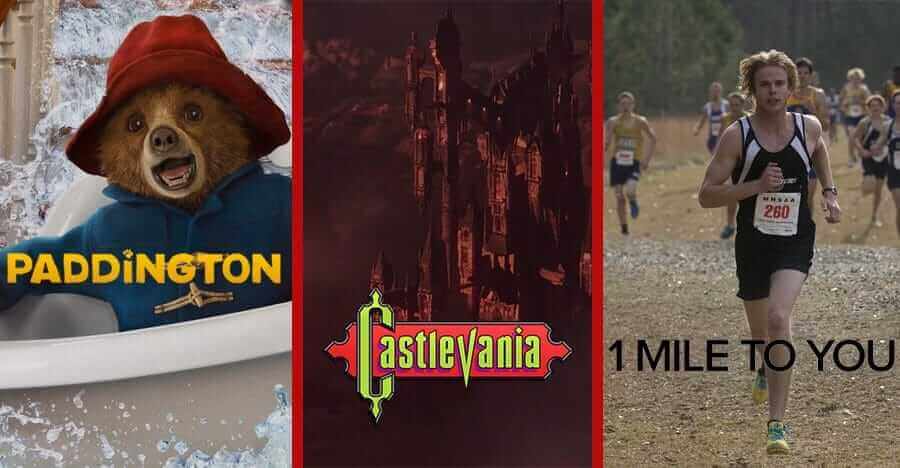 We are now a good week and a bit into July and this week welcomes a total of 27 new titles, including 10 new Movies, 2 new documentaries and a further 15 new TV series, all for you to enjoy. We have taken it upon ourselves to pick out three titles that we think deserve to be pointed out and highlighted above the rest. If you don't agree with us, read through the list and tell us in the comment below if we missing any good ones.
Firstly the 2014 animated comedy 'Paddington' is now available and follows the young mischievous Peruvian bear who ends up in London on his search for a loving home. After getting lost in Paddington station he is found and taken in by the Brown family and temporarily given a place to live. Despite a few mishap, everything is going well, until the rare bear catches the eye of a museum taxidermist. The film is fun for the whole family and more than enjoyable.
Our second pick for this week is the Netflix Original series 'Castlevania' who's second season has just premiered. The show is based off the old Nintendo game series and is arguably one of the much better video game adaptations. The show is an Anime primarily meant for adults and follows a vampire hunter as he attempts to venture into Dracula's lair. The show is very gothic but beautiful and if like many, you are into Anime then this defiantly should be on your watch list.
Article Continues Below...
Lastly, is the new 2017 film '1 Mile to You' a Drama Romance starring Graham Rogers, Melanie Lynskey and Tim Roth (to name a few). The film is about a teenager who after loosing his friends in a terrible accident finds that the only way to keep their memory alive is by running. The film is a thought-provoking tearjerker definitely worth your time.
Read on for the full list of all 27 new releases:
10 New Movies Streaming to Netflix Australia
Motu Patlu: King of Kings (2016)
Speech & Debate (2017)
XX (2017)
Take Me (2017)
The Tuxedo (2002)
Burn After Reading (2008)
1 Mile to You (2017)
Paddington (2014)
Cowboy (2011)
Gabriel Iglesias Presents The Gentleman Jerry Rocha (2015)
2 New Documentaries Streaming to Netflix Australia
Vegas Baby (2016)
Sea Nomads (2012)
15 New TV Series Streaming to Netflix Australia
The Wiggles – Season 2 (2013)
Barbie Life in the Dreamhouse – Season 1 (2012)
Смешарики – Season 2 (2010)
Redfern Now – Season 2 (2013)
Stop Laughing…This Is Serious – Season 1 (2015)
Dawn of the Croods – Season 4 (2015)
Degrassi: Next Class – Season 4 (2017)
Diamond Lover – Season 1 (2015)
King's War – Season 1 (2012)
Qin Empire: Alliance – Season 1 (2012)
Luna Petunia – Season 2 (2016)
Castlevania – Season 1 (2017) Netflix Original
The Legend of Bruce Lee – Season 1 (2008)
Vinnie Jones Toughest Cops – Season 1 (2008)
Green Wing – Season 1 (2004)