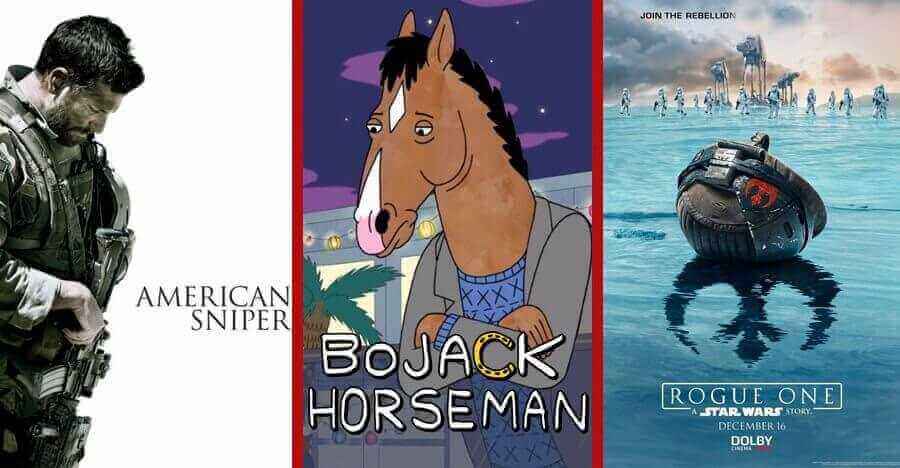 September is spinning by and in this article, we will be looking at all the titles that have joined Australian Netflix in this past week. A total of 44 new shows and movies have been added and included within that is 31 new Movies, 4 Documentaries and lastly, 9 new TV shows. As we do every week we have picked out three titles from the list and briefly written about them, in the hope of giving you an idea where to start. If you read through the list and you see something that you think we should have highlighted, please tell us in the comment section below.
'American Sniper' is based on the true story of Chris Kyle,  a Navy S.E.A.L whose skill has saved many lives during his service. Unfortunately, like many soldiers when he returns back home to his family he is unable to adapt. This film adaptation that stars Bradley Cooper and directed by Clint Eastwood won 1 Oscar and is worth a watch.
Next, we welcome 'BoJack Horseman' back to our screens for the 4th season. This Netflix Original follows BoJack, an ex-TV star from the 90s show "Horsin' Around". Unfortunately 20 years later he's a washed up has-been living in Hollywood, who drinks too much and loves to complain. The show has voice talents including Will Arnett, Aaron Paul and Amy Sedaris, even going as far as being Nominated for a Primetime Emmy.
Our last pick for the week is the Blockbuster hit 'Rogue One', a popular spin-off movie to Star Wars that released in 2016. The film is set between the prequels and the 1970s original, it tells the story of how the Rebel Alliance first got their hands on the plans to the Death Star, that Luke later exploits with a well aimed Photon Torpedo. The film was very well received by fans and often referred to as the "True Prequal", why don't you decide? Now it's streaming on Netflix.
This week's Honorable Mentions include: The Nut Job (2014), The Imitation Game (2014) and the new Netflix Original Greenhouse Academy (2017)
Read on for the full list of all 44 new releases:
31 New Movies Streaming to Netflix Australia
Knock Knock (2015)
The last stand (2013)
The Nut Job (2014)
The Big Wedding (2013)
Rogue One: A Star Wars Story (2016)
Olympus Has Fallen (2013)
American Sniper (2014)
The Imitation Game (2014)
The Gift (2015)
Nocturama (2016)
Krish Trish and Baltiboy – Battle of Wits (2013)
Krish Trish and Baltiboy – Comics of India (2012)
Krish Trish and Baltiboy I (2009)
Mighty Raju Rio Calling (2014)
Krish Trish and Baltiboy: Part II (2010)
Krish Trish and Baltiboy – The Greatest Trick (2013)
Krish Trish and Baltiboy – Oversmartness Never Pays (2017)
Krish Trish and Baltiboy – Best Friends Forever (2017)
Clown (2014)
Fabrizio Copano: Solo pienso en mi (2017)

Netflix Original

#realityhigh (2017)

Netflix Original

Joaquín Reyes: Una y no más (2017)

Netflix Original

Children of Men (2006)
The Expendables 3 (2014)
Safe Haven (2013)
The Notebook (2004)
Dreamgirls (2006)
Mission: Impossible 5 (2015)
Contact (1997)
The Interview (2014)
Jeff Dunham: Relative Disaster (2017)
4 New Documentaries Streaming to Netflix Australia
The Confession Tapes – Season 1 (2017)

Netflix Original

SHOT! The Psycho-Spiritual Mantra of Rock (2016)
Amy (2015)
Heroin(e) (2017)

Netflix Original
9 New TV Series Streaming to Netflix Australia
All About Love – Season 1 (2017)
Luxury Travel Show – Season 1 (2016)
Fire Chasers – Season 1 (2017)

Netflix Original

Race of Life – Season 1 (2015)
Greenhouse Academy – Season 1 (2017)

Netflix Orginal

Spirit Riding Free – Season 2 (2017)
Zig & Sharko – Season 1 (2010)
BoJack Horseman – Season 4 (2015)

Netflix Original

Oggy and the Cockroaches – Season 1 (2012)