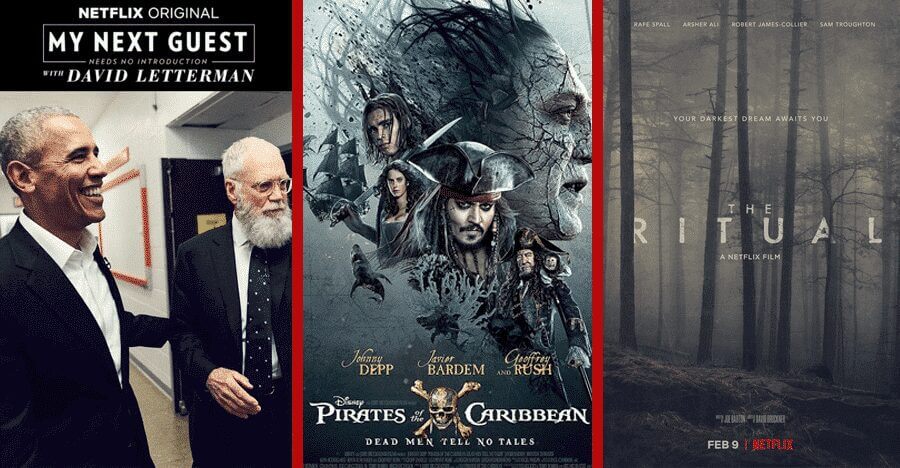 We're already a couple weeks into February and we've seen some great new titles come to Australian Netflix thought the beginning of 2018. We're also looking forward to seeing what else this year holds in store for us. But before that, let's take a better look at the past week, and all the titles that have arrived. 15 movies, 5 documentaries, 10 TV series and a single stand-up show has been added. As usual, we are going to take some time to pick out three titles individually and briefly outline them, in the hope of maybe enticing you to give them a watch.
Our first pick is the Netflix Original 'The Ritual', a Horror thriller following a group of college friends who reunite for a hike in a forest. Starring Rafe Spa, Arsher Ali and Robert James-Collier the group soon find something lurking in the woods that seems to be menacingly hunting them down. If you are into more classic horror movies full of suspense, you should definitely check out this Netflix Original.
Another addition we thought was worth mentioning was the 7th in the Disney franchise 'Pirates of the Caribbean: Dead Men Tell No Tales'. This blockbuster has come to Netflix quite soon after it's cinematic release, due to a deal between Disney and Netflix. The film continues the extravagant adventures of Captain Jack Sparrow as he sets off on another quest, this time to find the Trident of Poseidon. All the while being chased down by the infamous undead pirate hunter, Captain Salazar. Fans of the franchise have enjoyed this film as it provides more backstory to Sparrow's origins, and also picks back up the William Turner, Elizabeth Swan storyline.
Our final pick is a little bit of a different one. 'My Next Guest Needs No Introduction with David Letterman' is a brand new talk-show hosted by the one and only David Letterman. Obviously, the premise is pretty simple and follows Letterman interviewing people he simply finds fascinating. The first two are available on Netflix and feature Barack Obama and George Clooney.
Here is the full list of 31 titles added to Netflix Australia this week:
15 New Movies Streaming to Netflix Australia
I Know What You Did Last Summer (1997)
Chasing Liberty (2004)
The Bugs Bunny Road Runner Movie (1978)
The Ghost Writer (2010)
Russian Dolls (2005)
Apocalypse Now Redux (1979/2001)
When We First Met (2018)

Netflix Original

The Pianist (2002)
The Ritual (2018)

Netflix Original

Seeing Allred (2018)

Netflix Original

The Trader (Sovdagari) (2018)

Netflix Original

The Boss (2016)
My Next Guest Needs No Introduction: George Clooney (2018)

Netflix Original

My Next Guest Needs No Introduction: Barack Obama (2018)

Netflix Original

Pirates Of The Caribbean: Dead Men Tell No Tales (2017)
5 New Documentaries Streaming to Netflix Australia
Under Arrest: Season 8 (2015)
The Strange Name Movie (2017)
Ghost Of The Mountains (2017)
Mega Builders: Season 5 (2006)
Monkey Life: Season 8 (2007)
10 New TV Series Streaming to Netflix Australia
Geronimo Stilton: Season 1 (2009)
Queer Eye: Season 1 (2018)
Grimm: Season 6 (2011)
Wanted: Season 1 (2016)

Netflix Original

Tientsin Mystic: Season 1 (2017)
Leaving Las Vegas (1995)
Burning Ice: Season 1 (2017)
Chelsea (2016) Netflix Original
Abnormal Summit – Season 2 (2017)
Test Patterns: Season 2-4 (2014)
1 New Standup Shows Streaming to Netflix Australia
Fred Armisen: Standup For Drummers (2018)

Netflix Original