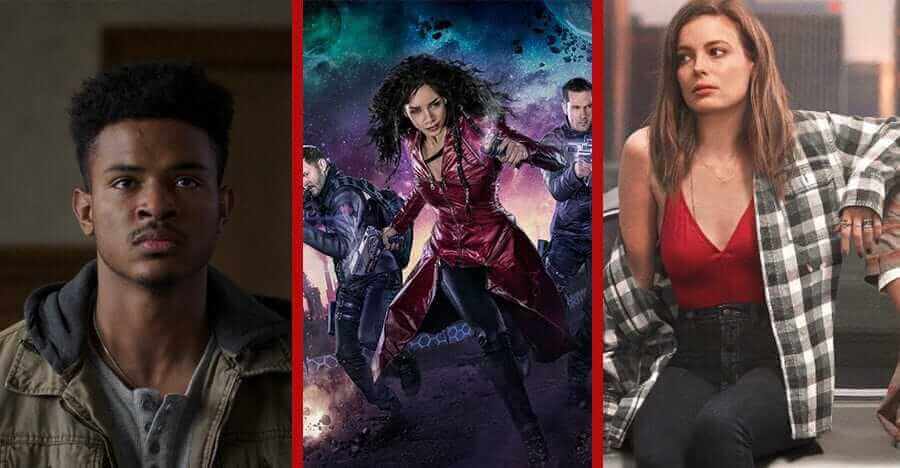 It's been another full week of additions to Netflix Australia, a total of 67 titles have been introduced. Including 59 New Movies, 3 Documentaries, and 5 New TV Series shows, all for your enjoyment. As of every week, we are going to choose three films/shows that we think need to be highlighted specifically.
The first choice for this week is the second season of Netflix's Original 'Love' starring Gillian Jacobs and Paul Rust who play a dysfunctional but somehow working couple who are just trying to get through life and cope with all the commitments and problems. The reason Love has been successful is that it is the sort of comedy/drama that a lot of people can actually relate to and enjoy in that aspect. Well, we recommend giving this unconventional Rom/Com a watch.
Article Continues Below...
Secondly, we have chosen the Action, Adventure film 'Killjoys', centred around a interplanetary organisation of assassins called Killjoys. The group have to struggle against the tyrannical corporation that rules the solar system, as the whole civilisation is on the edge of a revolution. The show consists of 3 seasons (30 episodes) of fun fast paced sci-fi action that fans have enjoyed. If you are into sci-fi quirky shows then you should enjoy Killjoy, and especially now it is able to stream on Netflix.
Our Last choice for this week is the new Netflix Original that was released on the 10th of March, that tells the brutal story of some American fraternity's and the violence of hazing that young pledges have to endure just to be accepted into this cult like brotherhood. The hour and a half film follows one particular pledgee during "Hell Week", he is torn between staying loyal to his supposed comrades and the code of silence, or standing up for himself and the resist the hazing process before the dreaded "Hell Night".
Read on for the full list of all 67 new releases:
59 New Movies Streaming to Netflix Australia
When the Game Stands Tall (2014)
Thithi (2015)
The Young Offenders (2016)
Sex Tape (2014)
Zenne Dancer (2012)
Vizontele (2001)
The Plane Tree (2011)
The Butterfly's Dream (2013)
The Boss's Daughter (2015)
Sen Kimsin (2012)
Sadece Sen (2014)
Romantik Komedi 2: Bekarl??a Veda (2013)
Romantik Komedi (2010)
Refugee (2016)
Recep Ivedik 4 (2014)
Recep Ivedik 3 (2010)
Recep Ivedik 2 (2009)
Recep Ivedik 1 (2008)
Patron Mutlu Son Istiyor (2014)
Osman Pazarlama (2016)
Niyazi Gül Dörtnala (2015)
Neseli Hayat (2009)
Mucize (2015)
Limonata (2015)
Labirent (2011)
Kurtulus Son Durak (2012)
Kocan Kadar Konus 2: Dirilis (2016)
Kara Bela (2015)
Incir Receli 2 (2014)
I Saw the Sun (2009)
Hükümet Kad?n 2 (2013)
"Hükümet Kad?n (2013)"
Husband Factor (2015)
Hokkabaz (2006)
Hayat Öpücügü (2015)
Eyyvah Eyyvah (2010)
Erkekler (2013)
Dügün Dernek 2: Sünnet (2015)
Drawers (2015)
Deliha (2014)
Dedemin Fisi (2016)
Çok Filim Hareketler Bunlar (2010)
Celal and Ceren (2013)
Çarsi Pazar (2015)
Burning Sands (2017)
Beynelmilel (2006)
Berlin Kaplani (2012)
Bana Masal Anlatma (2015)
100 Metros (2016)
"Think Like a Man Too (2014)"
Deliver Us from Evil (2014)
A Heavy Heart (2015)
"Showroom (2014)"
Rock of Ages (2012)
"Vizontele Tuuba (2004)"
Keanu (2016)
Jim Norton: Mouthful of Shame (2017)
G.O.R.A (2004)
Angry Indian Goddesses (2015)
3 New Documentary Streaming to Netflix Australia
The Sunshine Makers (2015)
Peter and the Farm (2016)
Gallipoli (2006)
5 New TV Series Streaming to Netflix Australia
Silvana Sin Lana – Season 1 (2016)
One More Time – Season 1 (2016)
"Love – Season 2 (2016)"
Killjoys – Season 1 (2015)
Buddy Thunderstruck – Season 1 (2017)