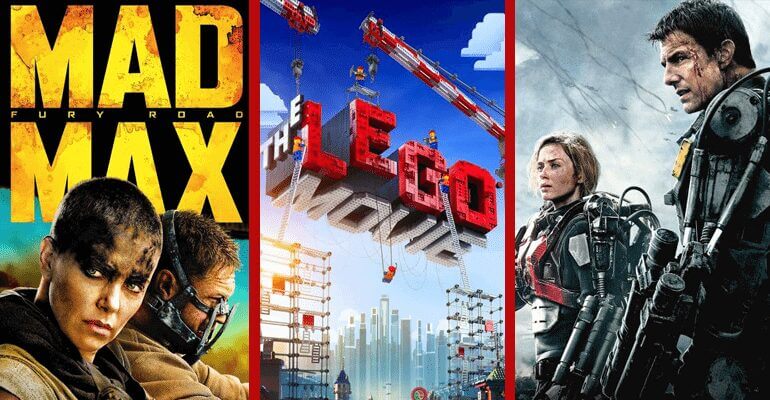 Welcome to this week's new Netflix releases on Netflix Australia for 9th August to 15th August, I'm taking over from Alex this week as he enjoys a well-deserved break.
We've had some fantastic movies added from the Warner Brothers library over the past seven days. First up, The Lego Movie which looked to bring the children's toy to the cinema screen excited all audiences when it launched to mass praise a couple of years ago. The most recent Mad Max: Fury Road is joining Netflix AU this week as well as Tom Cruise's time bending movie, Edge of Tomorrow.
Some great documentaries have come this week. Banking on Bitcoin is a great documentary following the rise of the electronic currency known as Bitcoin as it reaches a record high in terms of value.
On the Netflix Original front this week, there have been a few good new releases although most will be holding out for The Defenders which comes on Friday. The first worthy of note is Atypical, a new comedy series that looks to take on what it's like both caring and growing up with autism. It's light on the comedy side but has opened up a debate previously shied away from. The big movie of the week came in the form of a Groundhog Day clone with Naked.
Read on for the full list of all new releases:
37 New Movies on Netflix Australia
2 Alone in Paris (2008)
A Walk Among the Tombstones (2014)
Along Came a Spider (2001)
An Off-Day Game (2015)
Black Site Delta
Brick Mansions (2014)
Chocolate (2016)
Chocolate City: Vegas Strip (2017)
Cop Out (2010)
Dark Places (2015)
Diary of an Exorcist – Zero (2016)
Edge of Tomorrow (2014)
For a Few Dollars More (1965)
It's a Boy Girl Thing (2006)
John Wick (2014)
Mad Max: Fury Road (2015)
Naked (2017) Netflix Original
Paper Planes (2014)
Pray For Rain (2017)
Rama Rama Re… (2016)
Shampoo (1975)
Six Feet High (2014)
Stonehearst Asylum (2014)
Superstar (2017)
The Accountant (2016)
The Best of Me (2014)
The Giver (2014)
The Lego Movie (2014)
The Little Engine That Could (2011)
The Outcasts (2017)
The Saint (2017)
The Spy Next Door (2010)
The Sweet Life (2016)
Tracers (2014)
Two Night Stand (2014)
We're No Animals (2015)
Zack and Miri Make a Porno (2008)
13 New TV Series on Netflix Australia
20 Minutes (Season 1)
Age of Glory (Season 2)
Atypical (Season 1) Netflix Original
Class of '92: Out of Their League (Season 2)
Daniel Tiger's Neighborhood (Season 2)
Exclusive Edition (Season 1)
Home (Season 3) Netflix Original
Janet King (Season 1)
Little Witch Academia (Season 2) Netflix Original
Million Yen Women (Season 1) Netflix Original
Persona (Season 1)
Strawberry Shortcake: Berry Bitty Adventures (Season 1)
True and the Rainbow Kingdom (Season 1)
5 New Documentaries on Netflix Australia
Banking on Bitcoin (2017)
Barbecue (2017)
Changing Seas (Season 1)
Inside the World's Toughest Prisons (Season 1)
Mission Control: The Unsung Heroes of Apollo (2017)
1 New Standup Special on Netflix Australia
Brad Paisley's Comedy Rodeo (2017) Netflix Original