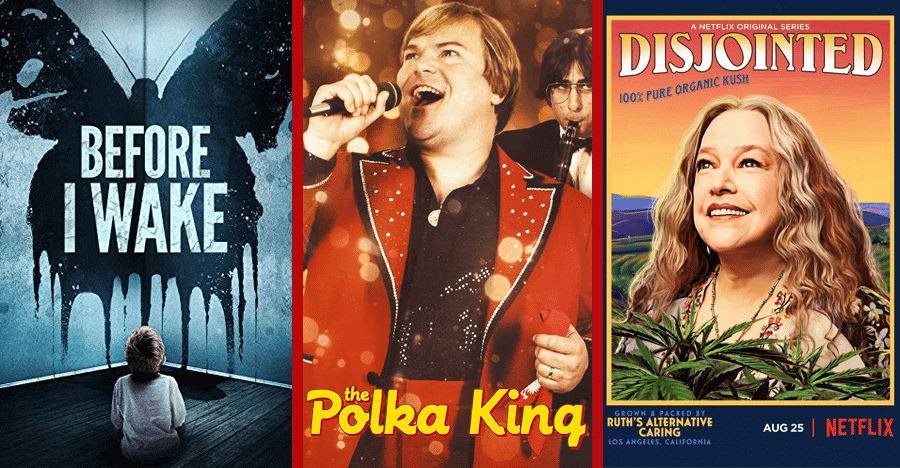 It's halfway through January already and we're once again taking a look at all the new titles that have come to Australian Netflix throughout the past week. There are a  total of 29 new titles, including 18 movies, 11 documentaries and 10 new TV shows. We have highlighted three titles and decided to briefly outline them, in the hope of inspiring you to give them a watch. Of course, feel free to take a look at the list below and if anything catches your eye, let us know in the comments below.
Our first pick for this week is a new Netflix Original film starring Jack Black. 'The Polka King' is based on a true story and follows Jan Lewan, a Polish-American who attempts to build a musical empire using a somewhat illegal get rich quick scheme. The part comedy, part Biography has had mixed reviews, but if you are a Jack Black fan or are intrigued by the story of Jan Jewan, it should definitely be on your watch list. (The 2009 Documentary 'The Man Who Would Be Polka King' is also now available).
Season 2 of 'Disjointed' has also been welcomed to Netflix this week. The show is based around a cannabis legend Rush Whitefeather (Kathy Bates), who sets up a marijuana dispensary in Los Angeles. Ruth, along with her newly graduated son and a team of "budtenders" attempt to pioneer the "Wallmart of Weed". Although this show isn't for everyone, the first season did prove potential and attracted a significant fanbase.
Article Continues Below...
Our last highlight for this week is the 2016 horror film 'Before I Wake'. The film depicts a sweet and seemingly innocent orphaned child who's adopted by a couple who sadly lost their only boy. Unbeknownst to them this child's dreams… and nightmares take a physical and often violent form. In order to survive, they must find the true origins of the curse that surrounds Cody's nightmares. If you're looking for a good thriller/horror on Netflix right now you can't go too far wrong with Before I Wake.
Here is the full list of 39 titles added to Netflix Australia this week:
18 New Movies Streaming to Netflix Australia
Good Time (2017)
Dayveon (2017)
Urvi (2017)
The Witch (2015)
The Vault (2017)
The Polka King (2018)

Netflix Original

The Arbitration (2016)
Pyar Ke Do Pal (1986)
Phir Se (2015)
Nymphomaniac: Volume 1 (2013)
Milada (2017)
Jane Got a Gun (2016)
Hail, Caesar! (2016)
Free Birds (2013)
Face 2 Face (2017)
Before I Wake (2016)
Alibaba Aur 40 Chor (1980)
Air (2015)
11 New Documentaries Streaming to Netflix Australia
On Yoga The Architecture of Peace (2017)
Alien Contact: Outer Space (2017)
Unrest (2017)
The Reservoir Game (2017)
The Man Who Would Be Polka King (2009)
Restrepo (2010)
One More Shot (2017)
Hostages (2017)
Eve's Apple (2017)
A&E: When Patients Attack (2015)
A Brief History of Graffiti (2015)
10 New TV Series Streaming to Netflix Australia
Stoked – Season 1 (2009)
The Vampire Diaries – Season 7 (2016)
Most Haunted – Season 1 (2015)
Monkey Life – Season 2 (2014)
El Vato – Season 2 (2016)

Netflix Original

Earth to Luna! – Season 1 (2014)
Disjointed – Season 2 (2017)
Deals Wheels and Steals – Season 1 (2015)
Can't Cope, Won't Cope – Season 1 (2016)
Animal Airport – Season 2 (2013)