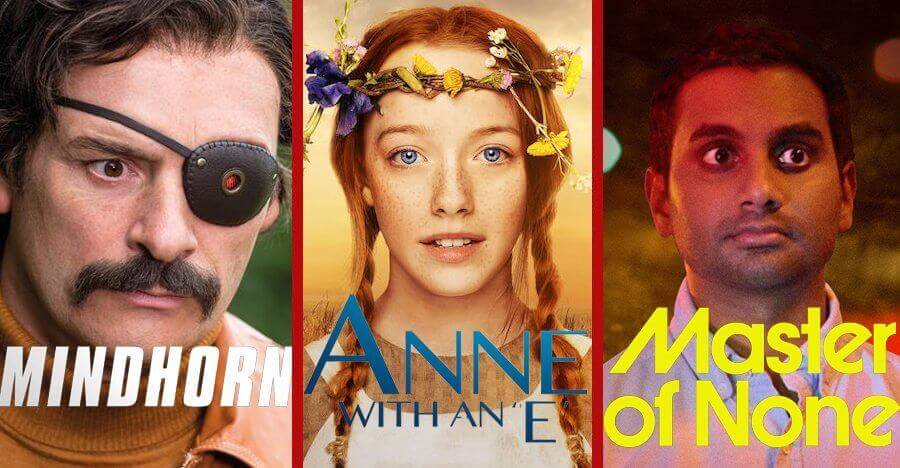 We are now halfway through May, and for Netflix Australia, this week has welcomed a total of 48 new titles. This including 30 new movies, 12 documentaries and a further 6 TV series for you to enjoy. Below we have picked out three titles that we think deserve to be mentioned individually.
Our first pick is the release of the second season of 'Master of None', a Netflix Original that stars Aziz Ansari as 'Dev' a 30-year-old actor who is trying to make a living in New York. The show follows Dev's life and all the ups and downs that go along with it. The show was Nominated for 1 Golden Globe and won many other awards. The first season released in 2015, so there has been quite a long wait for season 2, but we are sure it was worth it.
Our second choice for this week is the new comedy film 'Mindhorn' which stars Julian Barratt as the washed up actor Richard Thorncroft who used to be famous for playing a late 80s detective Mindhorn, who had a Robotic eye that could "see Truth". In an unforeseen turn of events, the overweight balding actor must don his old eyepatch once again after a serial killer with an obsession tells the police that the only person he will communicate with is the fictional detective Mindhorn.
Lastly, we have picked out the recently released TV Series titled 'Anne with an E', based on the book series Anne of Green Gables written by Lucy Maud Montgomery as long ago as 1908. The original book since publication has sold more than 50 million copies. In the new series, Anne is being played by a talented child actress Amybeth Mcnulty and follows Anne's early life as a young orphaned girl living in the rural 19th century. The show has already exceeded many people's expectations and is a wonderfully crafted story definitely worth a watch.
Read on for the full list of all 48 new releases:
30 New Movies Streaming to Netflix Australia
The Adventure Club (2016)
Pyaar Ka Punchnama 2 (2015)
Michael (2011)
Madras Café (2013)
Gabbar Is Back (2015)
El apóstata (2015)
Bbuddah Hoga Terra Baap (2011)
Aiyyaa (2012)
Untraceable (2008)
Sahara (2017)
Revolutionary Road (2008)
Mindhorn (2017)
Train to Busan (2016)
The Devil's Advocate (1997)
Satanic (2016)
The Quiet Ones (2014)
The Intent (2016)
Television (2012)
Stephen King's A Good Marriage (2014)
Remember (2015)
Ram Jaane (1995)
Lovesong (2016)
Lída Baarová (2016)
Kabhi Haan Kabhi Naa (1994)
Cold In July (2014)
Chamatkar (1992)
Born to Win (2014)
Ant Story (2013)
After the Ball (2015)
A Little Help (2010)
12 New Documentaries Streaming to Netflix Australia
Wild Ways (2016)
NOVA: Treasures of the Earth – Season 1 (2016)
Iceman Reborn (2016)
GLOW: The Story of the Gorgeous Ladies of Wrestling (2012)
Can Alzheimer's Be Stopped? (2016)
Get Me Roger Stone (2017)
Diving Into the Unknown (2016)
Smash: Motorized Mayhem (2017)
Sinatra: To Be Frank (2015)
Natascha Kampusch: The Whole Story (2010)
Command and Control (2017)
Bowie: The Man Who Changed the World (2016)
6 New TV Series Streaming to Netflix Australia
Heartland – Season 8 (2009)
Master of None – Season 2 (2015)
Anne with an E – Season 1 (2017)
All Hail King Julien: Exiled – Season 1 (2017)
Classic Legends – Season 1 (2012)
Buddha – Season 1 (2013)