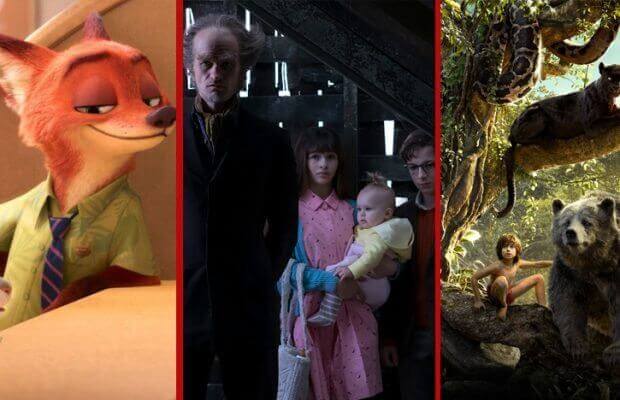 It's halfway through January and Netflix have released a total of 49 new titles to Australia's screens. 32 Movies, 3 new Documentaries and 13 new TV series. We have chosen three titles from this mass of content to talk about and suggest you consider giving them a watch.
The first choice for this week is the 2016 Disney movie 'Zootropolis' where a little rural bunny inspires to be the first bunny police officer. After graduating police academy she is sent to the big city of Zootropolis. She meets a con artist fox and it turns out that the city has some bad secrets, and they must uncover it themselves. The show has been very popular with children and older viewers, with the animation being amazing in this adventure, comedy.
Our next pick is the 2016 remake of The Jungle Book, taking a more serious tone from its musical Disney Predecessor from 1967. The film follows 'Mowgli' a young man-cub raised by wolves. While fleeing the jungle from the brutal tiger Shere Khan, Mowgli meets the friendly bear, Baloo who teaches him about the bear-necessities. Mowgli has to find himself, and whether he really want to live with his own species, or his own kind.
Article Continues Below...
Our final choice is the very new Netflix Original 'A Series of Unfortunate Events' based on the 13 children novels by Lemony Snicket. The new series has been doing very well since it's release on Friday the 13th. The story follows three siblings after their parents mysteriously killed in a terrible fire in the family mansion. They are firstly sent to a distant relative 'Count Olaf' who is a failed actor and crook who would do anything to get his hands on the massive fortune that the eldest child will inherit when she becomes 18. The kids are thrown around from guardian to guardian, who are all slowly undone by the evil Count Olaf.
Read on for the full list of all 49 new releases:
32 New Movies Streaming to Netflix Australia
Happily Married
Rustom (2016)
Ramona and Beezus (2010)
Kim Gaffigan: Cinco (2017)
Very Big Shot (2015)
Platoon (1986)
So Young (2013)
Like Water for Chocolate (1992)
Estar o no Estar (2016)
Clinical (2017)
We Are Young. We Are Strong (2014)
Valentine's Day (2010)
The Sisterhood of the Traveling Pants (2005)
Sisterhood of the Traveling Pants 2 (2008)
Project X (2012)
National Lampoon's Christmas Vacation (1989)
Monk Comes Down the Mountain (2015)
Little Sister (2016)
Lethal Weapon 2 (1989)
Lethal Weapon (1987)
Invictus (2009)
Gremlins (1984)
Fred Claus (2007)
Contagion (2011)
Coming Home (2014)
Zootopia (2016)
Twisted Trunk, Big Fat Body (2015)
Strangerland (2015)
The Witness House (2014)
Berlin Calling (2008)
The Jungle Book (2016)
Neal Brennan: 3 Mics (2017)
3 New Documentaries Streaming to Netflix Australia
Plane Resurrection – Season 1 (2015)
The Inexplicable Universe with Neil deGrasse Tyson – Season 1 (2013)
Hostage to the Devil (2016)
14 New TV Series Streaming to Netflix Australia
We're Lalaloopsy – Season 1 (2017)
Shameless (U.S.) – Season 6 (2011)
Pororo – The Little Penguin – Season 3/4 (2003)
A Series of Unfortunate Events – Season 1 (2017)
Chiro – Season 1 (2010)
Your Brush With Nature – Season 1 (2013)
My Animal Friends – Season 1 (2013)
Chasing Life – Seaon 2 (2014)
Transformers: Robots in Disguise – Season 2 (2015)
Transformers: Rescue Bots – Season 3 (2011)
My Little Pony: Friendship Is Magic – Season 6 (2010)
Anthony Bourdain: A Cook's Tour – Season 1/2 (2002)
She-Ra – Season 1 (1985)
He-Man and the Masters of the Universe (1983) – Season 1 (1983)