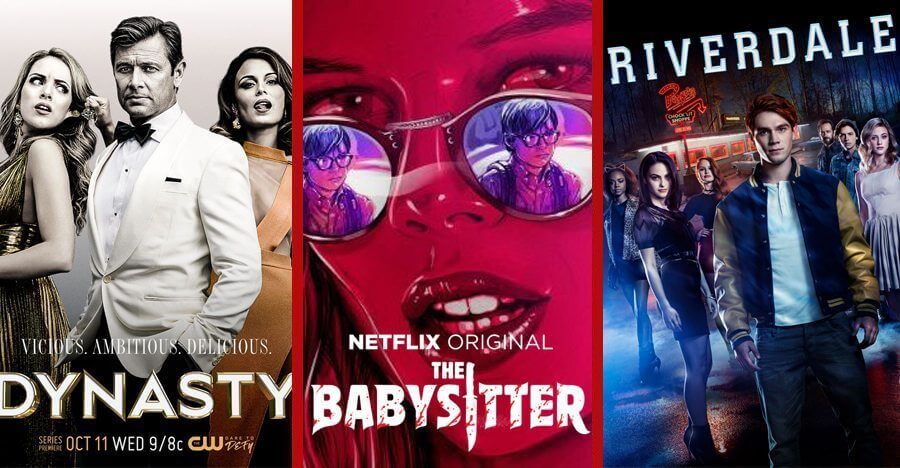 A total of 78 titles have been added to Australian Netflix this past week, and for the middle of a month, that's very good. 53 movies, 5 Documentaries, and a further 19 TV series have been added, and as usual, we are going to pick out 3 specifically to highlight. Of course, if you find something in the list below that you think we were silly to not point out, please let us know in the comments below.
Our first pick for this week is the brand-new Netflix Drama, 'Dynasty'. The show follows two of the richest families in America as they clash in an attempt to grab even more power and influence. The show was originally a CW property but has now been taken on as a Partial Netflix Original with new episodes coming weekly. The Drama stars Grant Show, Elizabeth Gillies and Nathalie Kelley. The first (and currently only) episode is defiantly worth a watch if you like high-stakes family dramas.
Our next pick is more suited for the time of year. 'The Babysitter' is a horror, Comedy that Netflix has recently released, perfect for a late night viewing around Halloween. The film follows Bee, a Babysitter and her group of friends who secretly worship Satan. While looking after Cole; an unsuspecting kid who happens to be deeply in-love with Bee, they put their plan into action and begin a satanic ritual. Cole spends the rest of the night attempting to escape the deranged group who are after his blood. The movie has a good mix of comedy and horror making it a great watch on the 31st.
Article Continues Below...
Lastly, this week we welcome the return of the popular Mystery, drama 'Riverdale'. Originally based off the Archie comics, the show is based around the mysterious and dark town of Riverdale after the shooting of a teenage boy. Many fans have been looking forward to season 2 reaching Netflix, and now you don't have to wait any longer.
This week's Honourable mentions include: Season 1 of the New Netflix Original 'MINDHUNTER', the second season of the Horror TV show 'Slasher', and the 1984 film 'Police Academy'.
Read on for the full list of all 78 new releases.
52 New Movies Streaming to Netflix Australia
The Secret Reunion (2010)
The Scam (2009)
Running Turtle (2009)
My Wife Is a Gangster 3: HK Edition (2006)
Bomb Scared (2017)

Netflix Original

Barakah Meets Barakah (2016)
While We're Young (2015)
The Meyerowitz Stories (New and Selected) (2017)
The Guard Post (2008)
The Equalizer (2014)
The Babysitter (2017) 

Netflix Original

Sicario (2015)
San Andreas (2015)
My 11th Mother (2007)
Jarhead (2005)
Happy Together (2008)
Grease 2 (1982)
Dear John (2010)
Clair Obscur (2016)
Blessed Benefit (2016)
Before We Go (2014)
A Barefoot Dream (2010)
두 얼굴의 여친 (2007)
Sunny (2008)
Dachimawa Lee (2008)
Bank Attack (2007)
A Tale of Legendary Libido (2008)
Zila Ghaziabad (2013)
Veerappan (2016)
Ujala (1959)
Teshan (2016)
Tamanchey (2014)
Story of an Egg (2017)
Singapore (1960)
Sardaarji 2 (2016)
Richie Rich (1994)
Police Academy (1984)
OtherLife (2017)
One Night Stand (2016)
Money (2016)
Machhli Jal Ki Rani Hai (2014)
Kahi (2016)
Jal (2013)
Gour Hari Dastaan: The Freedom File (2015)
Darra (2016)
City of Ember (2008)
Calendar Girls (2015)
Ankur Arora Murder Case (2013)
Aisa Yeh Jahaan (2015)
A Scandall (2016)
Lucknow Central (2017)
Baadshaho (2017)
5 New Documentaries Streaming to Netflix Australia
Kingdom of Us (2017)
Why Knot (2016)
El Crazy Che (2015)
El Che (2017)
Belief: The Possession of Janet Moses (2015)
19 New TV Series Streaming to Netflix Australia
Paquita Salas – Season 1 (2016)
Riverdale – Season 2 (2017)

Netflix Original

Dynasty – Season 1 (2017)

Netflix Original

Voltron: Legendary Defender – Season 4 (2016)
Super Monsters – Season 1 (2017)
MINDHUNTER – Season 1 (2017)

Netflix Original

High: How Drugs Work – Season 1 (2011)
Ajaibnya Cinta – Season 1 (2015)
West Coast Customs – Season 6 (2011)
Solomon's Perjury – Season 1 (2016)
Seven and Me – Season 1 (2017)
Power Rangers Ninja Steel – Season 1 (2017)
LEGO: City – Season 1 (2017)
Guerra De Idolos – Season 1 (2017)
Border Security: America's Front Line – Season 1 (2016)
Victoria – Season 1 (2016)
Slasher – Season 2 (2016)
La Femme – Season 1 (2016)
In Laws – Season 1 (2016)
2 New Stand-up Shows Streaming to Netflix Australia
El Especial de Alex Fernández, el Especial (2017)

Netflix Original

Patton Oswalt: Annihilation (2017)

Netflix Original