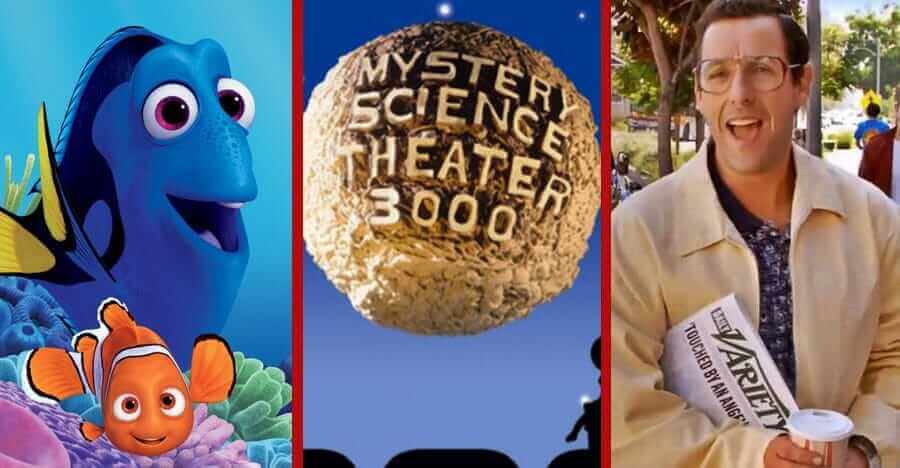 April is quickly passing and we are already over half way through the month. This week we welcome a total of 55 new titles arriving to Australian Netflix, this includes 38 New movies, 3 Documentaries and 13 new TV series for you all to enjoy. If you take a look at this list and don't really know where to start, we have taken it upon ourselves to pick out three titles in particular that we feel need a mention.
Our first pick this week is the Popular Disney Animated film, 'Finding Dory' which is a sequel to the 2003 film 'Finding Nemo' that has became a Disney Classic. This time the film centres on Dory, who has always had awful memory and struggles to recall the simplest of events. In a spur of the moment she begins searching for her long-lost parents, who she only has fragments of memories of. The journeys is of self-discovery as she meets new friends on her way to find her parents, while being pursued by Marlin and Nemo, the famous Clown-fish.
Article Continues Below...
Our second choice for this weeks additions, is the return of the 1988 show, 'Mystery Science Theatre 3000'. The show has been taken on as a Netflix Original and Stars Jonah Ray as an unsuspecting employee who is lured into a trap by Mad Scientists who force him to watch some of the worst movies ever created. He and 2 robots must endure the films, while making fun of them in the process.  The original is a cult classic, and the Reboot has exceeded the expectations of fans and is defiantly worth a watch.
Lastly, we have chosen the new Netflix Original film partnered with Adam Sandler called Sandy Wexler. Sandy is a talent manager who is working in 1990's Hollywood representing a group of clients who are struggling to keep up with the modern changing times. After Sandy discovers an amazing singer at a amusement park, he falls deeply in love with her, and must deal with this ever-changing business and his new relationship. The film is the third in a deal between Adam Sandler and Netflix, and many fans of Sandler have been praising his return in general, if you are one of these fans, you will be glad to here that this film is now available to stream.
Read on for the full list of all 55 new releases:
38 New Movies Streaming to Netflix Canada
Koi… Mil Gaya (2003)
Kevin Hart: What Now? (2016)
Hate Story (2012)
Macho (2016)
ROBOT (2010)
Green Is Gold (2016)
Colkatay Columbus (2016)
Chandni Bar (2001)
Bhoothnath (2008)
Baghban (2003)
We Are Family (2016)
The Chosen (2016)
Sandy Wexler (2017)
Our Lovers (2016)
Escape from Alcatraz (1979)
Arctic Heart (2016)
Veve (2014)
Van Wilder: Party Liaison (2002)
The Wedding Party (2016)
Sundown (2016)
Slam (2017)
Rise of the Footsoldier Part II (2015)
Rambo (2008)
In the Land of Women (2007)
Gone Too Far (2013)
From Paris with Love (2010)
Four Minutes (2006)
Flypaper (2011)
Final Girl (2015)
Dry (2015)
Cold Harbour (2013)
Bibi & Tina: Girls Versus Boys (2016)
Bibi & Tina II (2014)
Bibi & Tina (2014)
The Aviator (2004)
Finding Dory (2016)
Maggie (2015)
Lucas Brothers: On Drugs (2017)
3 New Documentaries Streaming to Netflix Australia
Radical: the Controversial Saga of Dada Figueiredo (2013)
The Search for Hitler's Bomb (2015)
Just Like Us (2010)
14 New TV Series Streaming to Netflix Canada
Grimm – Season 3 (2013)
Mystery Science Theater 3000: The Return – Season 1 (2017)
Guilt – Season 1 (2016)
Feed the Beast – Seaosn 1 (2016)
West Coast Customs – Season 2 (2011)
Resurrection: Ertugrul – Season 2 (2015)
Oddbods – Season 1 (2016)
Leyla and Mecnun – Season 3 (2014)
Gangs of Hassepur – Season 1 (2014)
Filinta – Season 2 (2015)
Chelsea – Season 2 (2016)
Bhabi Ji Ghar Par Hain – Season 1 (2015)
Bh Se Bhade – Season 1 (2013)
Agent Raghav – Season 1 (2015)