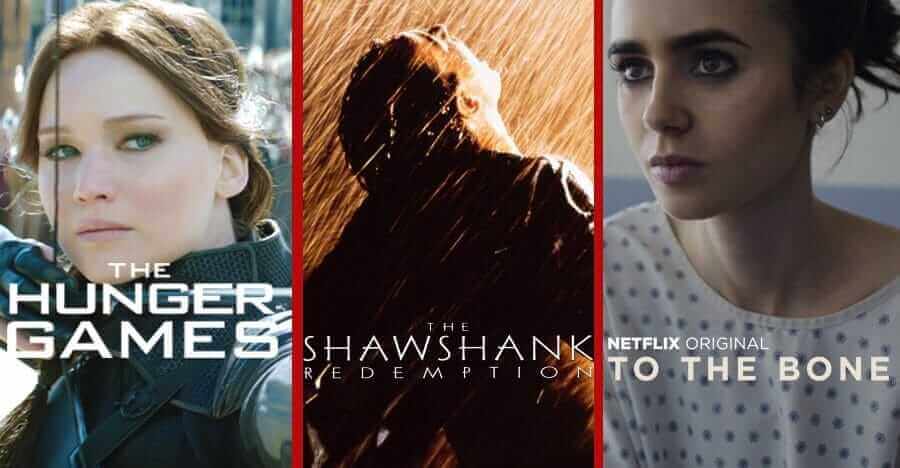 We're now quite a way through July and this week welcomes a total of 67 new titles, including 38 new movies, 3 new Documentaries and an additional 26 TV series, all for you to get stuck into. As usual, we have chosen three highlights from this week to briefly talk about, as well as some honorable mentions that you might be interested in. If you see anything in the list that you think needed to be pointed out, please feel free to tell us in the comments below.
Our first pick for this week is the new Netflix original film 'To the Bone' which follows a young woman who is struggling with anorexia. The film does a great job portraying this condition and how it effects everyone involved in many ways. Ellen, played by Lily Collins meets and unconventional Doctor William Beckham (Keanu Reeves) who helps her every-step along the way to overcome her illness. The film is a tear-jerking rollercoaster that has connected with many audience members, especially those who are unfortunately familiar with the mental condition. We defiantly recommend giving this drama/comedy a watch.
Our second highlight is actually more than one title, the 2012 film 'The Hunger Games', 2013's 'The Hunger Games: Catching Fire' and 'The Hunger Games: Mockingjay – Part 1' have all been introduced to Australian Netflix this week. The films are an adaptation of the very popular novels written by Suzanne Collins, first released in 2008. The books and movies are set in a dystopian future that was once devastated by a seemingly forgotten war, and since been separated into 12 districts, all with varied qualities of life. The main premise is that once every year 2 children from each district are chosen to compete in a compulsory fight to the death aptly named 'The Hunger Games'. The film mainly focusses on Katniss, who volunteers to take place in the death-match in place of the younger sister. If you never got round to watching The Hunger Games, now is the perfect time.
Our last highlight is the 1994 unforgettable classic 'The Shawshank Redemption', a tale of a former banker who is convicted of a crime he did not commit, and is now spending 2 life sentences in the Shawshank prison. Now Andy Dufresne (Tim Robbins) must deal with the tortures of prison life along with his soon to be friend Red (Morgan Freeman). The film might not have thrilling action scenes or CGI, but it does have a powerful story about freedom and hope. If you have never watched this cinematic masterpiece we strongly recommend you do, especially now it's available to stream.
This week's Honorable Mentions include: The Goonies (1985), Horns (2013), and the 6th Season of Suits (2016).
Read on for the full list of all 67 new releases:
38 New Movies Streaming to Netflix Australia
Robot & Frank (2004)
Horns (2013)
The Family (2013)
Miss Congeniality (2000)
American Heist (2014)
21 & Over (2013)
The DUFF (2015)
Tom Segura: Completely Normal (2014)
D.L. Hughley: Clear (2014)
The Hunger Games (2012)
The Hunger Games: Catching Fire (2013)
The Hunger Games: Mockingjay – Part 1 (2014)
Disturbia (2007)
Demon Inside (2013)
Stolen (2012)
To the Bone (2017)

Netflix Original

Bring It On: In It to Win It (2007)
Act of Valour (2012)
Buddy Thunderstruck: The Maybe Pile (2017)
That Girl in Yellow Boots (2010)
Halla Bol (2008)
The Goonies (1985)
Fool's Gold (2008)
The Candidate (2016)
Singh Saab the Great (2013)
Skin Wars – Season 2 (2015)
Amar (2017)
Ottakolam (2016)
Vitti Dandu (2014)
The Painted House (2015)
Kanyaka Talkies (2013)
Shavam (2015)
The Shawshank Redemption (1994)
The Blind Side (2009)
Uncertain Glory (2017)
Phir Hera Pheri (2006)
Professor (1962)
Aditi Mittal: Things They Wouldn't Let Me Say (2017)

Netflix Original
3 New Documentaries Streaming to Netflix Australia
Chasing Coral (2017) Netflix Original
Innsaei (2016)
Fittest on Earth: A Decade of Fitness (2017)
26 New TV Series Streaming to Netflix Australia
Real Detective – Season 2 (2016)
It's Okay, That's Love – Season 1 (2014)
Men on a Mission – Season 1 (2017)
Z Nation – Season 2 (2014)
Friends from College – Season 1 (2017)

Netflix Original

Suits – Season 6 (2013)
El Capo – El Amo del Tunel – Season 1 (2016)
A Gentleman's Dignity – Season 1 (2012)
Gab-Dong – Season 1 (2014)
Reply 1997 – Season 1 (2012)
In Need of Romance – Season 1 (2011)
Oh My Ghost – Season 1 (2015)
Nine: Nine Time Travels – Season 1 (2013)
Let's Eat 2 – Season 1 (2015)
Let's Eat – Season 1 (2013)
In Need of Romance 3 – Season 1 (2014)
Reply 1994 – Season 1 (2014)
Bad Guys – Season 1 (2014)
Quiz From God – Season 4 (2014)
Mi-saenng, Incomplete Life – Season 1 (2014)
In Need of Romance 2012 – Season 1 (2012)
West Coast Customs – Season 4 (2011)
Wild Kratts – Season 2 (2010)
Ari Shaffir: Double Negative – Season 1 (2017)

Netflix Original

Kikoriki – Season 2 (2010)
Cheo-Yong – Season 2 (2015)