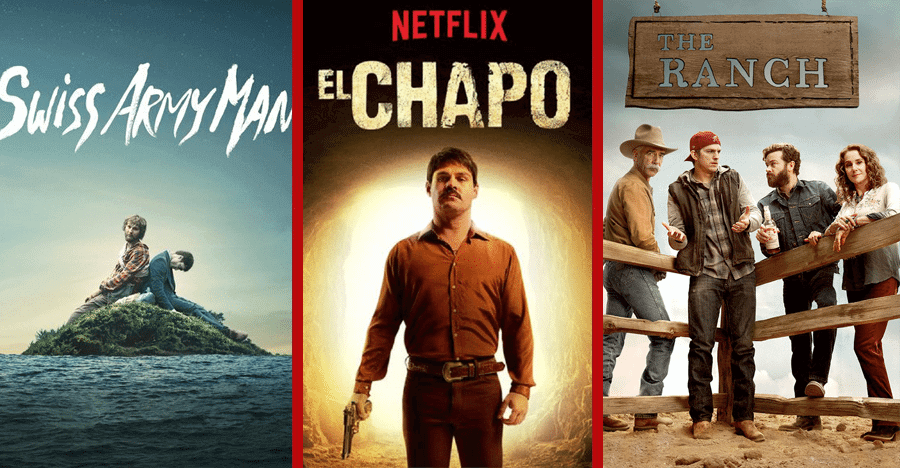 Only a matter of days before Christmas is upon us, and with all the great new titles coming to Netflix, you'll have plenty to watch. Below you will find a list of all the titles added to Australian Netflix in the past week. 73 new movies, 4 Documentaries, and 14 TV shows have been welcomed. As usual, we have picked three titles that have stood from the list below, and briefly talked about them. If you see something below that you think we should have pointed out, please let us know in the comments below.
Our first pick is a Netflix Original series. The 4th season of 'The Ranch' has just arrived on Netflix and picks up the story of the Bennett family and their Colorado ranch. Colt Bennett returns to the farm after a number of years as a semi-pro footballer, intending to run the family business, but not without some conflict. Since the show's release in 2016, many Netflix users have praised the comedy and will be glad to see the fourth season available.
Another series that has also returned this week is the Crime Drama 'El Chapo'. The show follows the infamous drug kingpin El Chapo during the 1980s, and his rise and inevitable fall of power in 2016. If you were a fan of the Netflix Original 'Narcos' we think you will love this show as well.
Our final pick for this week is a little bit of a strange one. The 2016 film 'Swiss Army Man' stars Paul Dano and Daniel Radcliffe in a heartfelt and quite amazing story of a stranded man on the edge of suicide. But before Hank kills himself he finds a washed-up corpse on the beach, who he befriends and soon discovers can perform countless un-natural abilities. The surprisingly deep film took many by surprise and is definitely worth a watch.
See the full list of 91 titles added to Netflix Australia this week:
73 New Movies Streaming to Netflix Australia
YZ (2016)
Wyrmwood: Road of the Dead (2014)
Valu: The Wild Bull (2008)
Twilight (2008)
They Call Me Jeeg (2015)
The Way Way Back (2013)
The Twilight Saga: New Moon (2009)
The Twilight Saga: Eclipse (2010)
The Twilight Saga: Breaking Dawn: Part 1 (2011)
The Twilight Saga: Breaking Dawn: Part 2 (2012)
The Program (2015)
The Kingdom (2007)
The Forbidden Kingdom (2008)
The 100-Year-Old Man Who Climbed Out of the Window and Disappeared (2013)
That Awkward Moment (2014)
Swiss Army Man (2016)
Sumbaran (2009)
Sukhi Sansarachi 12 Sutre (1995)
Something Borrowed (2011)
Snitch (2013)
Shikshanachya Aaicha Gho (2010)
Shejari Shejari (1990)
Shame To Shame (1991)
Serena (2014)
Seoul Searching (2015)
Sandook (2015)
Sabotage (2014)
Rise of the Zombie (2013)
Remember Me (2010)
Rajwade & Sons (2015)
Premasathi Vattel Te (1987)
Pottersville (2017)
Popat (2013)
Pheka Pheki (1989)
P.S. I Love You (2007)
Non-Stop (2014)
Neverlake (2013)
My Girl (1991)
Muramba (2017)
Mumbai Pune Mumbai 2 (2015)
Mumbai Pune Mumbai (2010)
Mantra (2017)
Mantostaan (2017)
Man on a Ledge (2012)
L'estate addosso (2016)
Kshanbhar Vishranti (2010)
Kabali (Hindi Version) (2016)
Just Friends (2005)
Ishq Wala Love (2014)
In the Land of Women (2007)
Hummingbird (2013)
Happy Journey (2014)
Gold (2016)
Gelo (2016)
From Paris with Love (2010)
Flypaper (2011)
Due Date (2010)
Deool (2011)
Dark Chocolate (Hindi Version) (2016)
Dark Chocolate (Bengali Version) (2016)
Coffee Ani Barach Kahi (2015)
Christmas Inheritance (2017)

Netflix Original

Chaos (2005)
Broken City (2013)
Big Stan (2007)
Ballerina (2016)
Astro Boy (2009)
And So It Goes (2014)
Anaconda (1997)
Alex Cross (2012)
Agadbam (2010)
A Little Bit of Heaven (2011)
1920 (2008)
4 New Documentaries Streaming to Netflix Australia
Under an Arctic Sky (2017)
Freeway: Crack in the System (2015)
Discovering Bigfoot (2017)
Breaking Free (2015)
14 New TV Series Streaming to Netflix Australia
Wyrmwood: Road of the Dead – Season 1 (2017)

Netflix Original

Ultimate Beastmaster – Season 2 (2017)

Netflix Original

Trollhunters – Season 2 (2016)

Netflix Original

The Windsors – Season 1 (2016)
The Ranch – Season 4 (2016)

Netflix Original

The Frozen Dead – Season 1 (2016)
Reggie Yates' Extreme – Season 2 (2017)
Pocoyo – Season 2 (2005)
Manhunt – Season 1 (2017)

Netflix Original

Hello, My Twenties! – Season 2 (2016)
Erased – Season 1 (2017)

Netflix Original

El Chapo – Season 2 (2017)

Netflix Original

Cheuk Wan-Chi: Two Night Stand – Season 1 (2015)
Chasing Monsters – Season 2 (2015)