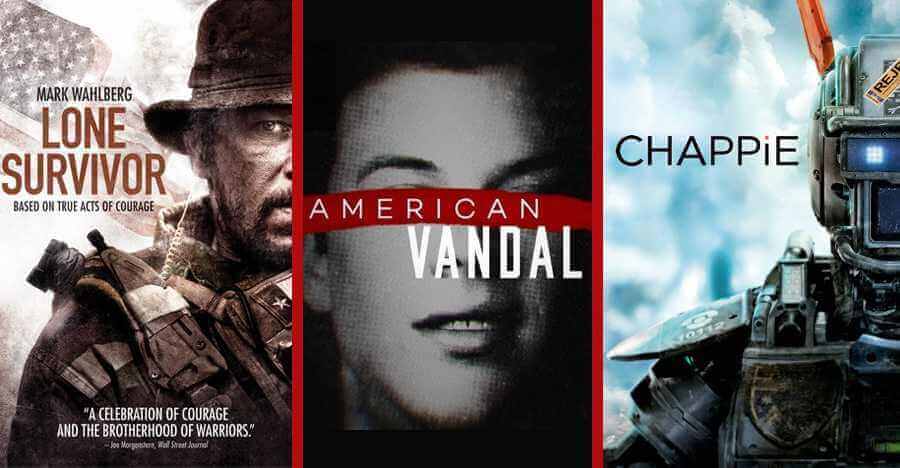 This week of September has brought a total of 54 new titles to Australian Netflix, we are gonna take some time to look over this last week and individually pick out three titles that might interest you. 31 new Movies, 6 Documentaries and 17 new TV series have been added, feel free to dig into the list and let us know in the comments if you spot something that you think we should have highlighted.
Our first pick for this week is 'Lone Survivor', the true story of Marcus Luttrell and his team on a mission to kill or capture a notorious and dangerous Taliban leader Ahmad Shah. Mark Wahlberg takes the helm of this brutal story as his team and friends die around him, trapped on an Afghan mountain. The film was credited for its military realism and is an intense thriller ideal for any fan of war movies.
'American Vandal' is a new Netflix original spoof of true-crime documentaries. The satire comedy follows Dylan Maxwell (Jimmy Tatro) after 27 cars parked at his school are spray-painted with phallic images. The blame immediately falls on Dylan but he is convinced he has been set up and is determined to clear his name. The 8-part series does a great job investing you in the characters and will keep you smiling throughout.
Article Continues Below...
Lastly, for this week we have chosen to highlight the 2015 film, 'Chappie'. Set in the near future where the police force uses mechanized officers to patrol crime, an engineer Deon Wilson is on the brink of creating artificial intelligence. Despite being told to abort his research, Deon steals a robot that's about to be scrapped and uses it to test his AI on. But after the newly programmed robot is stolen by criminals it is taught a different meaning of good and bad. This interesting crime, drama is now streaming on Australian Netflix and is worth a watch.
This week's Honorable Mentions include: Jerry Before Seinfeld (2017) Netflix Original, The Captive (2014) and the second season of the Netflix Orginal Beat Bugs.
Read on for the full list of all 54 new releases:
31 New Movies Streaming to Netflix Australia
The Lone Ranger (2013)
The Captive (2014)
Deadly Paradise (2016)
Killer App (2017)
Now you see me (2013)
The Department (2015)
Misfire (2014)
Larceny (2017)
The Visit (2015)
Rumble (2016)
Taxi Driver (2015)
Janaan (2016)
Mum, Dad, Meet Sam (2014)
Funny People (2009)
30 Days in Atlanta (2014)
When Love Comes Around (2014)
Head Gone (2014)
Foresti Party (2012)
Dead Cold (2017)
The Core (2003)
Lone Survivor (2013)
Couple of Days (2016)
Mummy Dearest (2014)
Falling (2015)
A Soldier's Story (2015)
Aroni Takhon (2017)
First They Killed My Father (2017)

Netflix Original

Gary of the Pacific (2017)
Wild Wild West (1999)
Chappie (2015)
Jerry Before Seinfeld (2017)

Netflix Original
6 New Documentaries Streaming to Netflix Australia
Strong Island (2017)

Netflix Original

Mala Mala (2014)
Foo Fighters: Back and Forth (2011)
Time: The Kalief Browder Story – Season 1 (2017)

Netflix Original

Secrets of Ancient Rome – Season 1 (2015)
George Harrison: Living in the Material World (2011)
17 New TV Series Streaming to Netflix Australia
Offspring – Season 7 (2014)
Panama Canal: Prized Possession – Season 1 (2015)
Romance of Our Parents – Season 1 (2014)
Dragons' Den – Season 1 (2015)
American Vandal – Season 1 (2017)

Netflix Original

Project Mc² – Season 5 (2015)

Netflix Original

Strong Girl Bong-soon – Season 1 (2017)
Listen to Love – Season 1 (2016)
VeggieTales in the City – Season 2 (2017)
Beat Bugs – Season 2 (2016)

Netflix Original

Silver Spoon – Season 2 (2014)
Bates Motel – Season 4 (2013)
Click for Murder – Season 1 (2017)
Mortified – Season 2 (2006)
Forget Me Not – Season 1 (2011)
Timeless Season – Season 1 (2009)
The Adjusters – Season 2 (2010)