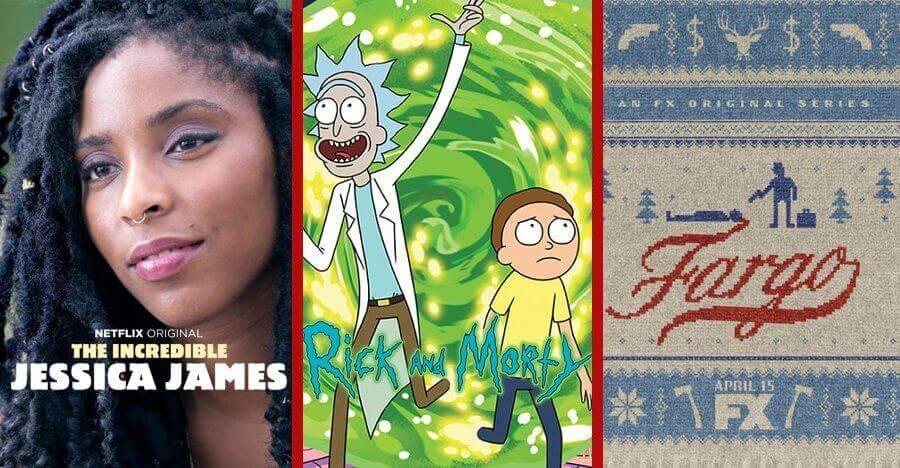 The first day of August is here and so are all the titles that come along with it. 84 new titles have been added, including 45 new Movies, 8 Documentaries and a further 31 new TV series all for your enjoyment. As usual, we are going to pick out three individual titles and briefly highlight them in the hope of giving you an idea where to start. If you look through the list and spot something that you think we should have mentioned, please tell us in the comments below.
Our first pick for this week is the brand new Netflix original film 'The Incredible Jessica James'. The show is based on a play writer living in New York and her rollercoaster of a life. She has recently come out of a break-up after being hesitant at first, goes on a blind date. The comedy promotes diversity and is surprisingly clever. If you have a free evening it is definitely worth a watch.
Article Continues Below...
The long awaited 3rd season of the animated series 'Rick and Morty' has finally reached out screens after Netflix made a deal with Adult Swim to host weekly episodes alongside America. The show follows the crazy adventures a genius (mostly drunk), scientist Rick and his considerably less genius grandson Morty. They travel using something called the multiverse, which contains an infinite number of parallel universes full of anything you could possibly imagine. The adult themed show is very popular and many fans are glad to see it streaming on Netflix.
Our last highlight for this week is the third season of 'Fargo' that is now streaming on Australian Netflix. The crime mystery takes place in the frozen state of Minnesota and starts many well-known faces, including Billy Bob Thornton, Martin Freeman, Allison Tolman, Ewan McGregor and many more. All three seasons are set in different times with different characters, but all have one main thing in the common, the crime syndicate in Fargo.
This week's Honorable Mentions include: Terminator: Genisys (2015), Cloud Atlas (2012), Dear White People (2014), The IT Crowd – Season 5 (2013) and Doctor Strange (2016).
Read on for the full list of all 84 new releases:
45 New Movies Streaming to Netflix Australia
City of Tiny Lights (2016)
How Most Things Work (2015)
The Untouchables (1987)
The Incredible Jessica James (2017) Netflix Original
Sean Hughes: Right Side of Wrong (2007)
Terminator Genisys (2015)
Maz Jobrani: Brown and Friendly (2009)
Problem Child: Leslie Jones (2009)
The Crime of Padre Amaro (2002)
loco love (2013)
Cloud Atlas (2012)
Check Point (2017)
12 Angry Men (1957)
Despite the Falling Snow (2016)
Stigmata (1999)
Reasonable Doubt (2014)
Autopsy of Jane Doe (2016)
Savage Dog (2017)
Dinosaur Island (2014)
Bruno and Boots: Go Jump in the Pool (2016)
Garfield: The Movie (2004)
Sheep & Wolves (2016)
The Chronicles of Narnia: The Voyage of the Dawn Treader (2010)
Annabelle Hooper And The Ghosts Of Nantucket (2016)
Jessica Darling's It List (2016)
The Blind Christ (2016)
Kid Cannabis (2014)
The Wedding Party (2016)
Opening Night (2016)
Below Her Mouth (2016)
Dear White People (2014)
A Man Called Ove (2015)
Maz Jobrani: Immigrant (2017) Netflix Original
Tie the Knot (2016)
Catch and Release (2006)
Larry Crowne (2011)
The Standoff (2016)
Welcome to the Sticks (2008)
The Hippopotamus (2017)
Doctor Strange (2016)
Boyka: Undisputed (2016)
Ninja: Shadow of a Tear (2013)
The Cutting Edge (1992)
Anarkali of Aarah (2017)
You're Not You (2014)
8 New Documentaries Streaming to Netflix Australia
Cop Watchers (2016)
Man Who Killed Richard III (2015)
The Women Who Kill Lions (2016)
The Truth About Alcohol (2016)
The Bomb (2016)
AWAKE, A Dream From Standing Rock (2017)
Eagles of Death Metal: Nos Amis (Our Friends) (2017)
Spy Who Went Into the Cold (2013)
31 New TV Series Streaming to Netflix Australia
The Great Escape – Season 1 (2016)
Buddha Sutra – Season 1 (2015)
Samagri, Sampatti Aur Sauda – Season 1 (2015)
Kissa Currency Ka – Season 1 (2015)
Ithihas Ki Thali Se – Season 1 (2015)
Daughters of Destiny – Season 1 (2017)
Fargo – Season 3 (2014)
The Adventures of Puss in Boots – Season 5 (2015)
Rick and Morty – Season 3 (2013)
Hinterland – Season 2 (2013)
Under Arrest – Season 6 (2015)
Empire of the Tsars – Season 1 (2016)
Everyday Miracles – Season 1 (2014)
Dark Net – Season 1 (2016)
English – Season 1 (2009)
The Beginning and End of the Universe – Season 1 (2016)
Beverly Hills Pawn – Season 1 (2013)
Penn & Teller – Season 2 (2015)
Stranger – Season 1 (2017) Netflix Original
Velvet – Season 3 (2014)
Bountiful Blessings – Season 1 (2011)
Vroomiz – Season 3 (2016)
Life plan A and B – Season 1 (2016)
Love Storm – Season 1 (2016)
Fartsa – Season 1 (2015)
The IT Crowd – Season 5 (2013)
The In-Laws – Season 1 (2011)
Locust – Season 1 (2014)
Close Your Eyes Before It's Dark – Season 1 (2016)
Entangled – Season 1 (2014)
Have You Ever Fallen in Love, Miss Jiang? – Season 1 (2016)