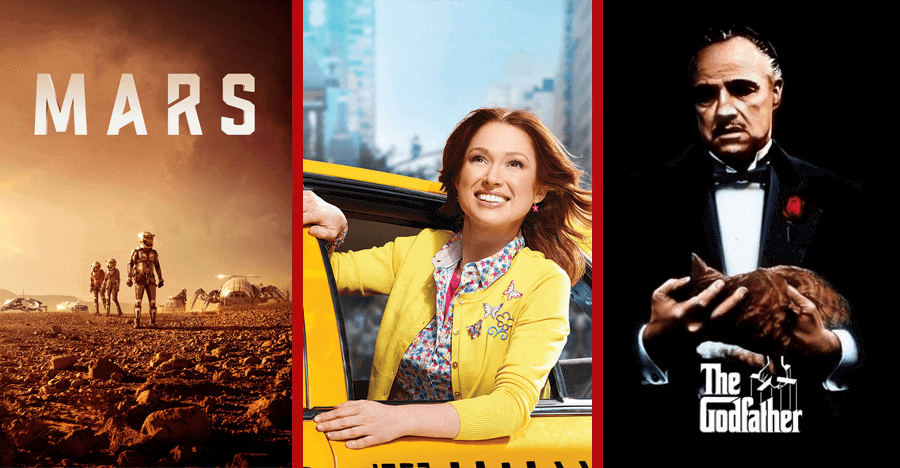 The new month is here, and along with it comes a load of new and exciting titles for you to get your teeth stuck into. The last week has brought 35 Movies, 10 TV Series and 3 Documentaries to our screens. In order to help you find something you might like, we have picked out three titles individually and highlighted them just below. But of course, feel free to look through the list and if you spot something that you think we should have mentioned, please let us know in the comments below.
This past week has welcomed a surprising amount of fantastic classic films. One particular is the 1972 film 'The Godfather' starring Al Pacino as the son of an infamous mafioso. The Crime Drama has won a total of 3 Oscars and many classic movie fans will be glad to see it's now available to stream on Netflix.
Another title that has just arrived to Australian Netflix is the 4th season of 'Unbreakable Kimmy Schmidt'. The popular Netflix Original follows Kimmy, an ex-cult member who lived underground for many years who upon being rescued, attempts to start a new life in New York City. The comedy has been received well for its unique charm and we have no doubt there will be many binging the 4th season as we speak.
Article Continues Below...
Our final pick for this week is the 2016 series created by National Geographic 'Mars'. The show focuses around the first manned mission to Mars in the year 2033, and follows the issues they must overcome in-order to successfully colonize the distant world.
See the full list of 48 new titles available on Netflix Australia this week:
35 New Movies Streaming on Netflix Australia
127 Hours (2010)
A Nightmare on Elm Street 4: The Dream Master (1988)
Amateur Night (2016)
B.A. Pass 2 (2017)
Beach Rats (2017)
Black Swan (2010)
Date Movie (2006)
Facing the Giants (2006)
Fifty Shades of Black (2016)
First Sunday (2008)
Forrest Gump (1994)
Gods of Egypt (2016)
Grease (1978)
Kubo and the Two Strings (2016)
La dictadura perfecta (2014)
Natsamrat (2016)
Norbit (2007)
Outside In (2018)
Raiders of the Lost Ark (1981)
Ratchet & Clank (2016)
Sara's Notebook (2018)
Shutter Island (2010)
Stealth (2005)
The 6th Day (2000)
The Breadwinner (2017)
The Gambler (2014)
The Godfather (1972)
The Lost City of Z (2017)
The Stolen (2017)
The Terminal (2004)
The Warriors (1979)
The Water Horse (2007)
Total Recall (2012)
What We Did on Our Holiday (2014)
Whiskey Tango Foxtrot (2016)
3 New Documentaries Streaming on Netflix Australia
Pedal the World (2014)
Terms and Conditions May Apply (2013)
The Power of Myth – Season 1 (1988)
10 New TV Series Streaming on Netflix Australia
100% Hotter – Season 1 (2016)
12 Monkeys – Season 3 (2017)
Animal Kingdom – Season 3 (2018)
Escape to the Continent – Season 1 (2014)
Mars – Season 1 (2016)
Psycho-Pass – Season 1 & 2 (2012)
Splash and Bubbles – Season 1 (2016)
The Break with Michelle Wolf – Season 1 (2018)

Netflix Original

Unbreakable Kimmy Schmidt – Season 4 (2018)

Netflix Original

You Me Her – Season 3 (2018)

Netflix Original