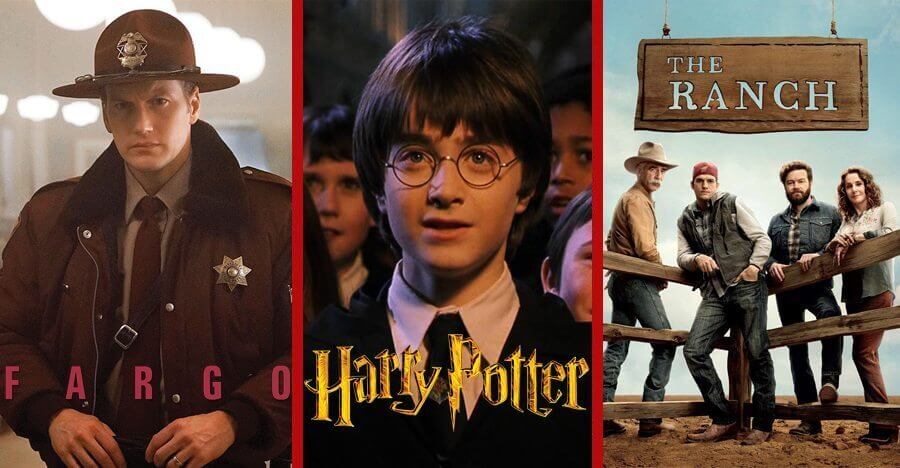 Another week has flown past for June and it has welcomed 60 new titles into Netflix's Australian database. This includes 42 new movies, 6 Documentaries and a further 13 new TV series. A lot of good stuff has been added this week so we have taken it upon ourselves to pick out three titles that have stood out to us and specifically highlight them. This way you might have more of a clue where to start.
Our first pick is the second season of the extremely popular crime, thriller 'Fargo'. Each season follows a different story based on murder and deception around the frozen state of Minnesota, with one key thing linking them all together, a criminal syndicate named Fargo. The show has Won 2 Golden Globes and has a very large and talented cast that deliver a quirky and original series that is definitely worth a watch.
Harry Potter fans will be pleased to see that the first two movies have been added to Netflix, 'Harry Potter and the Sorcerer's Stone' and 'Harry Potter and the Chamber of Secrets'. If you don't know what Harry Potter is (which I feel is highly unlikely), it follows a group of three friends who all attend Hogwarts, a school for Witchcraft and Wizardry and get involved in adventures and foil many evil plots that threaten the wizardry and muggle (Human) world. Harry Potter is one of the most well known and highest grossing franchises, loved by both children and adults.
This week also welcomes the return of 'The Ranch', a Netflix original comedy that follows the daily antics of a Colorado family who run a ranch. Thinks start to heat up after one of the sons decides to return to the family business after a career as a semi-professional footballer. Compared to some other comedy that are available on Netflix, The Ranch has definitely Hit Home with many people due to its well-written characters and tasteful comedy. If you are a fan of this sort of sit-com style of shows, you can't go far wrong. Season 3 has now debuted.
Read on for the full list of all 60 new releases:
42 New Movies Streaming to Netflix Australia
New Movies Streaming to Netflix Australia
Oh, Hello On Broadway (2017)
American Violence (2017)
Red Lights (2012)
#Horror (2015)
The Precipice Game (2016)
Wildlike (2014)
The Funhouse Massacre (2015)
Gimme the Loot (2012)
Kanavu Variyam (2017)
Marco Luque: Tamo Junto (2016)
Texas Chainsaw (2013)
Apartment: Rent at Your Own Risk (2010)
Manorama Six Feet Under (2007)
Luck (2009)
Soldier (1998)
Kidnap (2008)
Dus (2005)
Mr Joe B. Carvalho (2014)
Khakee (2004)
Ab Tak Chhappan 2 (2015)
Harry Potter and the Prisoner of Azkaban (2004)
Open Season (2006)
Harry Potter and the Sorcerer's Stone (2001)
Harry Potter and the Chamber of Secrets (2002)
Saare Jahaan Se Mehnga (2013)
Science (2010)
Kyaa Super Kool Hain Hum (2012)
Main Aur Mr. Riight (2014)
Golmaal Returns (2008)
Harry Potter and the Goblet of Fire (2005)
Deewaar (2004)
Khuda Gawah (1992)
Enemy at the Gates (2001)
Mere Baap Pehle Aap (2008)
Life Partner (2009)
The Legend of Bhagat Singh (2002)
New Year's Eve (2011)
Ninja Assassin (2009)
Puss in Book: Trapped in an Epic Tale (2017)
Pete's Dragon (2016)
Rory Scovel Tries Stand-Up for the First Time (2017)
Amar Akbar & Tony (2015)
5 New Documentaries Streaming to Netflix Australia
The Russian Revolution (2017)
Mr. Gaga: A True Story of Love and Dance (2015)
The Real Miyagi (2015)
What the Health (2017)
Counterpunch (2017)
13 New TV Series Streaming to Netflix Australia
Terrace House: Aloha State – Season 3 (2016)
Archangel – Season 1 (2005)
Elizabeth I: The Virgin Queen – Season 1 (2005)
You Me Her – Season 2 (2016)
Abnormal Summit – Season 1 (2016)
Fargo – Season 2 (2014)
El Chapo – Season 1 (2017)
World of Winx – Season 2 (2016)
The Ranch – Season 3 (2016)
Vroomiz – Season 2 (2016)
Women Behind Bars – Season 2 (2009)
Highway to Heaven – Season 5 (1988)
Freddy Heineken – Season 1 (2013)