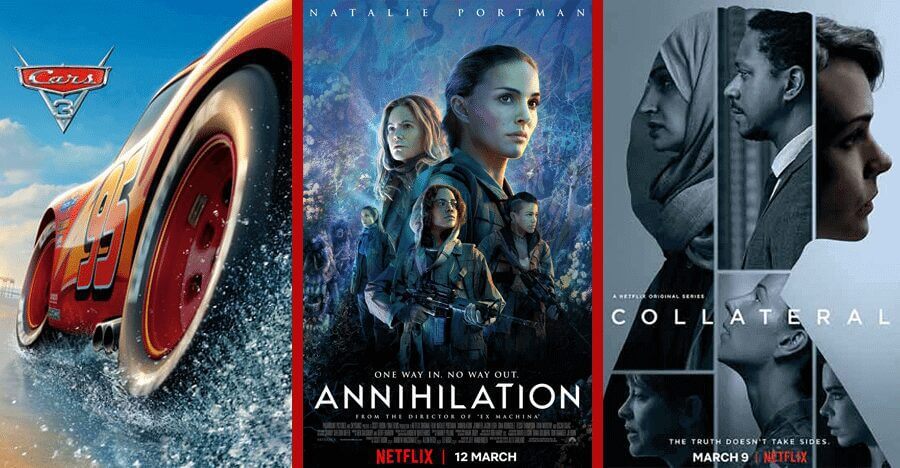 Welcome back to the section on What's on Netflix where we take a look at all the titles that have come to Australian Netflix in the past week. We have seen a total of 41 titles arrive, including 27 Movies, 10 TV Series, 3 Standup shows and finally 1 new documentary. Along with a full list of this week's titles, you will find below three paragraphs that take the time to pick out and highlight three separate titles that we recommend you look into watching.
Our first pick for this week is the new Netflix Original staring Natalie Portman 'Annihilation'. The sci-fi, fantasy follows a group of biologists who embark on a dangerous expedition into a large scientific anomaly where the laws of nature don't apply.  The straight to Netflix film has been received quite well since it's release and is worth a watch.
Our next choice is a little more aimed at the younger audience. Many people will be pleased to hear that 'Cars 3′ is now available to stream on Netflix. The third chapter following Lightning McQueen has been praised for returning more to its roots as Lightning begins to struggle against the new generation of racers. Determined to keep his title as the best race car in the world he starts to train and prepare for what could be the last race of his career.
Article Continues Below...
Lastly, we have chosen to pick out another Netflix Original that's just come to our screens. 'Collateral' is a new Crime, Mystery taking place in London following the seemingly random murder of pizza delivery man. The case reveals a much deeper story, involving British society as a whole. The film stars Carey Mulligan, John Simm and many other well-known British actors. If you enjoy well writen crime, dramas then this is one for you.
Here is the full list of 41 titles added to Netflix Australia this week:
27 New Movies Streaming to Netflix Australia
Stretch (2014)
Bushwick (2017)

Netflix Original

The Art Of Loving (2017)
Born In China (2016)
Mango Dreams (2016)
The Glimmer Man (1996)
Annihilation (2018)

Netflix Original

Gods And Generals (2003)
Scooby-Doo! Shaggy's Showdown (2016)
Spotlight (2015)
Dope (2015)
Meditation Park (2017)
Kanika (2017)
Guru (2007)
Cars 3 (2017)
The Giant (2017)
I Love You (2016)
Company (2002)
Dil Se (1998)
Y.M.I.: Yeh Mera India (2008)
Dear Dumb Diary (2013)
In Search Of Fellini (2017)
Khalnayak (1993)
Benji (2018)

Netflix Original

The Belko Experiment (2016)
Tu Hai Mera Sunday (2016)
Steel Rain (2018)
1 New Documentaries Streaming to Netflix Australia
Take Your Pills (2018)

Netflix Original
10 New TV Series Streaming to Netflix Australia
The Garfield Show: Season 1-2 (2008)
Fairground Attractions: Season 1 (2011)
Secret Of The Nile: Season 1 (2016)
Collateral: Season 1 (2018)

Netflix Original

Live: Season 1 (2018)

Netflix Original

Mary Portas: Secret Shopper: Season 1 (2011)
Wild Wild Country: Season 1 (2018)

Netflix Original

Tabula Rasa: Season 1 (2017)

Netflix Original

On My Block: Season 1 (2018)

Netflix Original

Darr Sabko Lagta Hai: Season 1 (2015)
2 New Standup Shows Streaming to Netflix Australia
Ricky Gervais: Humanity (2018)

Netflix Original

Yoo Byung Jae: Too Much Information (2018)

Netflix Original