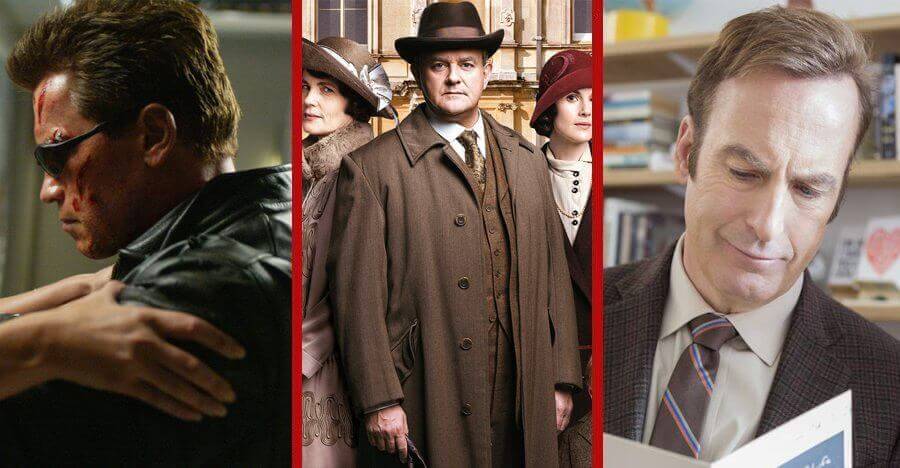 February is quickly drawing to a close and the massive surge of titles on March the 1st will soon be upon us. This week Australian Netflix has had a total of 48 titles added, with 28 new Movies, 5 Documentaries and 15 new TV series. As usual we have taken the task in selecting three titles that we think deserve to be highlighted and mentioned, so you can consider giving them a watch.
Our first mention is the very new 'Girlfriend's Day' staring Bob Odenkirk (Saul Goodman from Breaking Bad) and Amber Tamblyn. The show is a Netflix Original and it's set in a very quirky and odd world where greeting card creators/writers are on the same level as big movie stars. Bob plays Ray Wentworth, once regarded as one of the best romance and card writers, who has now fallen on hard times both emotionally and financially. The city introduces a holiday dubbed 'Girlfriend's Day' and offers a reward for anyone who can create the perfect card for this day. Ray must try his best to get back his previous passion and feelings, but in doing so gets wrapped up in a world of crime and murder. Don't be mistaken it is also a Comedy along with being a dark Drama, so if you are into quirky unique shows like this, you are sure to enjoy.
Article Continues Below...
Our next pick for this week is the critically acclaimed Period Drama 'Downton Abbey' that originally aired on the BBC in 2011. The show is now in season two and the cast includes the likes of Hugh Bonneville, Laura Carmichael, Jim Carter, Maggie Smith, and many more that have benefited greatly from taking part in this internationally well received show. The show follows the ups and downs of the grand country estate of Downton Abbey and all the lives, rich or poor that are involved. Lord Grantham is the owner and the shows does a wonderful job of showing how great a drama can be and how peoples lives were affected (In the later seasons) by the Great War. The show has won 3 Golden Globes and there isn't many other period dramas that even come close to Downton Abbey.
Our last pick for this week is the third in the Terminator franchise 'Rise of the Machines' that released in 2003, over 10 years after the second. John Connor is now an adult and is attempting to stay hidden from any potential Terminators hunting him down. Skynet send back a T-X, an extremely advanced and superior model of terminator to kill John, subsequently stopping the potential success of the future resistance lead by him. Along with the T-X, an old reprogrammed CSM-101 (Arnold Schwarzenegger) is also sent back with the primary objective of protecting the future of the human race. If you love the Terminator movies, or only watched the first one, you will be pleased to see this is now available to watch.
Read on for the full list of all 48 new releases:
28 New Movies Streaming to Netflix Australia
Terminator 3: Rise of the Machines (2003)
Spanglish (2004)
Snatch (2000)
Rush: Beyond the Lighted Stage (2010)
Old Dogs (2009)
Mickey's Once Upon a Christmas (1999)
The Memory of Water (2015)
Look Who's Talking (1989)
Katherine Ryan: In Trouble (2017)
Holes (2003)
Girlfriend's Day (2017)
The Fury of a Patient Man (2016)
Four Weddings and a Funeral (1994)
Colors of Heaven (2011)
Atlantis: The Lost Empire (2001)
Rocky Handsome (2016)
Q (2014)
Kill Ratio (2016)
INDIA (2016)
Break Up Club (2010)
La Coppia Dei Campioni (2016)
Aram, Aram (2015)
Madaari (2016)
Captive (2015)
Trevor Noah: Afraid of the Dark (2017)
King Cobra (2016)
Gantz:O (2016)
Bill & Ted's Bogus Journey (1991)
5 New Documentary Streaming to Netflix Australia
Top 10 Secrets and Mysteries – Season 1 (2016)
The New Frontier – Season 1 (2015)
Enginuty – Season 1 (2015)
The West – Season 1 (2016)
Sparks (2016)
15 New TV Series Streaming to Netflix Australia
White Nights – Season 1 (2016)
Talking Tom and Friends – Season 1 (2015)
Project Mc2 – Part 4 (2015)
Nightmare High – Season 1 (2016)
Downton Abbey – Series 6 (2010)
Close Quarter Battle – Season 1 (2012)
Pioneers of African-American Cinema – Season 1 (1946)
Changing Seas – Season 3/6 (2009)
Love for Ten: Generation of Youth – Season 1 (2013)
Dragons: Race to the Edge – Season 4 (2015)
Chef's Table – Season 3 (2015)
Spark – Season 1 (2016)
Desperate Hours – Season 1 (2015)
The Seven Deadly Sins – Season Signs of Holy War (2014)
Explore TV – Season 1 (2016)