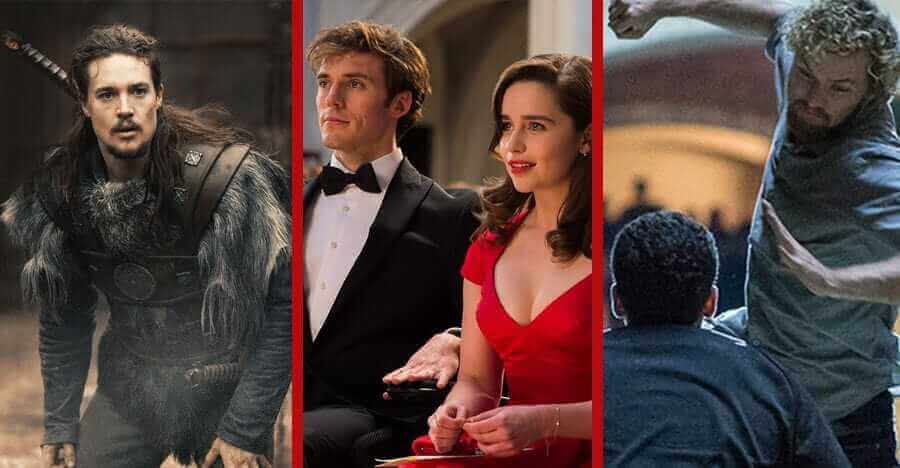 Australian Netflix has dad plenty of new and exciting titles reach it's screens. In this week alone 58 new titles have been introduced, consisting of 15 new Movies, 17 new Documentaries, and 28 new TV series. As usual we have taken on the task of picking out 3 titles that stand out to us, and briefly describing them, in the hope that you might want to give one of them ago now they are available to stream on Netflix.
Our first pick for this week is the 2016 Romance Drama 'Me Before You' starring Emilia Clarke (Game of Thrones) and Sam Claflin in a tear-jerking tale of finding love based on the novel by Jojo Moyes. Will Traynor is involved in a motorcycle accident that paralyzes him from the waist down, and he loses the determination to live. But Lou Clark comes into his life and proves to him that he does infact have alot to life for, and he can find joy once again. As well as a tear-jerker, this movie is a feel good film that is perfect to stream on a quiet evening.
Our second choice for this week is the band new Marvel Netflix Series 'Iron Fist', which just released and is the last of the 'Defenders'. The series follows 'Danny Rand' the heir and majority shareholder to a multi-billionaire company named after his family (Rand). Danny has been missing, presumed dead for 15 years after him and his parents were victim to a plane crash in the Himalayas. Danny was taken in by ancient warrior monks and brutally trained to be the 'Iron Fist'. The series does a good job is setting up the upcoming Marvel series 'The Defenders' which is going to be a collaboration between, Daredevil, Luke Cake, Jessica Jones and Iron Fist as they come together to take on the dreaded 'Hand'. Despite the initial bad press Iron Fist received before it was released, it is being regarded as on par with the other Defenders, and is definitely deserving of a watch.
Our Last pick for this week is the second series of the popular BBC series 'The Last Kingdom', that is set in the year of 872 and depicts the Danish invasion of England and how the kingdom of Wessex is holding on as the last kingdom not taken over. The show also focusses mainly on Uhtred, a Saxon born nobleman who is captured at a young age by the Danes and brought up, disregarding his old religion. He must find a way to claim what is his by birth right, but where do his loyalties lie?
Read on for the full list of all 58 new releases:
15 New Movies Streaming to Netflix Australia
The Trap (2014)
Namour (2016)
Eyyvah Eyyvah 3 (2014)
Eyyvah Eyyvah 2 (2011)
Dugun Dernek (2013)
Chocolate City (2015)
Bon Cop, Bad Cop (2006)
Bad Teacher (2011)
Asoka (2001)
Pandora (2016)
Elsa & Fred (2014)
Deidra & Laney Rob a Train (2017)
Selma (2014)
Me Before You (2015)
Another Forever (2016)
17 New Documentaries Streaming to Netflix Australia
Viking Apocalypse (2011)
Untamed Americas – Season 1 (2012)
The Woman with No Face (2015)
The Secret (2006)
Megafamilies (2011)
Les Bleus – Une autre histoire de France, 1996-2016
Ken Burns: The West – Season 1 (1996)
Inside Twin Town
Inside the Mobs Bloody Valentine (2011)
Inside Russias Toughest Prison (2011)
Inside Pint Sized Preachers (2011)
Inside Muslim Brotherhood (2011)
Inside Medical Marijuana (2011)
Hunt for the Giant Squid (2011)
Hunt for the Abomibable Snowman (2011)
Naledi: A Baby Elephant's Tale (2016)
Best Worst Thing That Ever Could Have Happened (2016)
26 New TV Series Streaming to Netflix Canada
Wind Scene Investigation – Season 1 (2011)
Very Bad Men – Season 3 (2013)
The Witch Doctor Will See you Now – Season 1 (2011)
Night Stalkers – Season 1 (2011)
Mystery Science Theater 3000 – Season 1 (1999)
Hive Alive – Season 1 (2014)
Drugs, Inc. – Season 1 (2012)
Dangerous Encounters with Brady Barr – Season 2 (2012)
Compete to Eat – Season 1 (2013)
Chasing UFOs – Season 1 (2012)
Built for the Kill – Season 2 (2013)
Britain's Underworld – Season 1 (2010)
Brain Games – Season 2 (2015)
Border Wars – Season 2 (2011)
Alien Deep with Bob Ballard – Season 1 (2012)
Hotel Beau Sejour – Season 1 (2017)
Samurai Gourment – Season 1 (2017)
Robocar Poli – Season 2 (2012)
Marvel's Iron Fist – Season 1 (2017)
Julie's Greenroom – Season 1 (2017)
American Odyssey – Season 1 (2015)
The Last Kingdom – Season 2 (2015)
Dave Chappelle – Season 1 (2017)
American Supernatural – Season 1 (2014)
America Unplugged – Season 1 (2014)
Addicted to Food – Season 1 (2011)