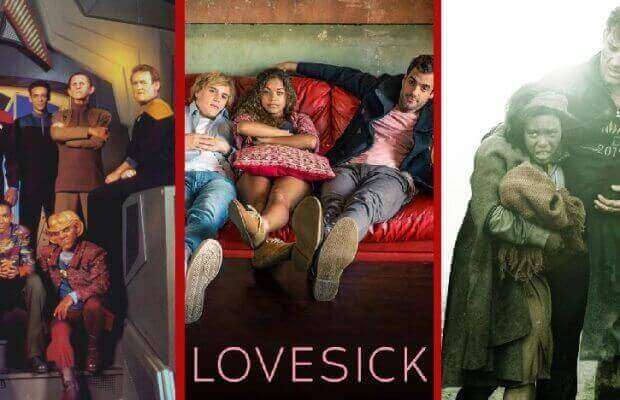 It's nearing the end of the month and this week we have an increased amount of new titles being added to Australia's Netflix, 31 to be precise compared to last weeks 13 titles. We hope you enjoy all the content being added, but we have specifically chosen three that we think need a special mention.
Our first mention is the second series of the popular British Comedy 'Lovesick' also known as 'Scrotal Recall'. Apart from its clever previous name it was also a fan favourite and the second season has been eagerly awaited. It's about Dylan, who has been diagnosed with Clymidia, sounds like a barrel of laughs, right? He now has to track down all his previous sexual partners with his friends. Each episode is based on a different girl and can as expected lead to some unexpected outcomes. If you enjoy comedies like this, you should definitely check this one out.
Next is 'Children of Men' a science fiction thriller released in 2006 based in the year 2027 after 2 generations of the human race being infertile. Most of the world has collapsed, apart from England, the only standing running government. The film shows the chaos of war and asylum seekers flooding the UK. The protagonist played by Clive Owen must help humanities last hope, (a pregnant immigrant) and get her to safety  to the "Human Project". Although the film wasn't quite as successful at the box-office, calling it a fan favorite would be a extreme understatement. It has been recognized as a cinematic wonder.
Our last title is the well known 'Star Trek: deep space nine' which is set on a space station of the same name. All 7 seasons have been added and anyone who is a fan of Star Trek should be pleasantly surprised at this arrival. Deep space nine has been praised by critics and fans due to the compelling plots and interesting and well developed character arks. If you've never watched Star Trek, then i'm clearly not going to convince you in this paragraph alone, but if you were to start, this would be the place.
Read on for the full list of all 13 new releases:
13 New Movies Streaming to Netflix Australia
Wetlands (2013)
Love (2015)
The King of Comedy (1983)
Dieter Nuhr: Nuhr in Berlin (2016)
The Missing (2003)
28 Days (2000)
Child's Play 2 (1990)
Twister (1996)
M Cream (2014)
Divines (2016)
Colin Quinn: The New York Story (2016)
Children of Men (2006)
Da Muss Mann durch (2015
4 New Documentaries Streaming to Netflix Australia
Cristina (2016)
Fireflies in the Abyss (2015)
Attention: A Life in Extremes (2014)
Shukranallah (2016)
14 New TV Series steaming on Australia
Old Money (2015) – Season 1
Suburbia – Women on the edge (2015) – Season 1
Fast Forward (2009) – Season 1/4
Vier Frauen und ein Todesfall (2005) – Season 1/6
Schloss Einstein (1998) – Season 17/18
Litle Baby Bum: Nursery Rhyme Friends (2016)
Grami's Circus Show (2014) – Season 1
Star Trek: Deep Space Nine (1993) – Season 1/7
Paranoid (2016) – Season 1
Lovesick (2016) – Season 2
Elementary (2012) – Season 3
Chicago Fire (2012) – Season 1/2
Brown Nation (2016) – Season 1
Beat Bugs (2016) – Season 2