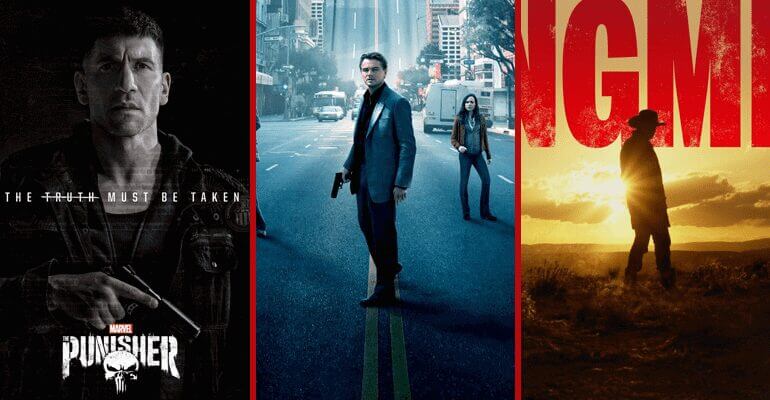 November's already nearly over and we're starting to feel festive already. But before we think about Christmas too much, let's take a look at all the new titles that have been welcomed to Australian Netflix in the past week. 37 new titles have been added along with 22 new Movies, 1 Documentary, 13 TV series and an additional standup show. Included in the additions are plenty of great new shows and movies for you to enjoy. As usual, we have taken it upon ourselves to point out three highlights from the week and briefly talk about them. If you spot something on the list that you personally think we should have pointed out, please let us know in the comments below.
Our first highlight is the brand-new Netflix Original 'The Punisher'. The long-awaited first season is finally here after months of teasing by Netflix. The Marvel show features Jon Bernthal as Frank Castle (aka. The Punisher), an ex-US marine who's family was executed brutally. Now Frank has vowed to kill every last person who has anything to do with his family's demise. The Character was first introduced to Netflix in the second season of Daredevil, but many fans are pleased to see his own series.
Our second pick for this week is another popular Netflix Original series 'Longmire'. The sixth season has just been welcomed to our screens and follows Robert Taylor's character Sheriff Walk Longmire. Since it's debut back in 2012 Longmire has accumulated a number of loyal fans who are extremely sad to hear that this season will be the last. The crime drama would make a perfect binge if you haven't started already.
Article Continues Below...
Finally, we have chosen to mention a 2010 film that literally turned the film world upside down when it released. 'Inception' is a Sci-Fi Adventure film starring Leonardo DiCaprio, Joseph Gordon-Levitt and Ellen Page which won 4 Oscars.
See the full list of 37 titles added to Netflix Australia this week:
22 New Movies Streaming to Netflix Australia
Wild Card (2015)
Silver Linings Playbook (2012)
O21 (2014)
Now Add Honey (2015)
Need for Speed (2014)
Lucky: No Time for Love (2005)
Live by Night (2016)
Law Abiding Citizen (2009)
Krish Trish and Baltiboy: Face Your Fears (2017)
Imagine That (2009)
Happy Feet (2006)
Falcon Rising (2014)
Death Wish (1974)
Billy Elliot (2000)
Alpha and Omega (2010)
A Flying Jatt (2016)
Mudbound (2017)

Netflix Original

A Christmas Prince (2017)

Netflix Original

The Mermaid (2016)
Paul Blart: Mall Cop 2 (2015)
Métamorphoses (2014)
Inception (2010)
1 New Documentaries Streaming to Netflix Australia
Jim & Andy: The Great Beyond – Featuring a Very Special, Contractually Obligated Mention of Tony Clifton (2017)

Netflix Original
13 New TV Series Streaming to Netflix Australia
The Method – Season 1 (2015)
Mr. Young – Season 2 (2012)
Lockup: State Prisons – Season 1 (2016)
Chuck Chicken – Season 1 (2017)
Brooklyn Nine-Nine – Season 4 (2013)
Black – Season 1 (2017)

Netflix Original

Stretch Armstrong & the Flex Fighters – Season 1 (2017)
Spirit Riding Free – Season 3 (2017)

Netflix Original

Shot in the Dark – Season 1 (2017)

Netflix Original

Marvel's The Punisher – Season 1 (2017)

Netflix Original

Luna Petunia – Season 3 (2016)
Longmire – Season 6 (2015)

Netflix Original

Cheapest Weddings – Season 1 (2016)
1 New Standup Show Streaming to Netflix Australia
DeRay Davis: How to Act Black (2017)

Netflix Original