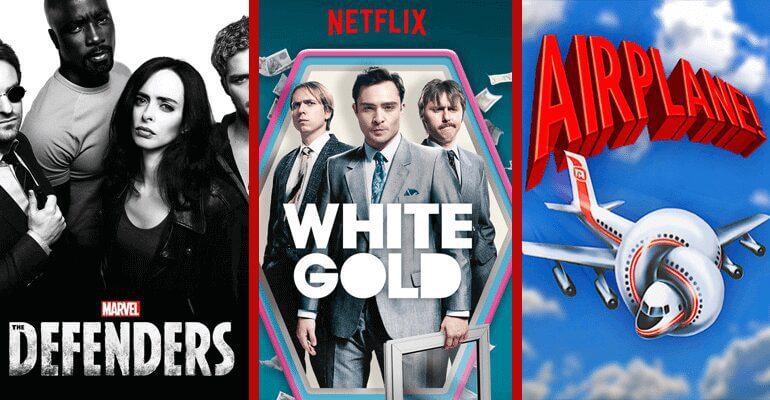 August is flying past, and we are here to take a look back on last weeks releases and make you aware of any great titles you may have missed. In total, last week welcomed 29 new titles to Australian Netflix, which included 12 movies, 4 new Documentaries and a further 13 TV series. Take a look through our list and if you spot anything that you think we should have highlighted, please tell us in the comment below. As usual, we have selected three titles that have stood out to us and briefly outlined them.
Our first pick is the 1980's comedy classic 'Airplane!'. Starring many great comedic actors including Leslie Nielsen, Peter Graves and Robert Hays. The film follows Ted Striker, who is desperate to convince the love of his life to stay with him, even going so far to follow her onto the plane that she is working on as a member of the cabin crew. After the pilots and passengers are hit with a bad case of food poisoning, everyone's survival rests on Ted's shoulders. The film was nominated for a Golden Globe and is still quoted by many to this day.
'White Gold' is a BBC show that has recently been brought onto Netflix. The show is set in 1980's Essex and follows a double-glazing company that will do anything just to get a sale. Doesn't initially sound thrilling, but this comedy was received extremely well for its humour, setting and nostalgic feel. The show stars two of the lads from inbetweeners and hosts a similar style of comedy.
Article Continues Below...
Our final highlight for this week is the long awaited Marvel series 'The Defenders'. Many Marvel and Netflix fans will be aware of the four series available, DareDevil, Jessica Jones, Luke Cage and Iron Fist, all 'super-humans' living in New York. Up until now they have all mostly worked alone but due to the ever-growing threat of the deadly crime syndicate named 'The Hand', they have been brought together to save the city from imminent destruction. The show is a mini-series containing 8 episodes and if you wish to know more about season 2 check out our recent article.
This week's Honorable Mentions include: Season 3 of Peaky Blinders, Season 5 of Dinotrux for the kids, and the first season on Glitter Force Doki Doki.
Read on for the full list of all 29 new releases:
12 New Movies Streaming to Netflix Australia
A Cinderella Story: If the Shoe Fits (2016)
Suite Française (2014)
What to Expect When You're Expecting (2012)
Wedding Crashers (2005)
Airplane! (1980)
Hide and Seek (2016)
Unforgiven (1992)
Little Nicky (2000)
Rembat (2015)
The Wedding Ringer (2015)
KL Zombi (2013)
Lynne Koplitz: Hormonal Beast (2017)
4 New Documentaries Streaming to Netflix Australia
The Polarman (2016)
Unacknowledged (2017)
Bad Rap (2016)
Alive and Kicking (2016)
13 New TV Series Streaming to Netflix Australia
Hogie the Globehopper – Season 1 (2016)
The Iron Lady – Season 1 (2009)
Glowing Embers – Season 1 (2010)
Women on the Breadfruit Tree – Season 1 (2015)
When Calls the Heart – Season 3 (2016)
Sports Adventure – Season 1 (2012)
White Gold – Season 1 (2017)

Partial Netflix Original

Dinotrux – Season 5 (2015)

Netflix Original

Marvel's The Defenders – Season 1 (2017)
Glitter Force Doki Doki – Season 1 (2017)

Netflix Original

Peaky Blinders – Season 3 (2013)
Hati Perempuan – Season 1 (2015)
Norsemen – Season 1 (2016)