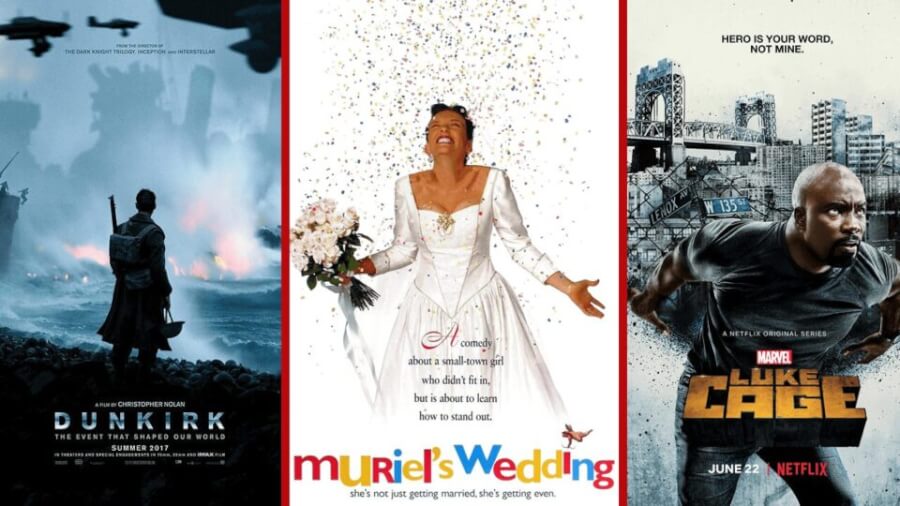 Plenty of good stuff has arrived in Australia this week including 7 Netflix Originals. From the 10 movie, 12 TV series, 3 documentaries and 1 new standup special, we have chosen 3 titles that deserve a closer look. Of course, you will have your own opinions and we welcome comments below.
In the cinema, 'Dunkirk' was released last year as a blockbuster and has now arrived on Netflix. Typically working as writer/director, Christopher Nolan was nominated as best director and the movie won three technical Oscars. This is a version of the story of the evacuation of the routed allied troops from the beaches of France in Operation Dynamo. Churchill described the episode as a miracle. Over eight days, more than 338,000 soldiers (including several thousand Australians) were lifted off the beaches by an armada of small boats. Dunkirk is very much a fictionalization of the real events and, as such, attracted a certain amount of criticism. This is easy to ignore if you accept the movie as a nice piece of storytelling.
'Luke Cage' is a superhero creation from Marvel. Starring Mike Colter in the title role, Cage has enormous strength and unbreakable skin. The setting is modern-day Harlem in New York and the baddies are bad. Sadly, as humans rather than supervillains, they don't really stand a chance against Cage. The storyline is deep with good old American morality and this is what largely carries it along. The action sequences are strong and the characters are entirely believable.
Article Continues Below...
Going back in time, 'Muriel's Wedding' is a fine Australian comedy romp. Featuring the music of ABBA (well why wouldn't it) this is as much a coming of age movie as Muriel becomes Mariel, shakes off her small town inhibitions and disappears into the sunset as a happy bunny. The feel-good factor is tangible and the movie has lost nothing over time. This is one for all the family and is well worth a first watch if you haven't seen it and a re-watch if you have.
Here's the full list of this week's releases.
New Movies
Dunkirk (2017)
It (2017)
Muriel's Wedding (1994)
Selena (1997)
Sesame Street – Follow That Bird (1985)
The Last Hour (La hora final) (2017)
The Legend of Tarzan (2016)
The LEGO Ninjago Movie (2017)
The Many Faces of Ito: The Movie (2018)
Us and Them (2018) Netflix Original
New TV Series
Club de Cuervos Presents: The Ballad of Hugo Sánchez (Season 1)
Club Friday The Series 7 (7 Seasons)
Derren Brown: Miracle (2018)

Netflix Original

Heavy Rescue: 401 (Season 2) Netflix Original
Love Rhythms – Accidental Daddy (Season 1)
Marvel's Luke Cage (Season 2) Netflix Original
Merlin (Season 5)
Orange Marmalade (Season 1)
Secret (Season 1)
The Underwear (Season 1)
Unsolved (Season 1)
Who Are You: School 2015 (Season 1)
New Documentaries
Brain on Fire (2018) Netflix Original
Cooking on High (2018) Netflix Original
The Vietnam War: A Film by Ken Burns and Lynn Novick (2017)
New Standup Special
Hannah Gadsby: Nanette (2018) Netflix Original