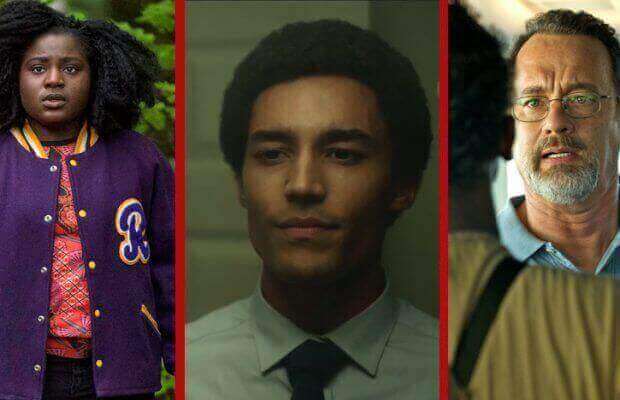 It's the Eve of Christmas Eve and the last 2 weeks, Australian Netflix has seen a large amount of new content enter it's database. A total of 73 titles! 33 new movies, 10 Documentaries and another 30 TV shows. We have as usual chosen 3 titles that we feel need a mention from this vast list.
But don't forget just because their hasn't been that many Christmas titles added recently, doesn't mean that there aren't already loads of classics already on Netflix, so be sure to check!
Firstly we have chosen the new Biography Drama based of the early life of the U.S. President Barack Obama. The hour and 45 minute film gives an insight into the story of how the young Obama overcome many problems, including discrimination and finding where he belongs in the world. If you are interested about Obama's story, even slightly, this is definitely a film for you.
Our Next pick is the 2013 film 'Captain Phillips' based on a true story of a group of Somili Pirates that hijack the US Maersk Alabama cargo ship in 2009. It has been praised as one of Tom Hanks best roles and an all around amazing thriller that got Nominated for 6 Oscars, had 16 wins and a total of 138 nominations. Pretty impressive and definitely worth a watch.
The final choice for this week is the new E4 TV series 'Crazyhead' created by Howard Overman (Who made Misfits). It's about 2 likeable main characters who have the rare gift of being able to see 'demons' that are hiding in society. They have to try their best to be bad asses, and they somewhat pull it off. The show includes quite dirty humour and attitudes, much like misfits. This is a little series that you should at least try out for the first couple of episodes, because it is clear some people have fallen in love.
Read on for the full list of all 73 new releases:
33 New Movies Streaming to Netflix Australia
Ricardo O'Farrill: Christmas hug (2016)
Let's Be Evil (2016)
Expediente Santiso (2016)
Aliens in the Attic (2009)
Tokyo Trial – Season 1 (2016)
Hocus Pocus (1993)
Beauty Shop (2005)
(500) Days of Summer (2009)
3 Turks and a Baby (2015)
A Wish for Christmas (2016)
I'll Be Home for Christmas (2016)
Sendero (2015)
Masaan (2015)
Barry (2016)
Total Frat Movie (2016)
Miss Stevens (2016)
Sleepless in Seattle (1993)
Gabriel Iglesias: I'm Sorry for What I said When I Was Hungry (2016)
Matilda (1996)
Kung Fu Hustle (2004)
Honeymoon (2015)
Flubber (1997)
The Finest Hours (2016)
Don't Blame the Kid (2016)
Garfunkel and Oates: Trying to be Special (2016)
7: 19 (2016)
This is the End (20130
One Direction: This is Us (2013)
Insidious: Chaper 2 (2013)
Carrie (2013)
Captain Phillips (2013)
After Earth (2013)
About Last Night (2014)
2 Guns (2013)
10 New Documentaries Streaming to Netflix Australia
Marias: Faith in Womanhood (2015)
Killswitch (2016)
This is the Life (2008)
Minimalosm: A Documentary (2016)
At All Costs (2016)
Ancient Secrets of the Bible I
Theo who Lived (2016)
Famous in Ahmedabad (2015)
Eddie – Strongman (2015)
Rats (2016)
30 New TV Series steaming on Australia
Nobel – Season 1 (2016)
Hit Record on TV with Joseph Gordon-Levitt – Season 2 (2014)
Miss Panda & Mr. Hedghog – Season 1 (2012)
Meridian – Season 1 (2016)
K-POP Extreme Survival – Season 1 (2012)
Happy And – Season 1 (2011)
Goodbye My Wife – Season 1 (2012)
Immortal Classic – Season 1 (2012)
Heaven's Garden – Season 1 (2011)
Color of Woman – Season 1 (2011)
The Churchmen – Season 1/3 (2012)
Cannabis – Season 1 (2016)
The OA – Season 1 (2016)
No Second Chance – Season 1 (2015)
Crazyhead – Season 1 (2016)
Call Me Francis – Season 1 (2016)
The Adventures of Puss in Boots – Season 4 (2015)
Van Helsing – Season 1 (2016)
The Undertaker – Season 1 (2013)
Call My Agent! – Season 1 (2015)
Zindagi Gulzar Hai – Season 1 (2012)
Sadqay Tumhare – Season 1 (2014)
Ice Fantasy – Season 1 (2016)
Humsafar – Season 1 (2011)
Zoo – Season 2 (2015)
Hot Wheels: Battle Force 5 – Season 2 (2009)
Boys Over Flowers – Season 1 (2009)
Trollhunters – Season 1 (2016)
Traverlers – Season 1 (2016)
My. Young – Season 3 (2011)