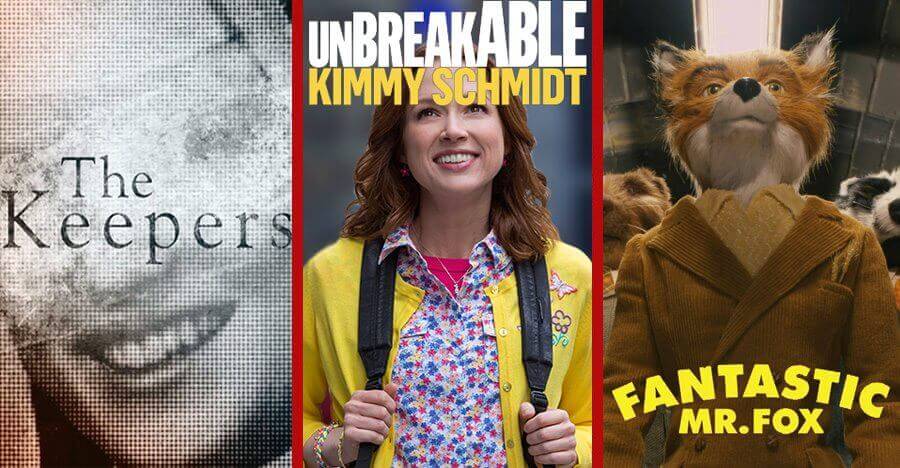 May is soon drawing to a close and this week 54 new titles have been added to Australian Netflix, consisting of 16 new Movies, 7 Documentaries, and a further 31 TV series. As usual, we have chosen three titles from this week's additions to talk about, in the hope of giving you an idea of where to start.
Our first pick for this week is the 2009 stop-motion style film, based on the book 'Fantastic Mr.Fox' by Roald Dahl. The film was nominated for 2 Oscars for its weird charm and enjoyable style that resonated with fans. Mr.Fox himself was voiced by George Clooney along with other well-known actors including Meryl Streep, Bill Murry, and Willem Dafoe. The film follows Mr.Fox and his wild methods of stealing Hens, Turkeys, and ciders from three notorious farmers. But after the farmers catch on they begin a ruthless Fox hunt that forces Fantastic Mr. Fox's family into hiding while they plot a devious plan.
Netflix are going to continue their trend of bringing out great Original Crime Documentaries that captivate and interest many people. 'The Keepers' is a Mini-series based on the unsolves murder of a young nun named Sister Cathy. The show goes into detail with the horrific events and the many layers of secrecy that still surround this case almost five decades later.
Lastly, we have picked out a slightly more light-hearted show from this week. Season 3 of 'Unbreakable Kimmy Schmidt' has just hit our screens to the relief of many fans. The whole show has been blown over by positive reviews and has done exceptionally well considering that sometimes comedy, drama's of this ilk can be a little hit and miss. Kimmy Schmidt is rescued after living 15 years in an underground bunker with 3 other women as part of a Doomsday cult and after being introduced back into the world decided to start up her life in New York City.
Read on for the full list of all 54 new releases:
16 New Movies Streaming to Netflix Australia
Fantastic Mr. Fox (2009)
Tracy Morgan: Staying Alive (2017)
Big Fat City (2017)
Leo the Lion (2013)
Trick or Treaters (2007)
The Unbeatables (2013)
Evolution (2001)
30 Days in September (2017)
Shaolin Soccer(2001)
The Perfect Man (2005)
The Gunman (2015)
Gabriel Iglesias: Hot and Fluffy (2007)
Gabriel Iglesias: I'm Not Fat… I'm Fluffy (2009)
BLAME! (2017)
Colombia: Wild Magic (2015)
Dough (2015)
7 New Documentaries Streaming to Netflix Australia
Emmanuel Macron: Behind the Rise (2017)
Cropsey (2009)
Killer Legends (2014)
HIGHLAND: Thailand's Marijuana Awakening – Season 1 (2017)
Confessions of a Superhero (2007)
Laerte-se (2017)
Meet the Hitlers (2014)
The Keepers – Season 1 (2017)
31 New TV Series Streaming to Netflix Australia
Yanik Koza – Season 1 (2005)
Love is in the Air – Season 1 (2010)
Wicked Attraction – Season 1 (2011)
Inside West Coast Customs – Season 1 (2017)
Occult Crimes – Season 1 (2015)
FBI: Criminal Pursuit – Season 1 (2011)
Untold Stories of the ER – Season 1 (2012)
Killer Kids – Season 1 (2011)
How Booze Built America – Season 1 (2012)
Monsters and Mysteries – Season 2 (2015)
My First Home – Season 2 (2013)
Deep Fried Masters – Season 1 (2014)
BBQ Pitmasters Collection – Season 1 (2012)
Blackboard Wars – Season 1 (2013)
Auction Kings – Season 1 (2011)
Bar Hunters – Season 1 (2013)
Hidden Singer – Season 1 (2015)
Chug – Season 1 (2014)
Portal to the Unknown – Season 1 (2013)
Unbreakable Kimmy Schmidt – Season 3 (2015)
Behzat Ç – Season 1 (2010)
The Polar Sea – Season 1 (2016)
Mother Goose Club – Season 2 (2011)
The Same Sky – Season 1 (2017)
Last – Season 1 (2015)
Can We Get Married? – Season 1 (2012)
12 Years Promise – Season 1 (2014)
This Is My Love – Season 1 (2015)
Secret Affair – Season 1 (2014)
Beating Again – Season 1 (2015)