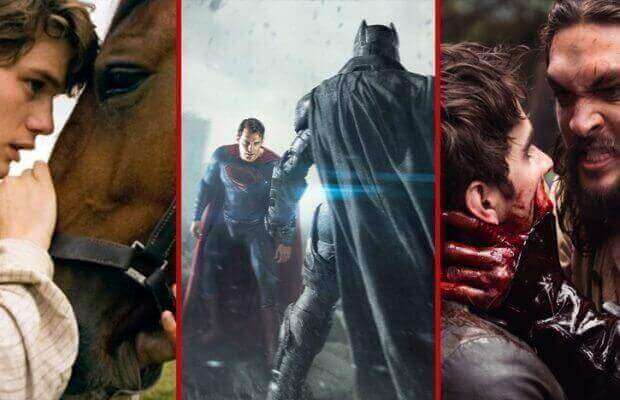 It is nearing the end of the first month of 2017, and Australian Netflix this week has had a total fo 38 new titles arrive on its screens. 25 new movies, 4 new documentaries and 9 new TV series for you to enjoy streaming anytime you wish. This week we have selected three titles that have stood out to us, to talk about, and that we think you should think about giving a watch.
The first title we picked to talk about is the 2011 Steven Spielberg film 'War Horse'. A tearjerking story about a horse that's sold into the cavalry after the first world war breaks out. The horses' young owner is also conscripted into the war effort and is shipped off to the front lines to fight. This epic drama won 6 Oscars and a total of 70 nominations.
Our next pick is the very new Netflix original 'Frontier', scripted by Canadian Discovery. It is based around the time of the American Frontier during the late 18th century. It stars Jason Momoa as Declan Harp, and the show so far has received very good reviews. Anyone who loves Historical Dramas should definitely give this a watch.
Our final pick is the highly anticipated DC movie 'Batman v Superman'  starring Henry Cavill as Superman and the first outing as Ben Affleck as Batman. There were many mixed reviews and opinions following the release of this blockbuster that had an estimated budget of $250,000,000. After concerns rise about the power Superman has and the aftermath of Man of Steel, Batman is convinced that he must take him down. The criminal mastermind of Lex Luthor uses his influence to try and control both Superman and Batman for his own advantage.
Read on for the full list of all 38 new releases:
25 New Movies Streaming to Netflix Australia
War Horse (2011)
Thunder and the House of Magic (2013)
Neal Brennan: 3 Mics (2017)
The Karate Kid (2010)
Joe Dirt (2001)
Das Boot: Theatrical Cut (1981)
Annie (1982)
Everybody Leaves (2015)
Batman v Superman: Dawn of Justice (2016)
Teenage Cocktail (2016)
Take the 10 (2017)
Stereo (2014)
Sarajevo (2014)
The Rezort (2016)
My Fuhrer (2007)
Miss India America (2015)
Max Rose (2013)
Green Room (2015)
Gone with the Bullets (2014)
August Rush (2007)
We Are Pregnant (2016)
Imprisoned (2015)
Hazing (2015)
Gad Gone Wild (2017)
Cristela Alonzo: Lower Classy (2017)
4 New Documentaries Streaming to Netflix Australia
Forensic Files – Collection 2/7 (2000)
The Autistic Me (2009)
Frenemies: Loyalty Turned Lethal – Season 1 (2013)
Stalked: Someone's Watching – Season 1 (2011)
9 New TV Series Streaming to Netflix Australia
Yunus Emre – Season 1/2 (2015)
Dealers: Put Your Money Where Your Mouth is – Season 1 (2008)
Tierra de Reyas – Season 1 (2014)
Subat – Season 1 (2012)
Frontier – Season 1 (2017)
Voltron: Legendary Defender – Season 2 (2016)
Terrace House: Aloha State – Season 1 (2016)
Hot Wheels: Battle Force 5 – Season 2 (2009)
Grami's Circus Show – season 2 (2014)