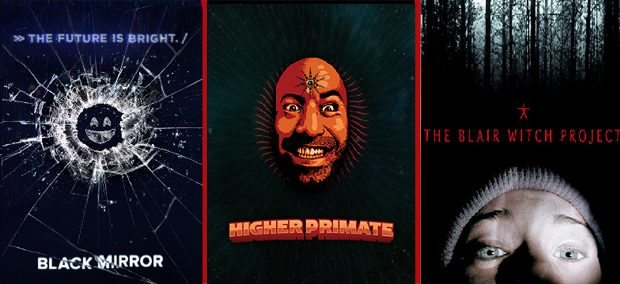 Over the past week, Netflix Australia has had 25 new shows and movies enter its database. Our Aussie friends are spoilt for choice. Ignoring that, I have picked three that we think need a shoutout.
My first pick is highly rated "Black Mirror," a British anthology series with a unique concept. Its third season has just arrived, and the premise is to emphasize the darker side of our human nature and technology. First airing in 2011 and created by Charlie Brooker it has surprised many reviewers and we think is definitely worth a watch.
My next choice is "Joe Rogan: Triggered." Joe Rogan is a stand-up comedian that focuses on all aspects of life to connect with his audience. He has quite an intense style that some people can be put off by. But appears not to hinder him at all. His high ratings and praise show that he is a talented comedian and can be enjoyed by many.
My last mention is the 1999 thriller/horror "The Blair Witch Project". This film caused quite a stir back when it was released due to its incredible marketing campaign. It managed to fool quite a few people that it was a real "found footage" film, even going as far as releasing fake 'Missing' posters with the actor's faces. Or maybe it was how much of the movie was just 'Shaky cam' aimed at the ground that repetitive shouting of characters names that gave the illusion that these were real people lost in a forest being hunted by a 200-year-old witch.
Read on for the full list of all 25 new releases:
13 New Movies Streaming on Netflix AU:
The Island (2005)
October Kiss (2015)
Closer (2004)
Donnie Brasco (1997)
Harud (2010)
John Carter (2012)
Sennentuntschi: Curse of the Alps (2010)
Soul Surfer (2011)
The Blair Witch Project (1999)
The Other Guys (2010)
The Thomas Crown Affair (1999)
Wrong Side of Town (2010)
Undecided: The Movie (2016)
12 New TV Series Streaming on Netflix AU:
Offspring (Season 5)
Gravity Is Just a Habit (2016)
Be Arrogant (Season 1)
Black Mirror (Season 3)
Ice and Fire of Youth (Season 1)
Joe Rogan: Triggered (2016)
Midnight Diner: Tokyo Stories (Season 1)
The American Dream Project (Season 1)
The Mr. Peabody and Sherman Show (Season 3)
Word Party (Season 2)
Truth and Power (Season 1)
Love Rain (Season 1)