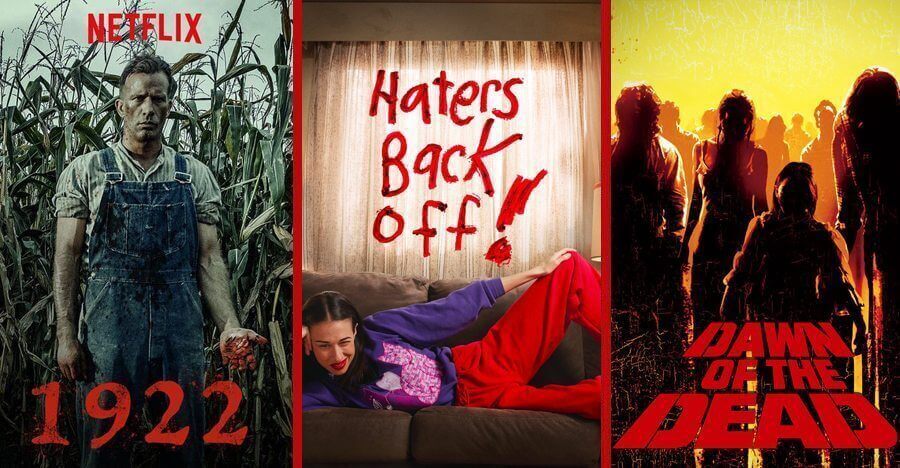 Another week has passed, and as we get closer to Halloween it seems like Netflix are adding more and more horror titles, new and old. Below, we have put together a list of all the titles that have been added to Canadian Netflix over the last week, we have also taken the liberty to pick out some highlights. Of course, if you spot something in the list that you think we should have mentioned, please tell us in the comments below.
Our first highlight from this week is the new Netflix Original film '1922'. The horror, thriller is based on the Novella by Stephen King, and follows the proud but simple farmer Wilfred James. His wife, Arlette begins to get restless of the farm life and becomes determined to sell the 100-acre farm and move to the city. Wilfred and his son Henry decide to plot her murder, but can they live with the consequences? 1922 is one of the many new Stephen King adaptations that have released recently, the main one being the incredibly popular horror move 'IT', which is now the highest grossing horror movie of all time.
Our next pick this week is the second season of the popular Netflix Original 'Haters Back Off'. The show stars Colleen Ballinger, a well-know Youtuber who created the character Miranda Sings a number of years ago.  Miranda is odd, to say the least, but that's not going to stop her on the long road to fame. If you know Miranda from Youtube, or have been introduced to her by Netflix, you will all be glad to see that the second season is now available to stream on Australian screens.
Our last highlight is not just one title. We thought because Halloween is just around the bend we would point out a number of great Horror films that have been added this past week. The original 1960's Alfred Hitchcock classic 'Phycho' is available to stream and features one of the most iconic and memorable horror scenes of all time. Another great film that has been added is the 2008 film 'Cloverfield' a suspenseful found footage film based around a group of friends who are caught in a devastating attack on New York. Also added is the 2004 remake of 'Dawn of the Dead' a film that actually somewhat lived up to the original George A. Romero classic.
Read on for the full list of all 27 new releases.
20 New Movies Streaming to Netflix Australia
Amnesia (2015)
The Ring Two (2005)
The Little Rascals (1994)
Psycho (1960)
Paranormal Activity 4 (2012)
Land of the Dead (2005)
Friday the 13th (2009)
Dawn of the Dead (2004)
Cloverfield (2008)
Alfie (2004)
A.I. Artificial Intelligence (2001)
Wheelman (2017)

Netflix Original

My Afternoons with Margueritte (2010)
Another Forever (2016)
1922 (2017)
Patiala House (2011)
Karzzzz (2008)
Kajraare (2010)
Humko Deewana Kar Gaye (2006)
Aashayein (2010)
1 New Documentaries Streaming to Netflix Australia
6 New TV Series Streaming to Netflix Australia
Tempel – Season 1 (2016)
Sab Jholmaal Hai – Season 1 (2017)
Guru Aur Bhole – Season 1 (2017)
Haters Back Off – Season 2 (2016)

Netflix Original

The Liar – Season 1 (2013)
The Day I Met El Chapo – Season 1 (2017)