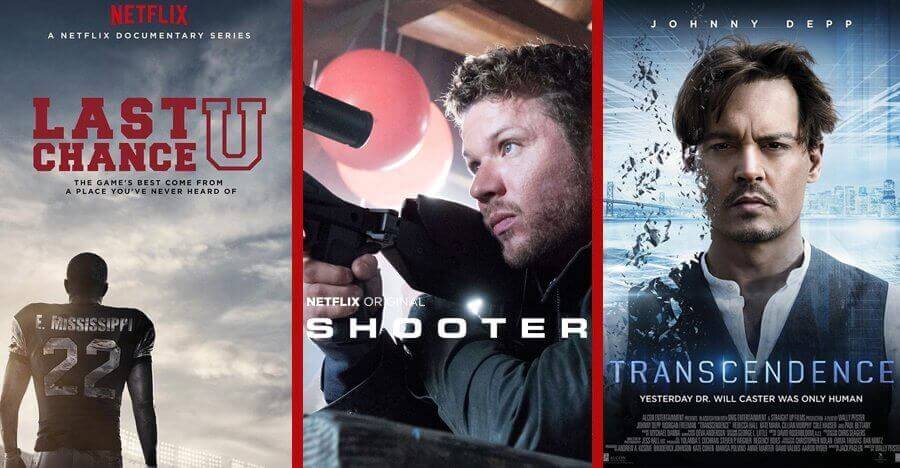 July is coming to an end, and in this last week, a total of 23 new titles have been added to Australian Netflix. This total includes 11 new films, 3 new Documentaries and 9 more TV series all for you to enjoy. Compared to other weeks this is not particularly that many new releases, but that is expected at this time as Netflix prefer to release 100+ titles at the beginning of each month. As usual, we have taken it upon ourselves to pick out three highlights from this week to give you an idea what to watch. If you spot something in the list that you think we should have mentioned, please tell us in the comments below.
Our first pick for this week is the TV adaptation of 'Shooter' whose second season has just been released on Netflix. The show is based off the 2007 film of the same name and the novel by Stephen Hunter. The show follows Bob Lee Swagger (played by Ryan Phillippe) an expert sniper who is entwined in a plot to assassinate the president. The show is a gripping thriller that will keep you on the edge of your seat and definitely worth a watch.
Secondly, we have chosen the Netflix Original sports documentary 'Last Chance U', a series based on the East Mississippi Community College, who are well known for giving young athletes a last shot at becoming NFL starts. The show does a great job showing the commitment and hard work that goes into the training, and the talent involved. If you are even slightly interested in NFL, then this show should certainly be on your watch list.
Article Continues Below...
The 2014 film 'Transcendence' is our last choice for this week and stars Johnny Depp as a scientist determined to create a sentient Artificial Intelligence which uses information gathered from every source to gain knowledge. Dr. Will Caster (Johnny) is aware that his experiments are controversial and after a group of extremists attempt to destroy his research. But subsequently, the doctor is put on a dangerous path of Transcendence. The story is interesting and if you love Mystery Dramas then you will enjoy this film.
This week's Honorable Mentions include: Ozark (2017), Joe Mande's Award-Winning Comedy Special (2017), and The Worst Witch (2017).
Read on for the full list of all 23 new releases:
11 New Movies Streaming to Netflix Australia
Glory (1989)
The Princess Diaries (2001)
Transcendence (2014)
Beverly Hills Ninja (1997)
Handsome Devil (2016)
Houston, We Have a Problem! (2016)
Save the Last Dance (2001)
Victor (2015)
Selfless (2015)
Munroe Island (2016)
Joe Mande's Award-Winning Comedy Special (2017)

Netflix Original
3 New Documentaries Streaming to Netflix Australia
Imba Means Sing (2015)
Theater of Life (2016)
I Called Him Morgan (2016)
9 New TV Series Streaming to Netflix Australia
Shooter – Season 2 (2016)
Intelligence – Season 2 (2007)
Delhis vackraste Hander – Season 1 (2017)
Last Chance U – Season 2 (2016)
The Worst Witch – Season 1 (2017)
Ozark – Season 1 (2017)

Netflix Original

Kibaoh Klashers – Season 1 (2017)
Chef & My Fridge – Season 1 (2016)
Green Wing – Season 2 (2004)