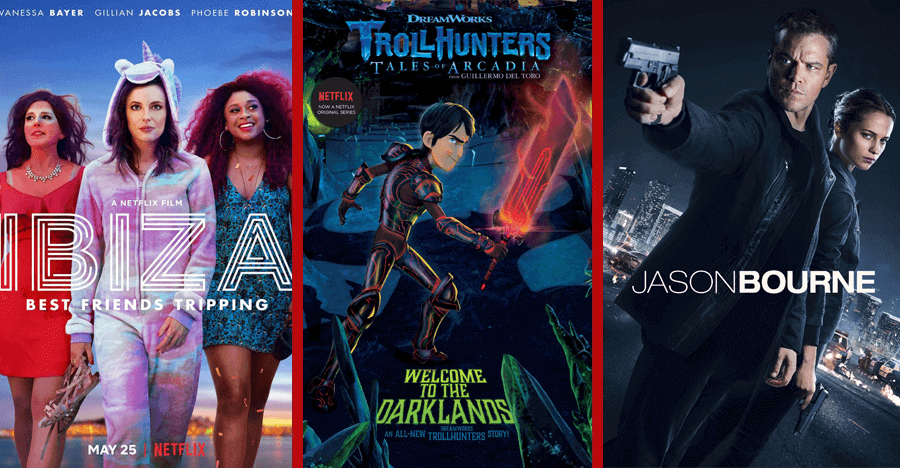 As May draws to a close we're preparing ourselves for the huge amount of titles that will arrive on the 1st of June, as they do each month. But until then we must deal with the titles that have arrived in the past week. A total of 25 new additions have been welcomed to Australian Netflix including 8 Movies, 3 Documentaries, 11 TV Series and an additional 3 standup shows. As usual, you will find a few paragraphs below that pick out three titles from the entire list and briefly go into more detail. We might also mention that this week has been a good one for any anime fans, with nine anime shows being added in total.
The third season of the popular Netflix Original 'Trollhunters' has just arrived. Created by the famous director Guillermo del Toro the animated comedy follows Jim Lake Jr. (voiced by the late Anton Yelchin), a seemingly ordinary boy who after finding a magic amulet is chosen to become the next defense of the Troll world. Since the first season released in 2016 the show has been quite a success, picking up many fans. Unfortunately, Guillermo del Toro has said this will be the final season of Trollhunters, although they're another 2 series announced to continue Tales of Arcadia.
'Ibiza' is another Netflix Original that we have decided to pick out. The rom-com follows Harper (played by Gillian Jacobs from Netflix original Love), a young American who after meeting a DJ on a strict business trip ends up going on a drastic search with her two best friends around Spain, eventually leading them to Ibiza. The film isn't for everyone but Netflix has proved effective in making fun little rom-com's like this one.
Our final choice for this week is the addition of the 2016 film 'Jason Bourne', the 5th installment of the high-octane action franchise starring Matt Damon. The ex-CIA spy is being relentlessly hunted by his former employes and after being drawn out of hiding he must once again fight for his life while trying to uncover past secrets.
See the full list of 25 new titles available on Netflix Australia this week:
8 New Movies Streaming on Netflix Australia
Fullmetal Alchemist The Movie: The Sacred Star of Milos (2011)
Ibiza (2018)

Netflix Original

Jalpari The Desert Mermaid (2012)
Jason Bourne (2016)
New Jack City (1991)
The Neverending Story II: The Next Chapter (1990)
The Survivor's Guide to Prison (2018)
Your Name. (2016)
3 New Documentaries Streaming on Netflix Australia
Explained – Season 1 (2018)
Making Fun: The Story of Funko (2018)

Netflix Original

The Toys That Made Us – Season 2 (2018)

Netflix Original
11 New TV Series Streaming on Netflix Australia
An Hour to Save Your Life – Season 1 (2014)
Archer – Season 8 (2017)
ERASED – Season 1 (2016)

Netflix Original

Magi – Season 1 (2012)
Magi: The Labyrinth of Magic – Season 1 (2012)
Mob Psycho 100 – Season 1 (2018)

Netflix Original

Squeamish! – Season 1 (2011)
Terrace House: Opening New Doors – Season 2 (2018)
Tokyo Ghoul – Season 1 & 2 (2015)
TRIGUN – Season 1 (1998)
Trollhunters: Tales of Arcadia – Season 3 (2018)

Netflix Original
3 New Stand Up Shows Streaming on Netflix Australia
Fernando Sanjiao: Hombre (2018)

Netflix Original

Steve Martin and Martin Short: An Evening You Will Forget for the Rest of Your Life (2018)

Netflix Original

Tig Notaro: Happy To Be Here (2018)

Netflix Original