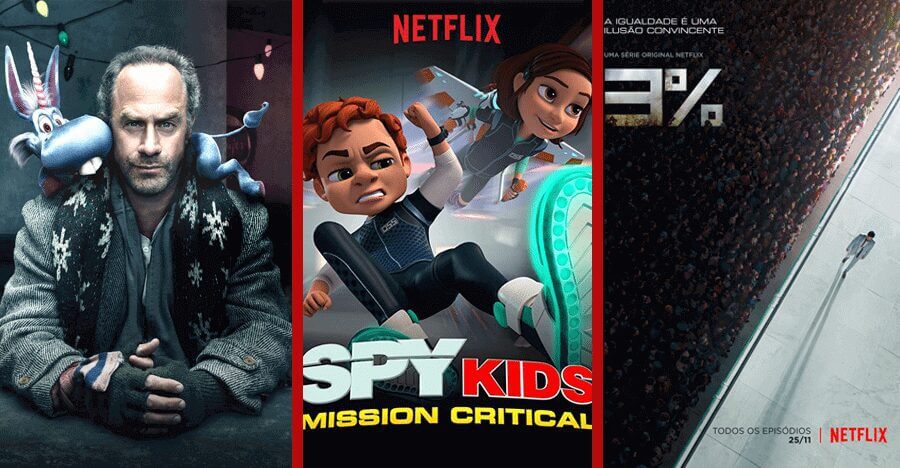 The last week of April has brought a total of 22 titles to Australian Netflix. But before May starts, and we welcome the huge amount of titles that normally come along with the 1st of any month, we are going to take some time to go into some more detail on the titles that have recently arrived. Below you will find a full list of 8 Movies, 3 Documentaries, 9 TV Series and 2 Standup shows that have all been welcomed to your screens. As usual, we are going to pick out three titles that we feel are too good to miss out on.
Our first pick is the new Netflix Original 'Happy!'. The Crime Comedy follows Nick Sax, an ex-cop turned Hitman who once awaking from being shot finds that he's picked up a friend in the form of a flying blue horse. The horse, aptly named Happy convinces Nick to go hunting for a missing girl. The show has received positive reviews for its humor, gore and charm. This is definitely one to check out if you have some time.
Next, we have chosen to mention the second season of the Portuguese Netflix Original '3%'. The show is set in a future where the world is violently split into two, Offshore and Inland. In order to make it to a better life Inland, you must go through 'The Process' which only 3% of participants can complete alive. If you don't speak Portuguese you shouldn't be put off, the show has been highly successful and enjoyed by many English speakers. Netflix has some great options when it comes to subtitles or dubbing.
Finally, our last pick for this week is the new Netflix Original 'Spy Kids: Mission Critical', a series aimed at the younger Netflix viewers. The show follows two siblings, Juni and Carmen Cortez as they start their training at the Sky Kids Academy. But after the world is threatened they must lead all the kids in the school against the evil forces of the Golden Brain.
Important notice: Australia's weekly roundups have now moved to Fridays. The reason for this is because this is when the majority of Originals are released. 
See the full list of 22 new titles available on Netflix Australia this week:
8 New Movies Streaming on Netflix Australia
Candy Jar (2018)

Netflix Original

Fishtronaut: The Movie (2018)
Holy Goalie (2018)
Kit Kittredge: An American Girl (2008)
Main Hoon Na (2004)
Psychokinesis (2018)

Netflix Original

The Rachel Divide (2018)

Netflix Original

The Week Of (2018)

Netflix Original
3 New Documentaries Streaming on Netflix Australia
Bill Nye: Science Guy (2017)
Bobby Kennedy for President – Season 1 (2018)

Netflix Original

The Magic Pill (2017)
9 New TV Series Streaming on Netflix Australia
3% – Season 2 (2018)

Netflix Original

Aggressive Retsuko – Season 1 (2016)

Netflix Original

Broadchurch – Season 3 (2017)
Dope – Season 2 (2018)

Netflix Original

HAPPY! – Season 1 (2017)

Netflix Original

Moving On – Season 1 (2009)
REA(L)OVE – Season 1 (2018)
Something in the Rain – Season 1 (2018)
Spy Kids: Mission Critical – Season 1 (2018)

Netflix Original
2 New Stand Up Shows Streaming on Netflix Australia
Enissa Amani: Ehrenwort (2018)

Netflix Original

Kevin James: Never Don't Give Up (2018)

Netflix Original