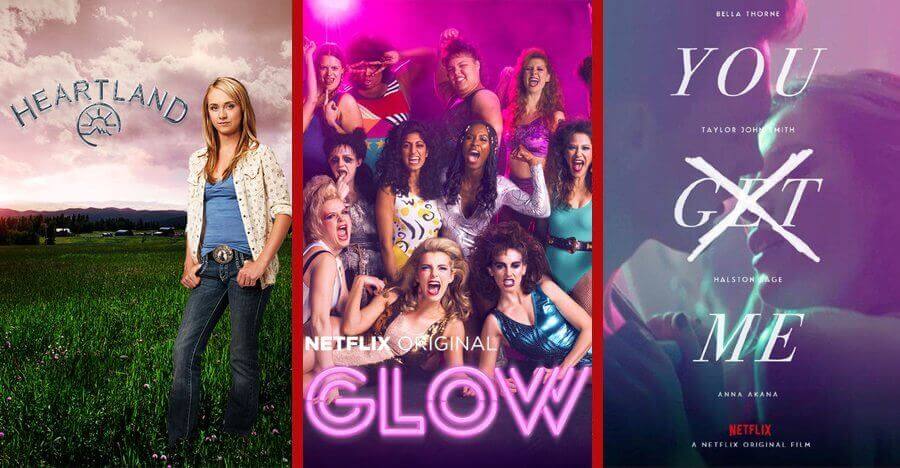 June is coming to an end and a total of 23 new titles have been added this week, which includes t=some interesting and exiting Netflix originals for you to get stuck into. As usual, we have chosen to pick out three titles that stand out to us and highlight them briefly. This week's additions include 15 new movies, 2 new documentaries, and a further 6 new TV series. This may not seem like too many, but this is because Netflix will be saving titles for release on the first of July.
Our first pick for this week is the newly released Original 'GLOW' a series based on the "Gorgeous Ladies of Wrestling". In 1980's Los Angeles a number of women are recruited to a professional wrestling organization created by David McLane. The show is a Comedy/Drama/Sports series and since it's release has been met with great reviews. The show is defiantly not suitable for younger viewers thought as it contains nudity and foul language. Apart from that if you are a fan of 'Orange is the new Black' or shows similar this should 100% be on your watch list.
'You Get Me' is a new Netflix Thriller starring Bella Thorne, Taylor John Smith and Halston Sage. After Tyler (Taylor John Smith) gets dumped by his girlfriend at an LA party he ends up spending the night with this amazing out-of-town girl that appears from nowhere. After what he thought was going to be a one-night thing he finds out that this new girl has just enrolled at his school and she's not pleased that he is back with his old girlfriend. Now this might sound like a generic teenage drama story, but don't be mistaken. The story takes a drastic dark turn and will leave you on the edge of your seat.
Our last choice this week is the return of the very popular TV series 'Heartland'. Australian Netflix has just acquired season 9 of the family drama series. The show is centered around a Canadian family who run a ranch in Alberta. The show is written well and you feel well connected to the multi-generational family. If you love horses then this is definitely a show you should love. Even if you don't love horses this is defiantly a family drama worth a watch.
Read on for the full list of all 23 new releases:
15 New Movies Streaming to Netflix Australia
The Gift (2000)
Storks (2016)
Dangal (2016)
Bokeh (2017)
Mughal-E-Azam (1960)
You Get Me (2017) – Netflix Original
Vanilla Sky (2001)
Kaabil (2017)
J. Edgar (2011)
A Hologram for the King (2015)
Kickboxer: Vengeance (2016)
The Last Samurai (2003)
I Am Michael (2015)
Chhota Bheem And the Curse of Damyaan (2012)
Chris D'Elia: Man on Fire (2017) – Netflix Original
2 New Documentaries Streaming to Netflix Australia
American Anarchist (2016)
Nobody Speak: Trials of the Free Press (2017) – Netflix Original
13 New TV Series Streaming to Netflix Australia
Women Behind Bars – Season 3 (2009)
Rab Se Sohna Isshq – Season 1 (2012)
Free Rein – Season 1 (2017) – Netflix Original
GLOW – Season 1 (2017) Netflix Original
Heartland – Season 9 (2009)
The Originals – Season 3 (2013)