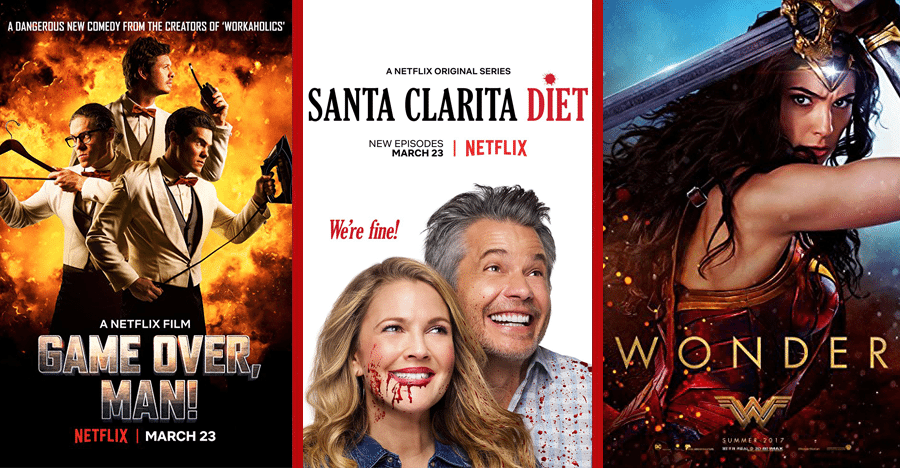 April is almost upon us, but before we get too carried away let's take a look at all the titles that have been welcomed to Australian Netflix over the past week. Below you will find a list of all the additions. 19 movies, 7 TV series, and one standup show has been added. As usual, we have picked out three titles that have attracted our attention and written a little something about them. Of course feel free to take a look and pick for yourself from the list below.
Our first pick is the incredibly successful DC film 'Wonder Woman' which released back in June of 2017. The film introduced Gal Gadot as Diana, an Amazonian warrior who leaves her isolated home after she discovers that World War I is currently in full swing. She is determined to unleash her full potential and discover her true destiny. The film is arguably one of DC's best superhero films of recent history and is definitely a welcome addition to Netflix.
Our next highlight is the second season of the Netflix Original 'Santa Clarita Diet'. Starting Drew Barrymore and Timothy Olyphant as two married real estate agents living in sunny Santa Clarita, California. After Sheila unexpectedly and suddenly dies things take a significantly darker turn after she is resurrected with the appetite for human flesh. After the first season, this show has picked up a significant fan base who will no doubt already be stuck into the new episodes.
Lastly, we have chosen to talk about the new Netflix film 'Game Over, Man!'. From the creators of Workaholic comes a new action, comedy starting Adam Devine, Anders Holm, and Blake Anderson as three hotel maids who seize their opportunity to live out their fantasy after terrorists take their benefactor hostage (Die Hard style). Although not everyone's cup of tea, if you like comedies like Workaholics, and When We First Met, this is worth a watch.
Here is the full list of 37 titles added to Netflix Australia this week:
19 New Movies Streaming to Netflix Australia
In Search of Fellini (2017)
Wonder Woman (2017)
Wish Upon (2017)
The Belko Experiment (2016)
Birth of the Dragon (2017)
Godzilla (2014)
Warcraft (2016)
Everything, Everything (2017)
House Party 2 (1991)
Deewana (1992)
Game Over, Man! (2018)

Netflix Original

Paradox (2018)

Netflix Original

Roxanne, Roxanne (2017)

Netflix Original

The Way Back (2010)
Secret Superstar (2017)
God of War (2017)
Layla M. (2016)

Netflix Original

Red Trees (2017)
Birdshot (2016)
17 New TV Series Streaming to Netflix Australia
Shadowhunters – Episode 1 (2018)

Netflix Original

Riverdale – Episode 16 (2018)

Netflix Original

Designated Survivor – Episode 14 (2017)

Netflix Original

Tyrant – Season 3 (2016)
Day And Night – Season 1 (2017)
Santa Clarita Diet – Season 2 (2018)

Netflix Original

Alexa & Katie – Season 1 (2018)

Netflix Original

The Mechanism – Season 1 (2018)

Netflix Original

Requiem – Season 1 (2018)

Netflix Original

The Defiant Ones – Season 1 (2017)
SWORDGAI The Animation – Season 1 (2018)

Netflix Original

Dynasty – Episode 16 (2017)
How to Get Away with Murder – Season 3 (2016)
The Joel McHale Show with Joel McHale – Episode 6 (2018)

Netflix Original

Witch Hunt – Season 1 (2013)
The Blacklist – Season 5 (2017)
Black Lightning – Episode 9 (2018)
1 New Standup Shows Streaming to Netflix Australia
The Standups – Season 2 (2018)

Netflix Original