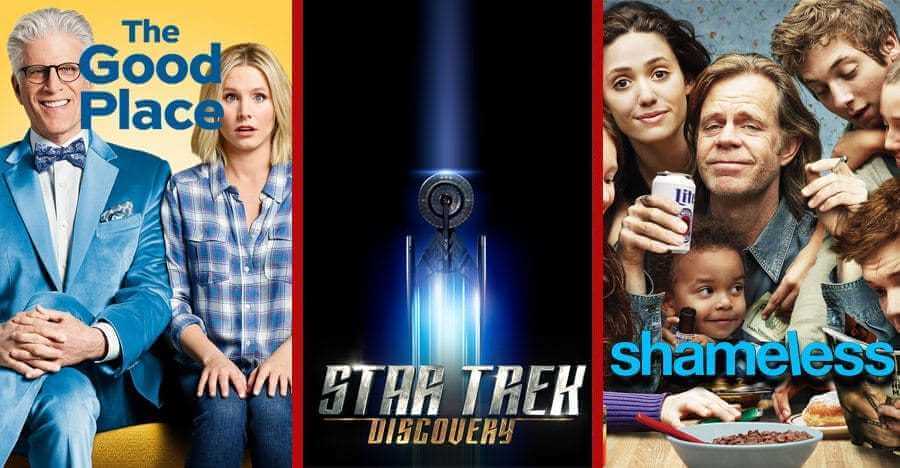 Well, Australian viewers have definitely been treated this past week, with an unusually large amount of new TV shows arriving. A total of 56 titles have been added, 44 of which being TV shows, 9 movies and 3 documentaries. A large variety show has greeted us, and we're here to give you an idea on where to start. Of course, take a look through the list yourself, you might be pleasantly surprised.
Our first pick for this week is the new Netflix Original from Parks and Recreation creator Michael Shur. 'The Good Place' follows Eleanor Shellstrop after she is killed and wakes up in the "Good Place". The town is where people who have been good throughout their life go after they pass away, and quickly Eleanor discovers that she doesn't actually deserve to be there, and must somehow prove herself worthy. The comedy-drama has already caught the hearts of many and is worth a watch now the second season is streaming on Netflix.
Season 6 of the popular US adaptation 'Shameless' is now available on Australian Netflix. The Gallagher family are the definition of dysfunctional, the father is a heavy alcoholic who spends most of the time black-out drunk. This leaves his 6 children to fend for themselves in the many crazy situations that ensure. The show is a rare example of a US remake done well, the fast-paced comedy/drama is a great watch.
Our final pick for this week is the first Star Trek series in 12 years. 'Star Trek: Discovery' is a brand new show set 10 years before the adventures of the original Enterprise. Set onboard the USS Discovery, the crew have set out to explore the currently unknown, led by Captain Gabriel Lorca (Jason Isaacs) and the First officer Michael Burnham (Walking Dead's Sonequa Martin-Green). The special effects and makeup have been highly praised, hopefully, the story can also live up to the hype, find out for yourself.
Read on for the full list of all 54 new releases:
9 New Movies Streaming to Netflix Australia
I Am Happiness On Earth (2014)
Hero (1992)
Hate Story 2 (2014)
Freedom Writers (2007)
The Bad Batch (2016)
Los Herederos (2015)
Kung Fu Yoga (2017)
The Bar (2017)
To Write Love on Her Arms (2015)
3 New Documentaries Streaming to Netflix Australia
Michael Jackson: The Life of an Icon (2011)
Gaga: Five Foot Two (2017)
Night School (2016)
44 New TV Series Streaming to Netflix Australia
Lucifer – Season 2 (2017)
Winx Club – Season 2 (2005)
Video Game High School – Season 1 (2014)
Transformers: Robots in Disguise – Season 3 (2016)
Top Gear – Season 6 (2015)
The Vampire Diaries – Season 7 (2016)
The Originals – Season 3 (2016)
The Musketeers – Season 1 (2014)
The Mind of a Chef – Season 4 (2015)
The Magic School Bus – Season 4 (1997)
The Good Place – Season 2 (2017) Netflix Original
The Fall – Season 2 (2014)
The Blacklist – Season 4 (2016)
Suits – Season 6 (2016)
Shameless (U.S.) – Season 6 (2016)
Pretty Little Liars – Season 7 (2013)
Pound Puppies – Season 3 (2013)
Please Like Me – Season 3 (2015)
Peep Show – Season 9 (2015)
Orphan Black – Season 4 (2016)
Mako Mermaids: An H2O Adventure – Season 2 (2015)
Luther – Season 3 (2013)
Littlest Pet Shop – Season 3 (2014)
Julius Jr. – Season 1 (2013)
Hinterland – Season 2 (2015)
Happy Valley – Season 1 (2014)
Gotham – Season 1 (2015)
Goosebumps – Season 5 (1998)
Good Witch – Season 3 (2017)
From Dusk Till Dawn – Season 2 (2015) Netflix ORiginal
Doctor Who – Season 9 (2015)
Digimon Fusion – Season 1 (2010)
Daniel Tiger's Neighbourhood – Season 2 (2014)
Cuckoo – Season 2 (2014)
Call the Midwife – Season 4 (2015)
Bottersnikes & Gumbles – Season 1 (2016)
Bates Motel – Season 4 (2016)
Archer – Season 7 (2016)
12 Monkeys – Season 2 (2016)
Neo Yokio – Season 1 (2017) Netflix Original
Jack Whitehall: Travels with My Father – Season 1 (2017)
Fuller House – Season 3 (2016)
Star Trek: Discovery – Season 1 (2017) Netflix Original
Terrace House: Aloha State – Season 4 (2016) Netflix Original