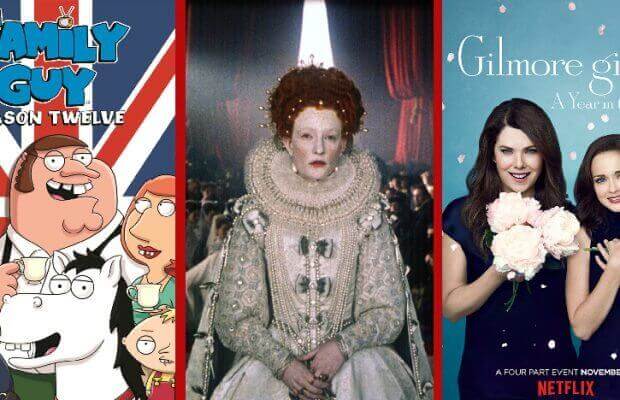 It's the last week of November and Australian Netflix has had 26 Movies and TV series added to its roster. Sadly no Documentaries but, 18 Movies and 8 new TV shows in total. Despite this relatively low number of new releases there are still some gems, and it's out job to point them out.
Our first pick is the very new Netflix revival series 'Gilmore Girls: A Year in the Life' set nearly a decade after the old series. Any fan of the original will feel nostalgia towards this new 4 episode series and will immediately want more after finishing. The series follows Rory and Emily Gilmore, two sisters in the isolated town of Stars Hollow. The show explores many issues of life in a relatable way, and that's probably why so many people love it. The show has received great fan and critic reviews and has clearly not disappointed the many die-hard fans.
The 12th Season of Family Guy has also been welcomed to Australia, this clever comedic animation is created (and a lot of characters voiced) by Seth MacFarlanen, and debut in 1999. Netflix already have a few Family guy Seasons, but fans will be pleased to see that season 12 has been added, with even more Griffin antics. A total of 21 episodes have been added for your enjoyment.
Our last title of choice is the 1998 film 'Elizabeth' and is a dramatisation of the early reign of Elizabeth the 1st, her journey and difficulties as a queen. This mirrors 'The Crown' significantly, so anyone who watched (Or in the process of watching) the new Netflix Original series might want to visit this 1998 film as it relates heavily.
Read on for the full list of all 26 new releases:
18 New Movies Streaming to Netflix Australia
Small Soldiers (1998)
Mercy (2016)
LuTo (2015)
Ludo (2015)
The Land of Cards (2012)
Gandu (2011)
Undecided: The Movie (2016)
Take me Home Tonight (2011)
Elizabeth (1998)
The Debt (2010)
Cloudy with a Chance of Meatballs (2009)
Baby Boy (2001)
Into the Woods (2014)
Beauties of the Night (2016)
Alice In Wonderland (1951)
Michael Che Matters (2016)
8 New Tv Series Streaming to Netflix Australia
Shaun the Sheep – Season 3 (2007)
Bösterreich – Season 1 (2014)
Aufschneider – Season 1 (2010)
Family Guy – Season 12 (1999)
Happy Valley – Series 2 (2014)
Gilmore Girls: A Year in the Life – Season 1 (2016)
3% – Season 1
The Hive – Season 1-3 (2010)
The Musketters – Season 3 (2014)
American Horror Story – Season Hotel (2011)