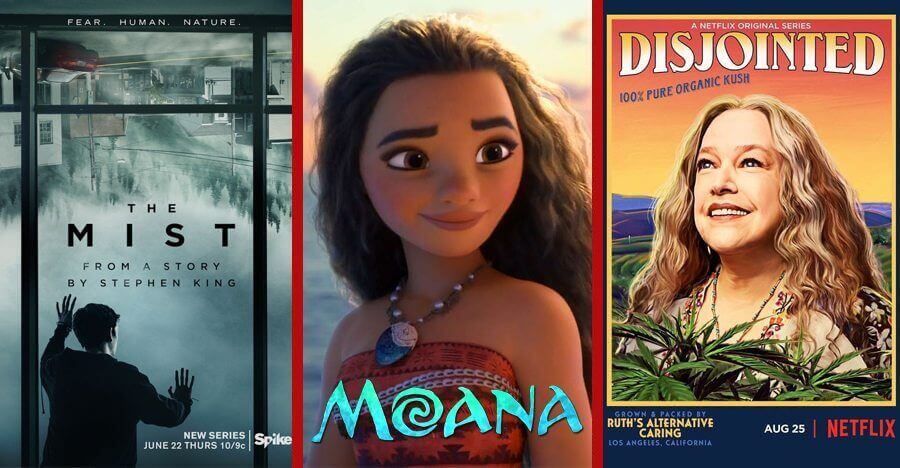 August has almost come to an end and this last week has welcomed a total of 23 new titles to Australian Netflix. This mass of titles includes 12 new movies, 4 Documentaries and an additional 7 TV series to be enjoyed. Like we do every week we have picked out three titles specifically to be highlighted. If you take a look through the list and spot something that you think deserved its own mention, be sure to let us know in the comments below.
Our first pick for this week is the popular 2016 Disney animated film 'Moana'. On an ancient Polynesian island, Moana has always craved for the open ocean and felt like she was destined for greatness. She's the chief's daughter and has always be tied down to her small tribe. After a suspected curse starts to deplete fish and resources, Moana decides it is up to her to venture out on the water and seek out the Demigod Maui (Dwayne 'The Rock' Johnson) to help her return the 'Heart of Ti Fiti'. The film was nominated for 2 Oscars and is a perfect family film full of songs and laughter.
From the creators of 'The Big Bang Theory' and 'Two and a half men' comes 'Disjointed', a new Netflix Original comedy starting Kathy Bates as the Cannabis activist, and legend Ruth Whitefeather. She decides to set up a marijuana dispensary and employs her son, who has just graduated. If you enjoy this genre of comedy TV then this show should defiantly be on your watch list.
Lastly, for this week we have chosen to highlight the new Netflix Original 'The Mist' a Horror, Drama taking place in a small rural town in the USA. An eerie mist descends on the town causing panic and insanity to ensue. The show is based on the story written by Stephen King and has great promise.
This week's Honorable Mentions include: The live-action adaptation of Death Note, Season 5 of Dragons: Race to the Edge, and the 2002 live-action Scooby-Doo film.
Read on for the full list of all 23 new releases:
12 New Movies Streaming to Netflix Australia
16 Blocks (2006)
The Manchurian Candidate (2004)
Death Note (2017)

Netflix Original

Pekak (2016)
Madre (2016)
Buster's Mal Heart (2016)
It Follows (2014)
Scooby-Doo (2002)
A Perfect Ending (2012)
The Hippopotamus (2017)
Moana (2016)
Ryan Hamilton: Happy Face (2017)

Netflix Original
4 New Documentaries Streaming to Netflix Australia
Feel Rich (2017)
Pygmies: The Children of the Jungle (2011)
Behind "The Cove": The Quiet Japanese Speak Out (2015)
Dying to Know: Ram Dass & Timothy Leary (2016)
7 New TV Series Streaming to Netflix Australia
Top 10 Architecture – Season 1 (2016)
Commandos – Season 1 (2015)
Saving Sirga: Journey into the Heart of a Lion – Season 1 (2016)
The Mist – Season 1 (2017) Netflix Original
Dragons: Race to the Edge – Season 5 (2015)

Netflix Original

Disjointed – Season 1 (2017)

Netflix Original

Puffin Rock – Season 2 (2015)