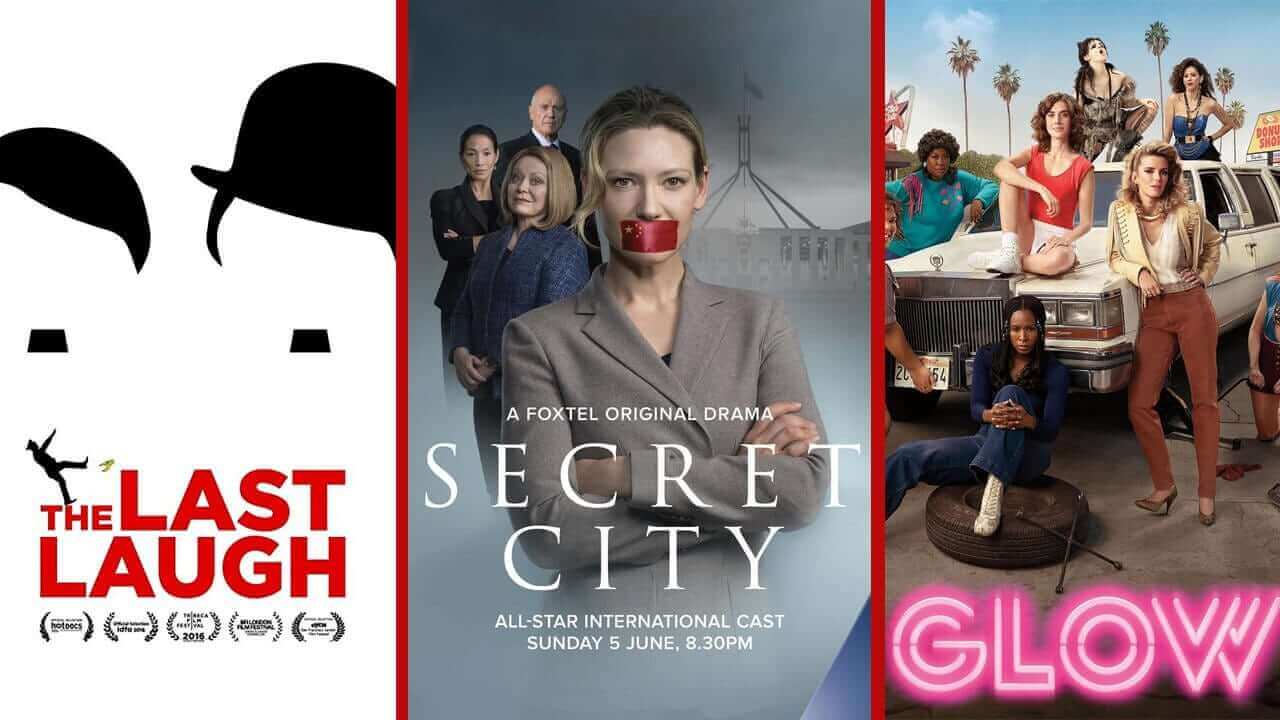 A quiet week to round out the month of June down under on Netflix. Netflix put out 19 new releases including new series, movies, standups, and documentaries. As always, we'll look through the highlights then move onto the full list. Remember you can subscribe to this list at the bottom of the page so you get notified every week of the new additions.
Let's begin with the new Netflix Originals this week. The second season of Alison Brie's GLOW is back with a vengeance. The next season sees the women of GLOW hit the big time after a season of training. The series is instantly watchable and easily digested.
Foxtel's Secret City managed to become a Netflix Original internationally this week in lieu of the announcement of a second season expected later this year. Thankfully, Netflix in Australia managed to pick up the first season too. The show is about a journalist who discovers a secret city that will cause innocents to potentially lose their lives. It's only eight episodes so an easy weekend binge.
Article Continues Below...
On the documentary front, Netflix added The Last Laugh this week. The 2016 documentary takes a look into comedy and sees what's off limits if anything is. It has a huge collection of stars which feature including the likes of Mel Brooks, Sarah Silverman, and Gilbert Gottfried.
Here with the 19 new releases on Netflix Australia this week:
New Movies
Birthmarked (2018)
La Pena Maxima (2018)
Midnight in Paris (2011)
Showdown in Little Tokyo (19910
Summer Catch (2001)
To Each, Her Own (2017)

Netflix Original
New TV Series
Dream High (Season 1)
Dream High 2 (Season 1)
GLOW (Season 2)

Netflix Original

Good Doctor (Season 1)
Nailed It! (Season 2)

Netflix Original

Nice Guy (The Innocent Man) (Season 1)
Paquita Salas (Season 2)

Netflix Original

Sassy, Go Go (Season 1)
Secret City (Season 1)
The Disastrous Life of Saiki K. (Season 2)
New Documentaries
Skydancers (2018)
The Last Laugh (2016)
New Standup Specials
W. Kamau Bell: Private School Negro (2018)

Netflix Original