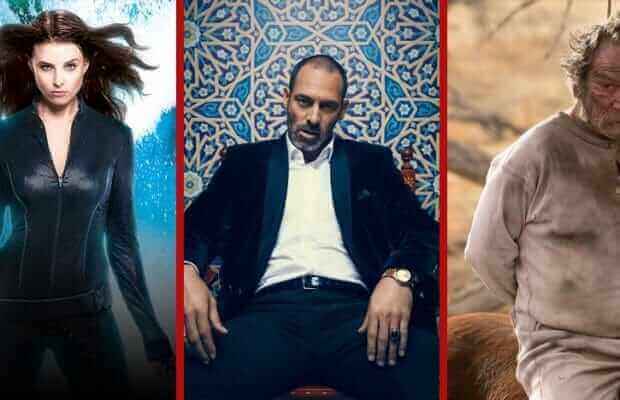 It's now 2017 and that means that Netflix will be welcoming a host of new titles to its screens in every area. For Australia a total of 89 films and shows have been introduced for you to start of with, 28 New Movies, 33 Documentaries and 27 TV shows. We have chosen three titles that have stood out, among this large amount, for us to talk about and for you to consider watching.
The first pick is the popular Action, Drama, Thriller 'Tyrant' starring Adam Rayner, Jennifer Finnigan and Ashraf Barhom. Tyrant is a story about a powerful family in an unstable Middle East nation that is battling for dominance and to keep their power. It's a very gritty well-acted and scripted show produced by FX. A younger son of the family takes advantage of the family's wealth and leaves as a young boy to live in the US, but after 20 years is called back for his brothers wedding but is trapped in the deadly games of the tyranny his farther and family is causing. A must watch Thriller.
Our second pick for this addition is 'The Homesman' a western drama written, directed and starring Tommy Lee Jones. It's a realistic take on the old west and follows Miss Mary Bee Cuddy a selfless woman who has to transport three insane women across the country in a wagon, risking being captured by natives or rapists. She is accompanied by a Drifter, Tommy Lee Jones, who she saved after founding him with a noose around his neck sitting on his horse, waiting for his demise. Both actors perform amazingly and it's definitely worth a watch.
Article Continues Below...
The final choice for this week is the first season on 'Continuum' a 2012 Action, Sci-fi, Thriller about a detective from the year 2077 who finds herself in the present day along with a terrorist group (Freedom Fighters) that cannot be controlled. It's an interesting show that plays with good ideas. The show is unique in the way it does not choose sides but challenged the viewers to make their own moral choice. Anyone who likes sci-fi Thriller premises should give this a watch.
Read on for the full list of all 89 new releases:
29 New Movies Streaming to Netflix Australia
The Birdcage (1996)
Ultimate Avengers 2 (2006)
Reign of Fire (2002)
The Recruit (2003)
Word Party: New Year's Eve Countdown (2016)
Trollhunters: New Year's Eve Countdown (2016)
Spijt (2013)
Skylanders Academy: New Year's Eve Countdown (2016)
Puffin Rock: New Year's Eve Countdown (2016)
ProjectMc2: New Year's Eve Countdown (2016)
Luna Petunia: New Year's Eve Countdown (2016)
Fuller House: New Year's Eve Countdown (2016)
Chasing Cameron: New Year's Eve Countdown (2016)
Beat Bugs: New Year's Eve Countdown (2016)
All Hail King Julien: New Year's Eve Countdown (2016)
Reindeer Games (2000)
Red Carpet (2014)
Air Bud: World Pup (2000)
Air Bud: Spikes Back (2003)
Air Bud: Seventh Inning Fetch (2002)
Air Bud: Golden Receiver (1998)
Air Buddies (2006)
Udta Punjab (2016)
To Be a Miss (2016)
Saheb Bibi Golaam (2016)
Power Rangers Super Megaforce: The Lefendary Battle (2014)
The Homesman (2014)
Moms' Night out (2014)
33 New Documentaries Streaming to Netflix Australia
When Hari Got Married (2013)
The NSU-Complex (2016)
Sneakerheadz (2015)
The Ultimate Guide to Penny Pinching (2011)
My Online Bride (2014)
Real Life Wife Swap – Season 1 (2004)
Murder on the Social Network (2011)
Men in Rubber Masks (2014)
Killer in the Family – Season 1 (2009)
Hunting Britain's Most Wanted (2011)
How the Universe Works – Season 1 (2010)
High: How Drugs Work – Season 1 (2011)
Hidden Houses – Season 1/2 (2010)
Frontline Fighting: Battling ISIS (2015)
Escorts (2015)
Don't Call me Crazy – Season 1 (2013)
Curious and Unusual Deaths – Season 1 (2011)
Charlie Hebdo: 3 Days of Terror (2016)
Captive for 18 Years: The Jaycee Lee Story (2009)
Britain's Weirdest Phobias (2008)
Big in Bollywood (2011)
The Autistic Me: One Year On (2010)
Autistic Driving School (2010)
Who's Gonna Love me Now? (2016)
My Sex Robot (2010)
Mail Order Murder – Season 1 (2015)
The Last shaman (2016)
Killer Couples – Season 1 (2009)
Enlighten Us (2016)
Dead Behind Bars (2014)
Becoming Zlatan (2016)
Babies Behind Bars (2011)
An American in Madras (2013)
27 New TV Series Streaming to Netflix Australia
The Wild Chef – Season 1/2 (2008)
Mahmut & Meryem – Season 1 (2013)
Karadayi – Season 1 (2012)
Kacak – Season 1 (2013)
Ezel – Season 1 (2009)
Chasing Cameron – Season 1 (2016)
AJIN: Demi-Human – Season 2 (2016)
30 Degrees in February – Season 1/2 (2012)
Kurt Setit & Sura – Season 1 (2014)
My Runway – Season 1 (2016)
Lockup: Woman Behind Bars – Season 1 (2010)
Who's the One – Season 1 (2011)
What is Love? – Season 1 (2012)
Rescue Mediums – Season 1 (2006)
Pepper Pig – Season 1/2 (2004)
The New World – Season 1 (2015)
Inspector Gadget – Season 1 (2015)
In Between – Season 1 (2012)
Happy 300 Days – Season 1 (2013)
A Good Wife – Season 1 (2013)
Ex-boyfriend – Season 1 (2011)
Continuum – Season 4 (2012)
Crazy Ex-Girlfriend – Season 1 (2015)
Canada's Worst Driver – Season 8/9 (2005)
Tyrant – Season 2 (2014)
Tayo the Little Bus – Season 1 (2010)
Prince William – Season 1 (2014)
An Innocent Mistake – Season 1 (2012)