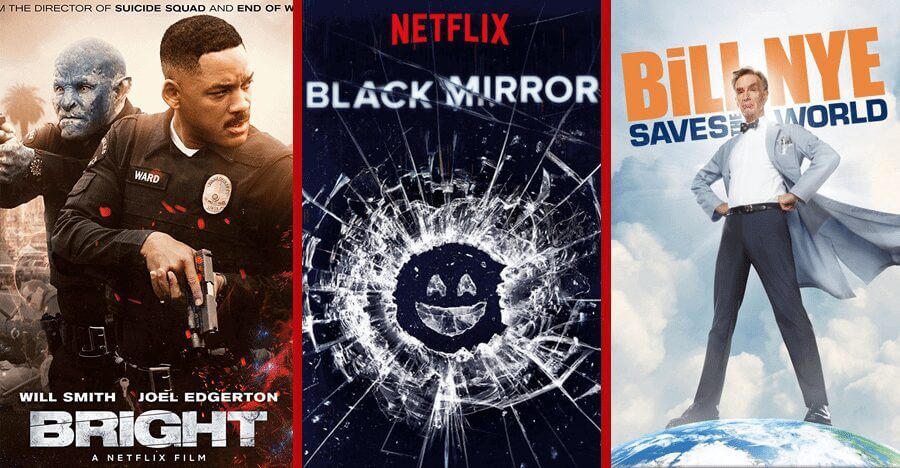 We hope you all had a wonderful Christmas and a great new year. But just because it was the holiday doesn't mean that Netflix has not been adding some great new titles to your screens. Below you will find a list of all the titles that have been welcomed to Australian Netflix over the past weeks. A total of 35 have been added including 12 movies, 4 documentaries, 17 TV series and an additional 2 standup shows. As per usual, we have picked out three titles that caught our eye and briefly talked about them.
Many people are very happy to see the fourth season of 'Black Mirror' to be added to Netflix. The Anthology series follows different and always somewhat dark stories centered around technology. Since the shows release in 2011 it has featured some pretty well-known actors and has gathered a significant following. The latest fourth season includes 6 episodes, all available right now.
Our second pick is the brand-new Netflix original film 'Bright' starring Will Smith and Joel Edgerton. The film is set in a modern fantasy world, where humans live side by side with Orcs and Elves. Joel plays the first ever Orc police officer and is partnered with the unfortunate Daryl Ward (Will Smith). While on a call, they come across a cult who intend to use a magic wand to bring back the infamous dark lord. Although the film has been quite heavily criticised by some, a sequel is already in the works.
Article Continues Below...
Our last pick for this week is another Netflix Original. The second season of 'Bill Nye Saves the World' has just been welcomed and continues the new series starring the popular 90s scientist. Bill tackles politics, society and pop culture, and focusses on correcting common problems and misconceptions. The new format hasn't been as popular as his 90s show 'Bill Nye, the Science Guy' but fans of his should still love it all the same.
See the full list of 35 titles added to Netflix Australia this week:
12 New Movies Streaming to Netflix Australia
You Can't Fight Christmas (2017)
The Cave (2005)
Skiptrace (2016)
Shaun the Sheep Movie (2015)
Mr. Roosevelt (2017)
Miss Me This Christmas (2017)
Homefront (2013)
Creep 2 (2017)
Bright (2017)

Netflix Original

Bibi & Tina: Tohuwabohu Total (2017)
48 Christmas Wishes (2017)
The Climb (2017)

Netflix Original
4 New Documentaries Streaming to Netflix Australia
Meet the Patels (2014)
Madness in the Desert (2004)
Jeremiah Tower: The Last Magnificent (2016)
A Gray State (2017)
17 New TV Series Streaming to Netflix Australia
Travelers – Season 2 (2016)
The Windsors – Season 2 (2016)
The Toys That Made Us – Season 1 (2017)
The Indian Detective – Season 1 (2017)

Netflix Original

Please Like Me – Season 4 (2015)
Part-Time Idol – Season 1 (2017)
Myths & Monsters – Season 1 (2017)
La casa de papel – Season 1 (2017)
Dope – Season 1 (2017)

Netflix Original

Cable Girls – Season 2 (2017)
72 Dangerous Animals: Latin America – Season 1 (2017)

Netflix Original

Wadi – Season 1 (2015)
The Real Football Factories – Season 1 (2006)
La Mante – Season 1 (2017)
Black Mirror – Season 4 (2013)
Bill Nye Saves the World – Season 2 (2017)

Netflix Original

A Korean Odyssey – Season 1 (2017)
2 New Standup Shows Streaming to Netflix Australia
Russell Howard: Recalibrate (2017)

Netflix Original

Todd Barry: Spicy Honey (2017)

Netflix Original