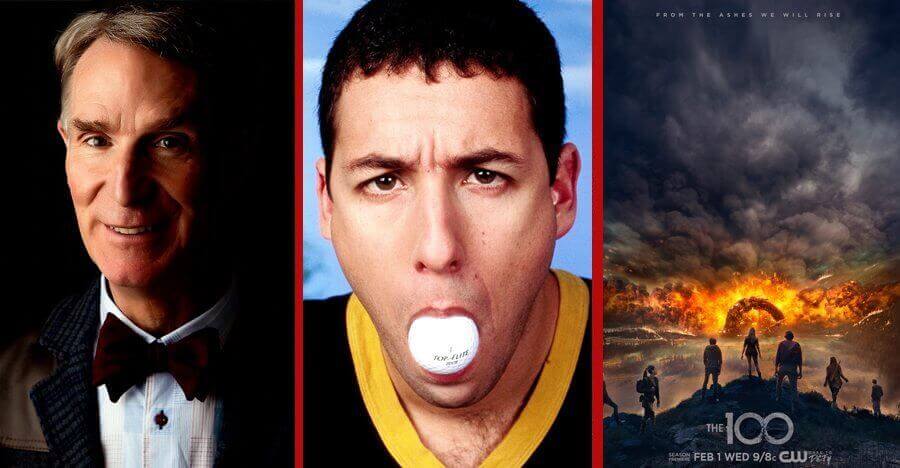 May has just begun and we have been greeted with many new and exciting shows and movies to watch in your spare time. A total amount of 130 new titles have been added consisting of 79 new movies, 25 documentaries and another 26 TV series. The start of the month always brings a mass of titles, but as usual, we are going to pick out three for us to highlight individually.
Our first choice for this week is the new Netflix Original Series 'Bill Nye Saves the World' which stars Bill Nye the Science guy who hosts a comedy talk-show based around science and various issues that concern the earth, including politics, global warming, religion and many other interesting topics that he brings special guests on to help him address the impact of science. Many people have been pleased to see Bill's return to the screen.
Our second highlight this week is the 1996 classic film 'Happy Gilmore' that has just been released onto Netflix. Arguably one of Adam Sandler's best movies, Happy Gilmore is based on a rejected wannabe Hockey player who discovers he has a certain talent for golf. He decides to join the P.G.A golf tour in order to get the money to save his Grandmas house. Unfortunately, the hockey attitude doesn't mix well with the other golf players, especially when he's competing for the championship. The fans of the Classic Sandler films will be pleased to hear that Happy Gilmore is now available to stream.
Lastly, we have decided to pick the third season of 'The 100' that has just been released. The series is based 97 years after a devastating nuclear war leaves the Earth uninhabitable and humanity now only exists on a space station orbiting the destroyed planet. Due to depleting supplies they decide to send down 100 juvenile criminals in order to test the conditions on the surface in hope of repopulation. The show has been quite popular and is definitely worth a watch.
Read on for the full list of all 130 new releases:
79 New Movies Streaming to Netflix Australia
Bottom of the World (2017)
Tramps (2017)
Team America: World Police (2004)
Sand Castle (2017)
Little Boxes (2016)
Happy Gilmore (1996)
Fury (2014)
Blood Diamond (2006)
Long Nights Short Mornings (2016)
Vir Das: Abroad Understanding (2017)
The Forest (2016)
The 101-Year-Old Man Who Skipped Out on the Bill and Disappeared (2016)
Shepherds and Butchers (2016)
P (2006)
New Kids Turbo (2010)
Dear Zindagi (2016)
Pocahontas (1995)
Lights Out (2016)
เพชฌฆาต (2014)
ศพไม่เงียบ (2011)
Small Crimes (2017)
Running Wild (2017)
Rodney King (2017)
Babel (2006)
2015 Dream Concert (2015)
Top Five (2014)
Zathura (2005)
Yamla Pagla Deewana 2 (2013)
Will to Love (2015)
What the Fish (2013)
Tuscan Wedding (2014)
The Wishing Tree (2017)
The Tribe (2014)
The Skeleton Twins (2014)
The Secrets of Emily Blair (2016)
The Night of the Wild Boar (2016)
The Next Skin (2016)
The Incident (2014)
The Day After Tomorrow (2004)
The Carer (2016)
Tanu Weds Manu (2011)
Special 26 (2013)
Shaitan (2011)
Sense and Sensibility (1995)
Raja Hindustani (1996)
Queen (2014)
Pyaar Ka Punchnama (2011)
Out of Time (2003)
One by Two (2014)
Oh My God (2012)
Mumbai Delhi Mumbai (2014)
Moh Maya Money (2016)
Mary Kom (2014)
Loving Ibiza (2013)
Loev (2015)
Little Men (2016)
Little Men (2017)
Kahaani (2012)
Inkaar (2013)
In the Shadow of Iris (2016)
Humpback Whales (2015)
Hostel (2005)
Heritage Falls (2016)
He Even Has Your Eyes (2016)
HALO Legends (2009)
Gollu Aur Pappu (2014)
English Babu Desi Mem (1996)
Drishyam (2015)
Dharam Sankat Mein (2015)
Chashme Buddoor (2013)
Chalk It Up (2016)
Chaahat (1996)
Budhia Singh: Born to Run (2016)
Boss (2013)
Bombay Talkies (2013)
Bittoo Boss (2012)
Behind Enemy Lines (1997)
Abby Sen (2015)
A YELLOW BIRD (2016)
25 New Documentaries Streaming to Netflix Australia
Oklahoma City (2017)
A Plastic Ocean (2016)
Secrets of Westminster (2014)
Secrets of Underground London (2014)
Secrets of Selfridges (2014)
Secrets of Scotland Yard (2013)
Secrets of Althorp – The Spencers (2013)
Country: Portraits of An American Sound (2015)
Casting JonBenet (2017)
"World War Two: 1942 and Hitler's Soft Underbelly (2011) "
World War Two: 1941 and the Man of Steel (2011)
The Black Panthers: Vanguard of the Revolution (2015)
Saeed Mirza: The Leftist Sufi (2016)
Richard Pryor: Icon (2014)
Maya Angelou: And Still I Rise (2016)
Losing Sight of Shore (2017)
JFK: The Making of a President (2017)
In Defense of Food (2015)
Harry Benson: Shoot First (2015)
Fire in the Blood (2012)
Defying the Nazis: The Sharps' War (2016)
Decanted. (2016)
American Experience: The Boys of '36 (2016)
American Experience: The Big Burn (2014)
After Porn Ends 2 (2017)
26 New TV Series Streaming to Netflix Australia
Maharakshak Devi – Season 1 (2015)
The Cravings – Season 2 (2016)
H2O: Mermaid Adventures – Season 2 (2015)
12 Monkeys – Season 2 (2015)
The Mr. Peabody and Sherman Show – Season 4 (2015)
Tales by Light – Season 2 (2015)
Hot Girls Wanted: Turned On – Season 1 (2017)
Girlboss – Season 1 (2017)
Bill Nye Saves the World – Season 1 (2017)
The 100 – Season 3 (2014)
Man to Man – Season 1 (2017)
Pingu – Season 3 (2005)
What in the World Happened? – Season 1 (2015)
President – Season 1 (2010)
Jumping Girl – Season 1 (2015)
Dear White People – Season 1 (2017)
Cable Girls – Season 1 (2017)
Verliefd op Ibiza – Season 1 (2013)
Under Arrest – Season 5 (2015)
Sniffer – Season 1 (2016)
Ramayan – Season 1 (2012)
MythBusters – Season 2 (2014)
Moving Art – Season 2 (2015)
Mother Goose Club – Season 1 (2011)
Japanese Style Originator – Season 1 (2008)
Dominion Creek – Season 2 (2015)