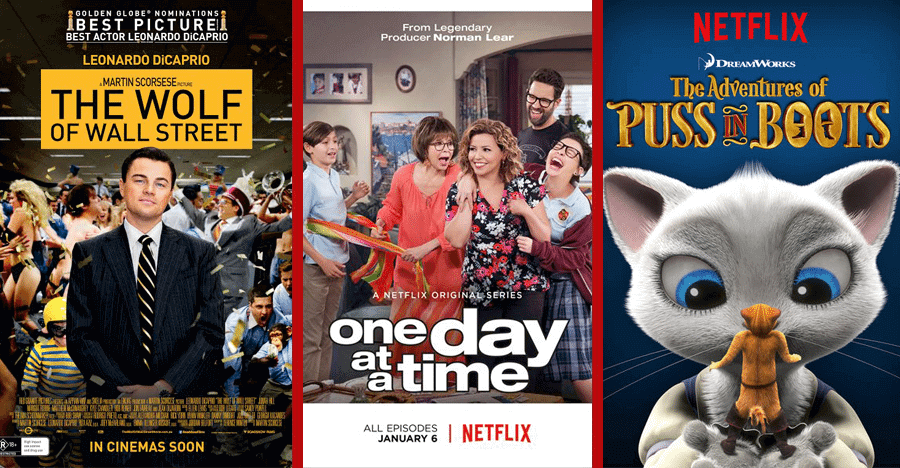 The first month of 2018 has brought many new and exciting titles to all of our screens. But before we get stuck into the February releases, what has the last week brought to Australian Netflix? A total of 30 titles have been added since the 23rd, including 14 new movies, 3 documentaries, 10 TV series, and an additional 3 comedy stand-up shows. We know from experience that the first week of February will bring an influx of new titles, but if you can't wait that long, we are going to highlight three titles from this last week that we think you might be interested in watching.
Our first pick for this week is the second season of the popular Netflix Original 'One Day at a Time'. This sitcom is a remake of the 1975-84 show of the same name. The reimagining of the comedy stars Justina Machado, Todd Grinnell, Isabella Gomez and Marce Ruiz as a multi-generational Cuban-American family trying to get by. The first season debuted on Netflix in January of last year and was even nominated for 1 Primetime Emmy. The show picked up many fans either from the old series or brand new viewers who will be glad to see the second season now available to stream on Netflix.
Another highlight from this past week is the 2013 hit 'The Woft of Wall Street' starring Leonardo DiCaprio and directed by Martin Scorsese. The film is based on the true story of Jordan Belfort, a stockbroker who rises and inevitably falls from incredible wealth using crime, corruption and fraud. The movie was nominated for 5 Oscars and includes fantastic performances that make it a must-see if you have not already.
Article Continues Below...
Our final pick for this week is aimed a little more at the younger audiences. The 6th season of 'The Adventures of Puss in Boots' is now ready to be watched worldwide on Netflix. The Netflix Original which has been running since 2015 follows the stand-alone story of the fairy tale cat, who's tasked with protecting the mythical and previously hidden city of San Lorenzo.
Here is the full list of 30 titles added to Netflix Australia this week:
14 New Movies Streaming to Netflix Australia
Blockbuster (2017)

Netflix Original

Acts of Vengeance (2017)
Wedding Unplanned (2017)
The Wolf of Wall Street (2013)
The Inbetweeners Movie (2011)
The Hurt Locker (2008)
The House Next Door (2017)
Saw (2004)
Run, Fatboy, Run (2007)
Pride and Prejudice and Zombies (2016)
Mad Max (1979)
Grace of Monaco (2014)
Don't Knock Twice (2016)
Despido Procedente (2017)
3 New Documentaries Streaming to Netflix Australia
The Force (2017)
Patient Seventeen (2017)
Countdown to Death: Pablo Escobar (2017)
10 New TV Series Streaming to Netflix Australia
The Lady in Dignity – Season 1 (2017)
The Adventures of Puss in Boots – Season 6 (2015)

Netflix Original

Rescue Mediums – Season 1 (2011)
One Day at a Time – Season 2 (2017)

Netflix Original

One Bad Choice – Season 1 (2015)
Hurricane Hunters – Season 2 (2013)
Full Force Nature – Season 1 (2006)
Find It, Fix It, Flog It – Season 1 (2016)
Dealers: Put Your Money Where Your Mouth Is – Season 1 (2013)
Arabia Motors – Season 1 (2017)
3 New Standup Shows Streaming to Netflix Australia
Kevin Hart: Seriously Funny (2010)
Kevin Hart: Let Me Explain (2013)
Kevin Hart: Laugh at My Pain (2011)