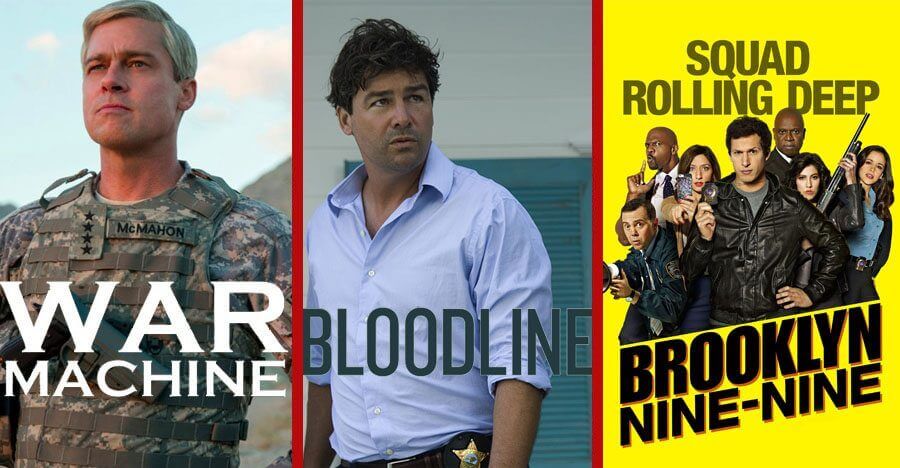 It's now only a couple of days before June is upon us, and subsequently the mass of new titles that always come on the first of the month. This week has brought 23 new titles to Netflix Australia, including 15 new movies, 5 new Documentaries and 3 new TV series. We have chosen to highlight three new additions from this week that we feel stand out.
Our first pick is the newly released Netflix Original film 'War Machine' starring Brad Pitt as U.S. General Glen McMahon who is called in to command troops in Afghanistan and hopefully "get the job done". Unfortunately, he seems to be the only one who thinks winning is possible as he jumps in head first with a little too much confidence. This war comedy/drama is mostly a spoof but is actually based on the real U.S General Stanley McChrystal. This is Brad Pitts first appearance in a Netflix Original, and hopefully, there are more to come.
'Brooklyn Nine-Nine' is a comedy TV series based around the 99th precinct in Brooklyn and the professional lives of the officers that work there. The show mostly focusses on Jake Peralta, a skilled, but incredibly immature detective who's life just got make a little harder by the arrival of the precinct's new Captain Ray Holt. The show has received amazing reviews since it's debut in 2013 due to its great cast and lovable characters. Fans will be pleased to hear that season 4 is now available to stream on Netflix.
'Bloodline' is one of the most popular Netflix originals to be released and is a Thiller/Drama that takes place in the Florida Keys. The Rayburn family have many dark secrets that they wish to keep hidden but after the return of their brother many untold tales begin to re-surface. The show was nominated for a Golden Globe due to its amazing character development and a certain charm that keeps you coming back for more after each episode. Unfortunately, season 3 has been announced to be the last, but the 10 episode finale is now ready for you to savor.
Read on for the full list of all 23 new releases:
15 New Movies Streaming to Netflix Australia
Piya Behrupiya (2017)
Hasan Minhaj: Homecoming King (2017)
Dig Two Graves (2014)
Ares (2016)
What Women Want (2000)
Trespass (1992)
The Vow (2012)
The Girl with All the Gifts (2016)
Contraband (2012)
War Machine (2017)
Raees (2017)
Crossing Point (2016)
David vs. Goliath: Battle of Faith (2016)
Rangoon (2017)
Gallows (2015)
5 New Documentaries Streaming to Netflix Australia
Joshua: Teenager vs. Superpower (2017)
I Am Jane Doe (2017)
After Porn Ends 2 (2017)
Forever Pure (2016)
A New High (2015)
3 New TV Series Streaming to Netflix Australia
Brooklyn Nine-Nine – Season 4 (2015)
Can't Run From Love – Season 1 (2014)
Bloodline – Season 3 (2015)