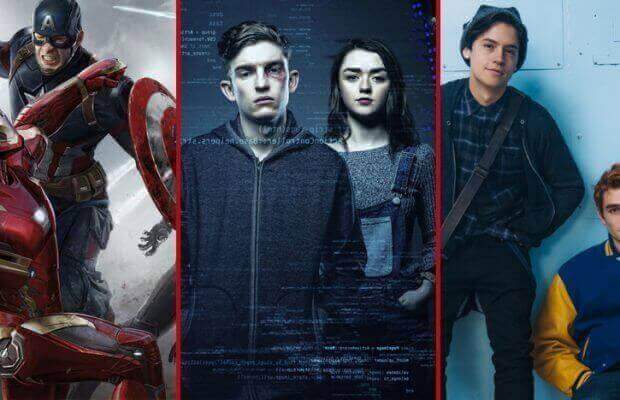 January is over and the last week brings 19 new films, shows and documentaries to Australian Netflix. It's usually a few more, but there is normally a lull in releases towards the end of the month, but we imagine next week's additions will be significantly more. We have chosen three titles to talk about briefly, that we think deserves your time.
iBOY is a new Netflix Original that released on the 17th of January and follows Tom, who wakes from a coma and finds that elements of technology have lodged into his brain, giving him extraordinary abilities, that make re-adjusting to life, quite difficult, especially for a teenager. He must also hunt his attackers with his new powers and knowledge. This Action, Sci-Fu, crime film stars Bill Milner (Tom) And Maisie Williams (Lucy).
Article Continues Below...
Our second pick is the Netflix Original Series 'Riverdale' with new episodes airing every Friday for 13 weeks. Currently, at the time of writing this only one episode has been released. The show is based on the classic 'Archie' comics that first appeared in 1941. This adaptation is significantly darker than the original and has a more gritty theme with a lot of focus no relationships. The show begins alongside the murder of a teenager, that seems to throw the whole town into chaos and confusion, mysteries are slowly unwrapped and conspiracies uncovered.
Our Final choice for this week is the 2016 Marvel film 'Captain America: Civil War.' Fans of the Marvel Cinematic Universe will be pleased with this being added to Netflix Australia. Civil war is the third in the Captain America film series and follows the events and consequences of Age of Ultron, due to the destruction caused the governments of the world pass an act to regulate and control the avengers' activities and missions. The Avengers are torn into two and pinned against each other in an epic battle.
Read on for the full list of all 19 new releases:
10 New Movies Streaming to Netflix Australia
Precious Puppies (2003)
Pink (2016)
Gato Negro
Caida Del Cielo (2016)
iBOY (2017)
Trouble with the Curve (2012)
Journey to Greenland (2016)
The 13th Warrior (1999)
Sharknado: The 4th Awakens (2016)
Captain America: Civil War (2016)
2 New Documentary Streaming to Netflix Australia
Forensic Files – Collection 9 (2000)
Wildlife Quest – Season 1 (2016)
7 New TV Series Streaming to Netflix Australia
The L Word – Season 1/6 (2004)
Fargo – Season 1 (2014)
Juana Ines – Season 1 (2016)
Toradora! – Season 1 (2008)
Shadow of Truth – Season 1 (2016)
Riverdale – Season 1 (2017)
Home: Adventures with Tip & Oh – Season 2 (2016)