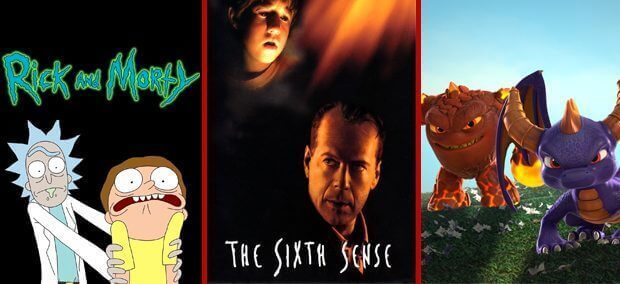 As we approach the end of the month the new Netflix releases on Netflix Australia are drying up with most of the new releases reserved for tomorrow's first of the month new additions. I'm filling in for Alex this week as he's taking his driving test!
This week, we've seen yet another season of Rick and Morty added to the service to go along with season 1 which was added at the beginning of the month. The animated sitcom is the crown jewel in Adult Swin library and now Netflix is completely up-to-date with episodes in anticipation of season 3 which is expected to release in the new few months.
Quite a few lesser known Netflix Originals were added in the past week including the debut season of the new animated children's show, Skylanders Academy which brings all your favorite characters to Netflix for the first time. We also got a fascinating new documentary on volcanoes in the form of Into The Inferno.
Article Continues Below...
Two movies were added this week which are worthy of note. The first is The Sixth Sense which stars Bruce Willis and a younger Haley Osment in one of the biggest mind-bending movies of all time. Fans of Marvel will be happy to see that the animated movie The Invincible Iron Man was also added to Netflix this week.
Read on for the full list of all 26 new releases:
14 New Movies Streaming on Netflix AU:
#The Jews (2016)
7 años (2016)
A Girl Walks Home Alone at Night (2014)
I Am the Pretty Thing That Lives in the House (2016)
Sabrás qué Hacer Conmigo (2015)
Serena (2014)
So Close (2002)
The African Doctor (2016)
The Apparition (2012)
The Invincible Iron Man (2007)
The NeverEnding Story (1984)
The Sixth Sense (1999)
The Way We Dance (2013)
West Coast (2016)
10 New TV Series Streaming on Netflix AU:
Chewing Gum (Season 1)
El Vato (Season 1)
My Sunshine (Season 1)
Penn & Teller (Season 1)
Ready to Start (Season 1)
Real Rescues (Season 2)
Rick and Morty (Season 2)
Skylanders Academy (Season 1)
The End (Season 1)
Trailer Park Boys: Out of the Park: Europe (Season 1)
2 New Documentaries Streaming on Netflix AU:
20,000 Days on Earth (2014)
Into the Inferno (2016)