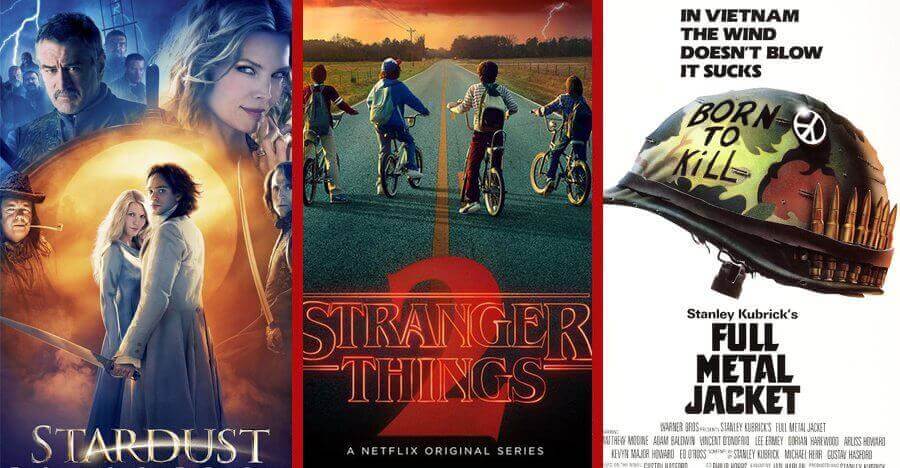 Happy Halloween to all our Australian readers. This last week has welcomed a total of 25 new titles, consisting of 8 Movies, 2 Documentaries, 13 TV series, and a final 2 standup shows. As usual, we have picked out three titles specifically and highlighted them in the paragraphs below. Feel free to take a detailed look at the list, and if you spot anything that you think we should have mentioned, please let us know in the comments below.
One show that everyone is talking about is 'Stranger Things'. The extremely popular Netflix Original has just returned for a second season and follows a group of young kids living in an American town in the 80s. At first, the small town seems completely normal, but after one of the group goes missing, they undercover a dark conspiracy surounding a mysterious girl and a government lab. If you are a fan of Spielberg classics and 80s pop-culture, this show will be perfect for you. Along with the second season, Netflix has also introduced 'Beyond Stranger Things' a talk show that stars the actors, as they chat about all things Strange.
Our second pick for this week is the 1987 film 'Full Metal Jacket'. The War Drama takes place in the Vietnam War and depicts the dehumanizing conditions that the soldiers lived in, from the boot camp, all the way to the brutal street warfare. The Stanley Kubrick film is often referred to one of the best war movies, and many will be glad to see it arrive on Australian Netflix.
The last film we're going to highlight this week is the 2007 fantasy action & adventure 'Stardust'. Charlie Cox (Marvel's Daredevil) plays Tristan Thorn, a love-struck fool who attempts to cross the forbidden realm to retrieve a fallen star. After finding that the star has taken human form, (Claire Danes) he is thrown into a magical tail-spin as three evil and murderous witches attempt to steal the star for themselves. If you're looking for a less horror filled film to watch with the kids this Halloween, Stardust is a great choice.
See the full list of 25 titles added to Netflix Canda this week:
8 New Movies Streaming to Netflix Australia
Ready (2011)
Punch-Drunk Love (2002)
Strange Weather (2016)
Stardust (2007)
BASEketball (1998)
Full Metal Jacket (1987)
SPF-18 (2017)
Raising the Bar (2017)
2 New Documentaries Streaming to Netflix Australia
Joan Didion: The Center Will Not Hold (2017)

Netflix Original

The B-Side: Elsa Dorfman's Portrait Photography (2016)
13 New TV Series Streaming to Netflix Australia
If Life Cheats You – Season 1 (2013)
Hey, Kids! – Season 1 (2016)
Good Time – Season 1 (2016)
First Love – Season 1 (2016)
Argon – Season 1 (2017)

Netflix Original

True and the Rainbow Kingdom – Season 2 (2017)
Stranger Things – Season 2 (2016)

Netflix Original

Prince Jai Aur Dumdaar Viru – Season 1 (2017)
Beyond Stranger Things – Season 1 (2017)

Netflix Original

Mako Mermaids: An H2O Adventure – Season 3 (2015)
Zumbo's Just Desserts – Season 1 (2016)
Lost Treasure Hunters – Season 1 (2014)
Forbidden History – Season 1 (2013)
2 New Standup Shows Streaming to Netflix Australia
Jack Whitehall: At Large (2017)

Netflix Original

Judah Friedlander: America Is the Greatest Country in the United States (2017)

Netflix Original